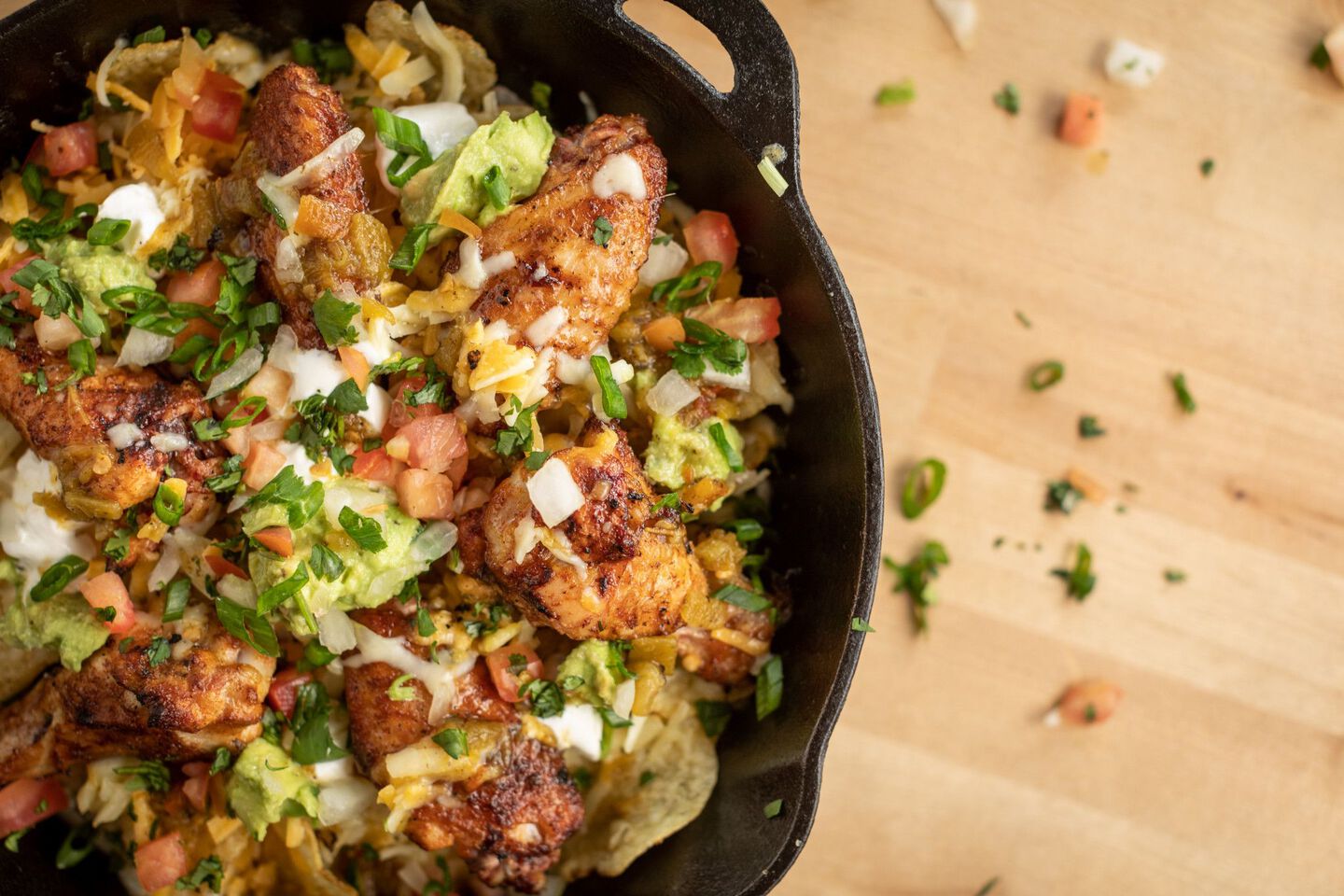 Ingredients
Toppings
1 bag Kettle style potato chips (sea salt or jalapeño)
1/2 cup roasted hatch green chilis, chopped
1/2 cup sour cream
1/2 cup pico de gallo
1/2 cup guacamole
1/2 cup cheddar cheese, shredded
1/2 cup Monterey Jack cheese
1/4 cup fresh cilantro, chopped
1/4 cup green onion, chopped
Wings
2 1/2 pounds chicken wings
1 Tablespoon hatch green chili powder
1 1/2 teaspoon sea salt
1 teaspoon hatch red chili powder
1 teaspoon cumin
1 teaspoon smoked paprika
1 teaspoon onion powder
1 teaspoon garlic powder
1/2 teaspoon cayenne pepper (optional)
1/2 cup olive oil (hatch chili or jalapeño infused oil if available)
All Ingredients
2 1/2 pounds chicken wings
1 Tablespoon hatch green chili powder
1 1/2 teaspoon sea salt
1 teaspoon hatch red chili powder
1 teaspoon cumin
1 teaspoon smoked paprika
1 teaspoon onion powder
1 teaspoon garlic powder
1/2 teaspoon cayenne pepper (optional)
1/2 cup olive oil (hatch chili or jalapeño infused oil if available)
1 bag Kettle style potato chips (sea salt or jalapeño)
1/2 cup roasted hatch green chilis, chopped
1/2 cup sour cream
1/2 cup Pico de Gallo
1/2 cup guacamole
1/2 cup cheddar cheese, shredded
1/2 cup Monterey Jack cheese
1/4 cup fresh cilantro, chopped
1/4 cup green onion, chopped
Instructions
New Mexico Hatch Chili Wings
Step 1
Place wings in a large freezer bag.
Step 2
In a medium mixing bowl, mix all wing ingredients together and whisk until blended.
step 3
Pour marinade mixture over wings. Marinate for 4-6 hours. After 4-6 hours, remove wings from marinate and discard remaining marinate.
Step 4
Preheat pellet grill to 250 °F. Smoke level 8.
Step 5
Smoke wings for 1 hour or until internal temperature reaches 150 °F. Increase temperature to 350 °F. Reduce smoke level to 2, and smoke for 15-20 minutes or until internal temperature reaches 165 °F.
step 6
While wings are smoking, arrange kettle chips on a large platter. Top chips with half of the shredded cheese mixture. Place into broiler for 2 minutes to melt cheese.
step 7
Remove chips from oven and top with wings, remaining cheese, hatch chilis, sour cream, Pico de Gallo, guacamole, cilantro and green onions.