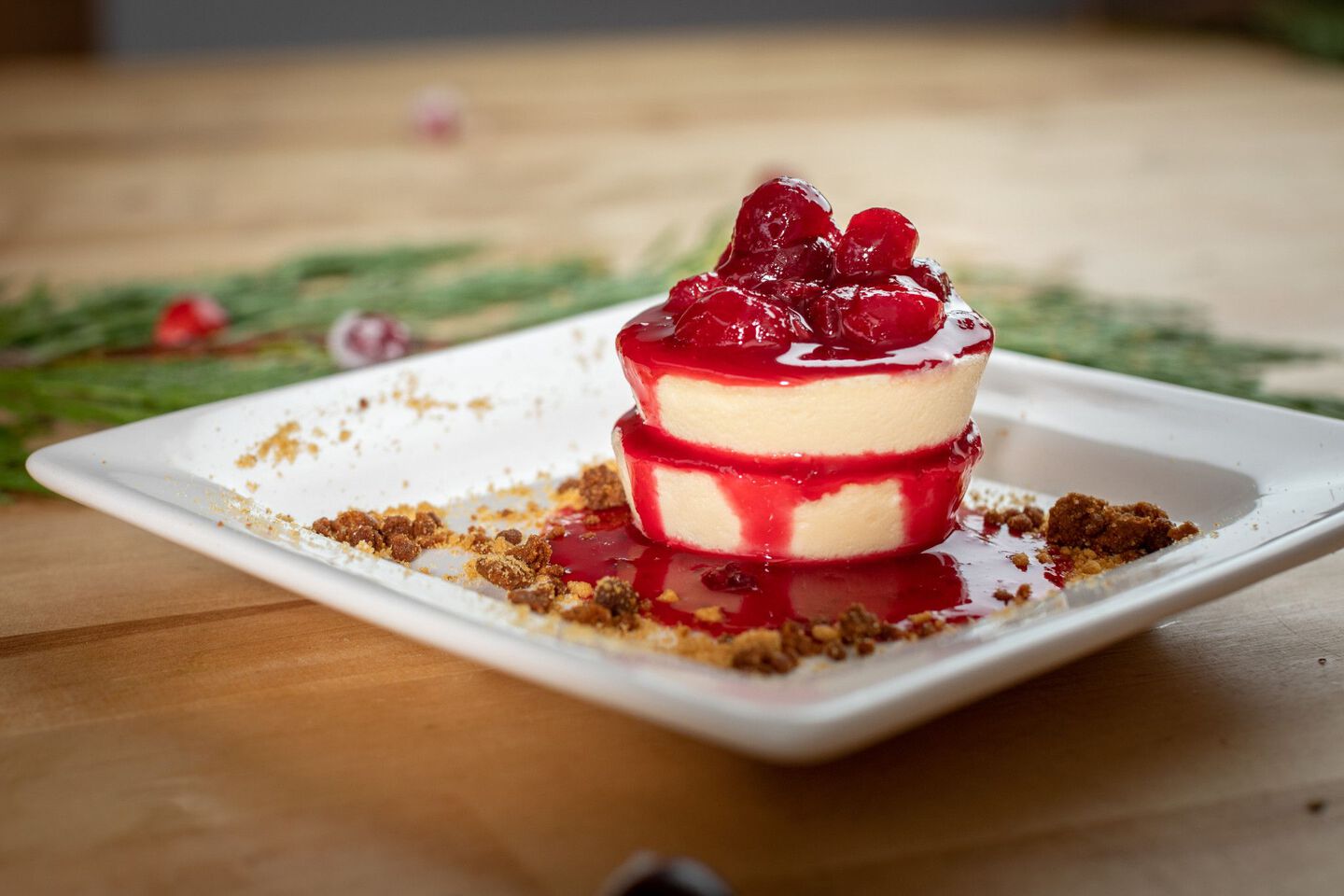 Instructions
Crumb Topping
step 1
Crush the ginger snaps using a rolling pin and a freezer bag or in a food processor until semi-fine crumbs. Add the sugar, cinnamon and melted butter. Spread out on cookie sheet and brown in oven at 350 °F, if desired.
Cranberry sauce
step 1
Place sugar and water into a medium sauce pan and bring it to a boil, stirring until the sugar is dissolved. Add the cranberries and cook until they start to pop, for about 5 minutes. Reduce heat to simmer. Put the cornstarch in the cranberry juice and add it to the simmering cranberries. Stir well until thickened. Add salt, zest and juice from orange.
Mini Cheesecakes
step 1
Preheat pellet grill to 325 °F.
step 2
In a medium sized bowl, add cream cheese. Using a hand mixer, mix until smooth. Add sweetened condensed milk and lemon juice, blend until smooth. Add eggs one at a time. Using a rubber spatula, mixing lightly and folding the eggs all the way into the filling.
step 3
Using silicone muffin molds so that you can freeze them and pop them out. Put the molds on a cookie sheet so you will be able to carry them. Fill each muffin cup 1/2 full of filling. Bake on top shelf of pellet grill for 5-7 minutes. Turn them around to ensure even cooking and cook for another 5-7 minutes. They may puff up a bit when done Take them out and put in a freezer to cool off and wait until semi-frozen to remove from molds.
Assembly
Put a teaspoon of cranberry sauce, without cranberries in it on the bottom of the plate. Place 1 mini cheesecake on top of it and put more sauce on top of the cheesecake, then top with another cheesecake. Place a couple of spoon fulls of cranberries on top. Sprinkle some of the cookie crumbs around the stacked cheesecake.