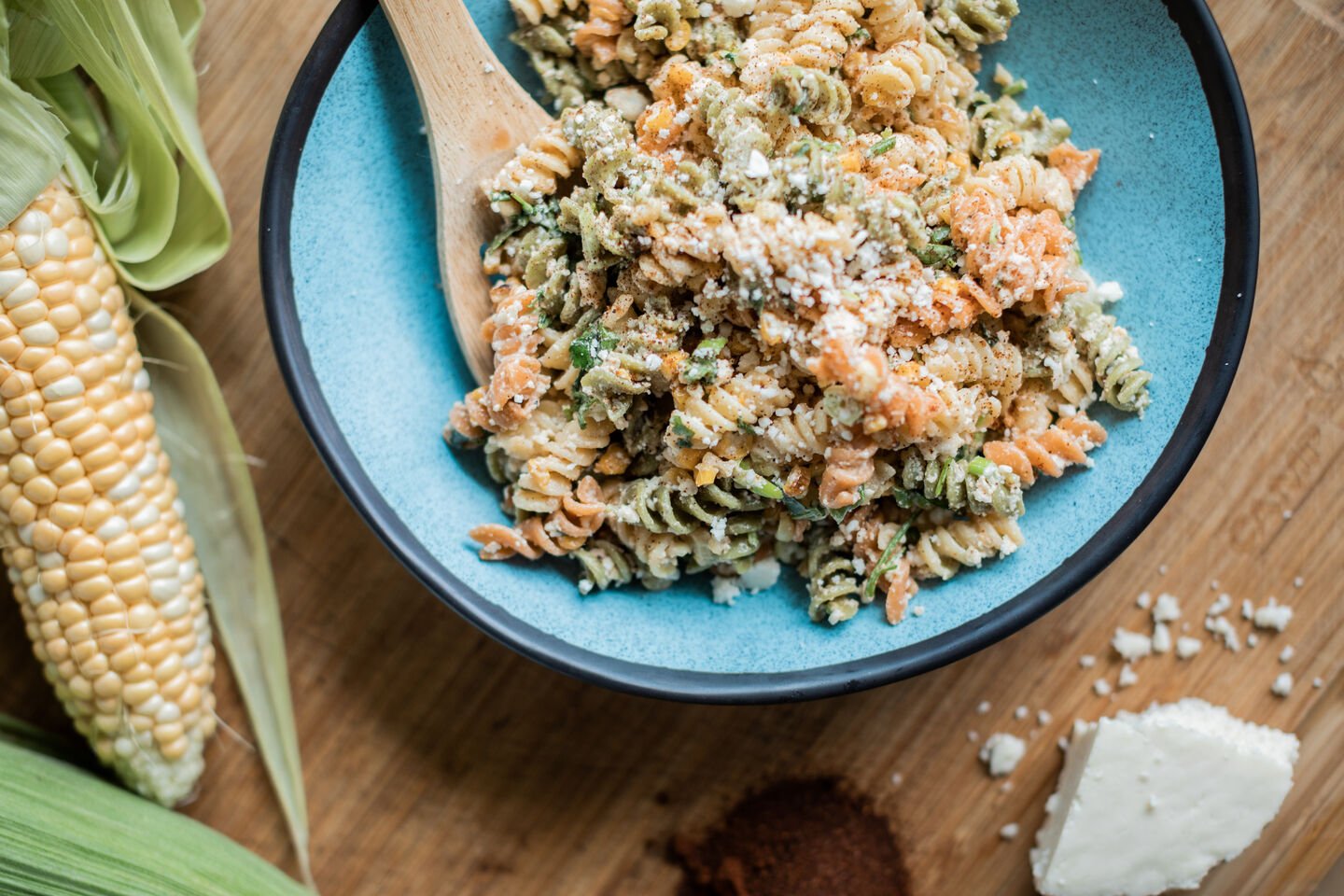 Ingredients
All ingredients
4 ears of fire roasted corn
12 ounces tri color rotini (raw)
5 ounces cotija, crumbled
½ cup cilantro rough chopped
½ cup mayonnaise
½ teaspoon garlic powder
2 limes juiced
Zest of one lime
½ teaspoon chili powder
⅓ teaspoon cayenne pepper
3 green onions, sliced
Salt and pepper
Instructions
Mexican Street Corn
Step 1
Shuck the corn and place it into cold water to submerge.
Step 2
Add one tablespoon of salt and allow it to soak for 10 minutes.
Step 3
Remove the corn and place it on your pellet grill at 350ºF for approximately 20 minutes, turning it about every 5 minutes and cooking it until the kernels are soft and juicy.
Step 4
Crank the grill to 500ºF (if you have slide and grill, place the corn over the fire and allow it to color up for a few minutes). Keep it moving. You want char and caramelization on the kernels, not black or burnt corn.
Step 5
Remove it and allow it to rest. When it has cooled to at least room temperature, cut the kernels off.
Pasta salad
Step 1
Turn you Sidekick to Medium/High heat. Get a pot of water boiling.
Step 2
Cook the pasta in salted water until it is al dente, strain and rinse the pasta with cold water to cool it off faster. Once chilled allow it to strain for a few minutes.
Step 3
In a large mixing bowl add the pasta, corn and any juices from it, cotija, cilantro, mayonnaise, spices, lime zest and juice, and the green onions.
Step 4
Mix everything together thoroughly and season to taste with salt and pepper. The cotija is salty so be careful and be sure to taste and season as you go.
Plate
This pasta can be gorgeously dressed up in a bowl with fresh cilantro and cotija crumbles on top along with lime slices.
recipes you might be interested in