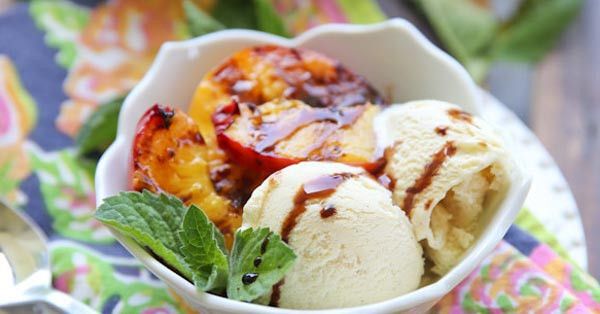 Ingredients
All Ingredients
Peaches or nectarines, slightly firm - 2-4
Blood orange or lemon olive oil
Buttermilk ice cream
Raspberry balsamic
Instructions
Grilled Peaches
Step 1
Preheat grill box.
Step 2
Cut peaches in half and remove pits. Cut each half in half again so peach is cut into 4 pieces.
step 3
Drizzle peaches with olive oil and rub in to cover all surfaces.
Step 4
Place peaches on grill for 1-2 minutes, turning just once, to create grill marks on all sides.
Step 5
Remove from grill and let rest while you scoop ice cream.
Step 6
Place a generous scoop of ice cream in each bowl and top with grilled peaches. Drizzle with Raspberry Balsamic to taste.