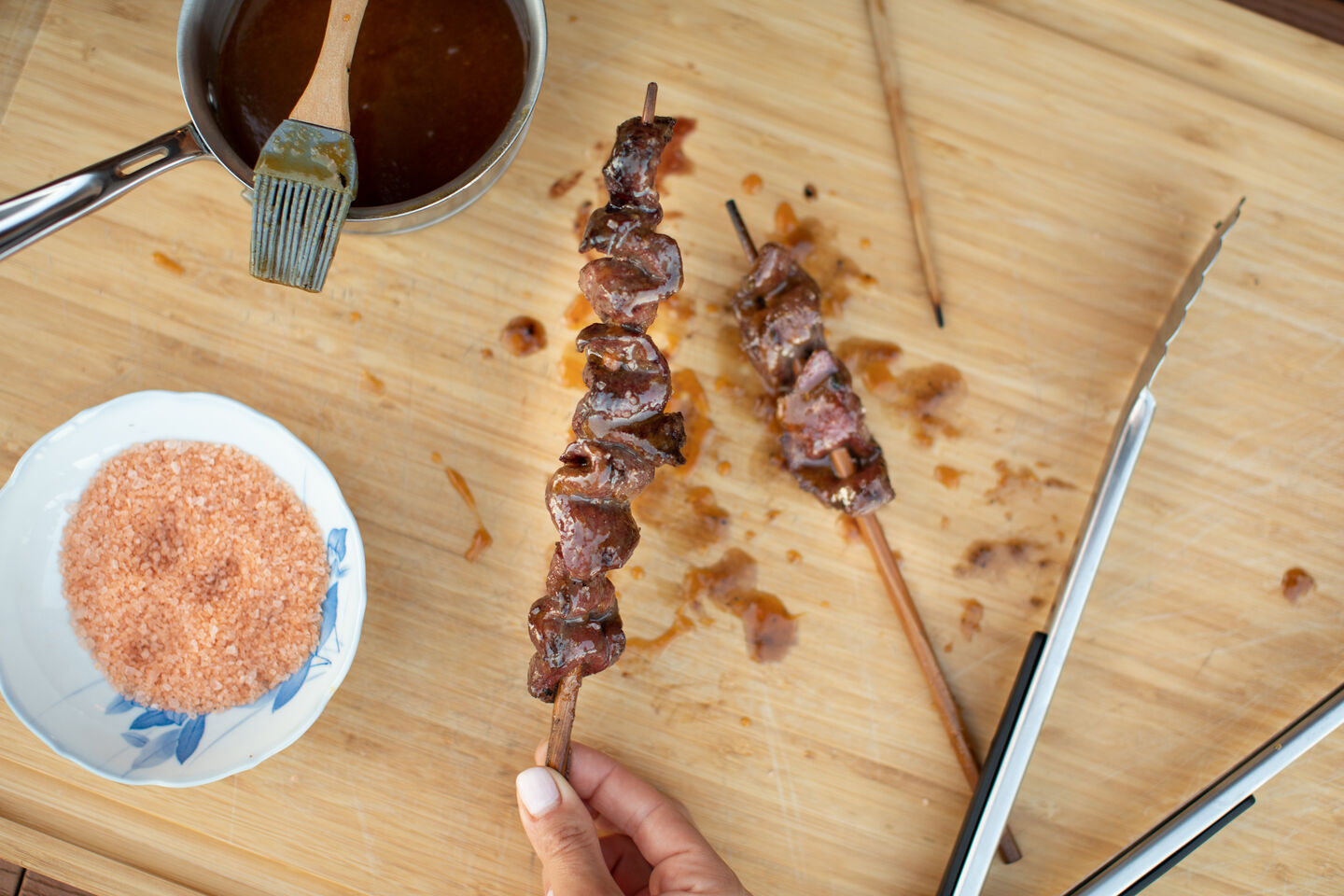 Ingredients
Glaze
½ cup guava preserve or apple butter or peach preserves
½ cup white sugar
½ cup rice wine vinegar
1 tablespoon fresh ginger, grated
All ingredients
2 venison hearts
½ cup white sugar
½ cup rice wine vinegar
½ cup guava preserve or apple butter or peach preserves
1 tablespoon fresh ginger, grated
Kosher salt and black pepper to taste
Instructions
Prepping
Step 1
Cut open and clean the hearts by slicing the fat and arteries off the top then removing the tendons inside. Refer to this heart cleaning demonstration on MeatEater's YouTube channel if needed.
Step 2
Slice the heart into thin strips and thread onto the skewers.
Step 3
Season with salt and pepper and set aside until ready to grill.
Guava Glaze
Step 1
Add the sugar to a small saucepan with a splash of water.
Step 2
Stir to dissolve the sugar into the water then place the pan over medium-high heat and let the sugar liquify and caramelize.
Step 3
Once it turns deep amber in color, quickly add the vinegar and return the pan to the heat.
Step 4
Let it bubble and boil another minute or two or until all the sugar is melted into the vinegar and the mixture has reduced enough that it reaches a syrup consistency and can coat the back of a spoon. Keep in mind that it will continue to harden and thicken as it cools so don't overdo it.
Step 5
Remove the pan from heat immediately and stir in the guava preserves and fresh grated ginger. Allow this mixture to cool to room temperature and adjust the consistency with small amounts of water if it's too thick.
Skewers
Step 1
Preheat a grill over high heat and oil the grates.
Step 2
Brush the venison skewers with some of the glaze and grill over direct heat for 2 to 3 minutes.
Step 3
Flip the skewers, brush with the glaze again, and grill for another 2 to 3 minutes until the meat is caramelized and cooked to medium-rare. It should still be quite pink in the middle. Whatever you do, don't overcook the heart or it will be very tough.
Step 4
Finish with a little more glaze and a sprinkle of salt.