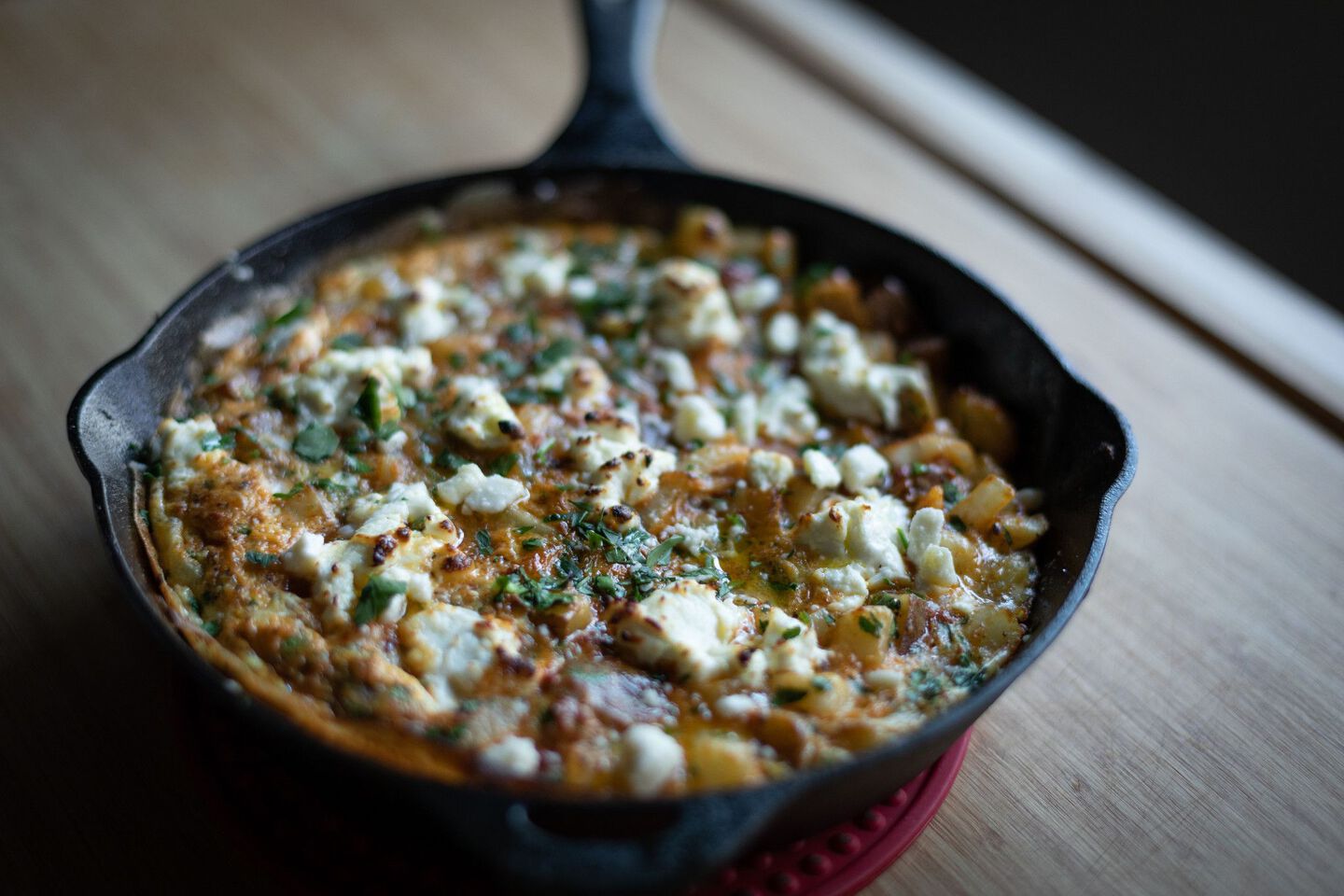 Ingredients
All Ingredients
1 pound russet potatoes, cut into 1/2 inch squares
Olive oil
1 small onion, diced
8 large eggs
2 ounces goat cheese, room temperature
2 ounces cream cheese, room temperature
Queso fresco
1/4 cup chopped fresh parsley, plus one tablespoon
1/2 cup chorizo
Salt and pepper, to taste
Instructions
The Frittata
step 1
Cut the potatoes into 1/2 inch squares (like breakfast potatoes). Place in cold water and bring to a boil. Cook until the potatoes are still firm but can be pierced by a fork (8-10 minutes). Drain and set aside.
step 2
Preheat the pellet grill to 350 °F. Also preheat the Sidekick to high heat.
step 3
Combine the cream cheese and goat cheese in a bowl and set aside at room temperature.
step 4
Place skillet on Sidekick and heat 10 inch cast iron skillet on medium high. Cook the chorizo until browned. Remove onto a paper towel lined plate. Place the onions and potatoes in the skillet and cook until the onions are translucent and the potatoes are crispy.
step 5
Add the chorizo back in. Scramble the eggs with a pinch of salt and pepper and add to the skillet. Add 1/2 cup of parsley. Mix throughly and place in the pellet grill for 6-8 minutes (it should be almost cooked through but still loose). Remove and place teaspoon size drops of the cheese combo across the top.
step 6
Remove skillet from Sidekick and place Artisan Pizza Oven Accessory on top. Let pizza oven heat up.
step 7
When pizza oven is preheated, place the skillet into the pizza oven until the frittata is set and the top is browned.
step 8
Top with tablespoon of parsley, a sprinkle of Queso fresco and a drizzle of olive oil.