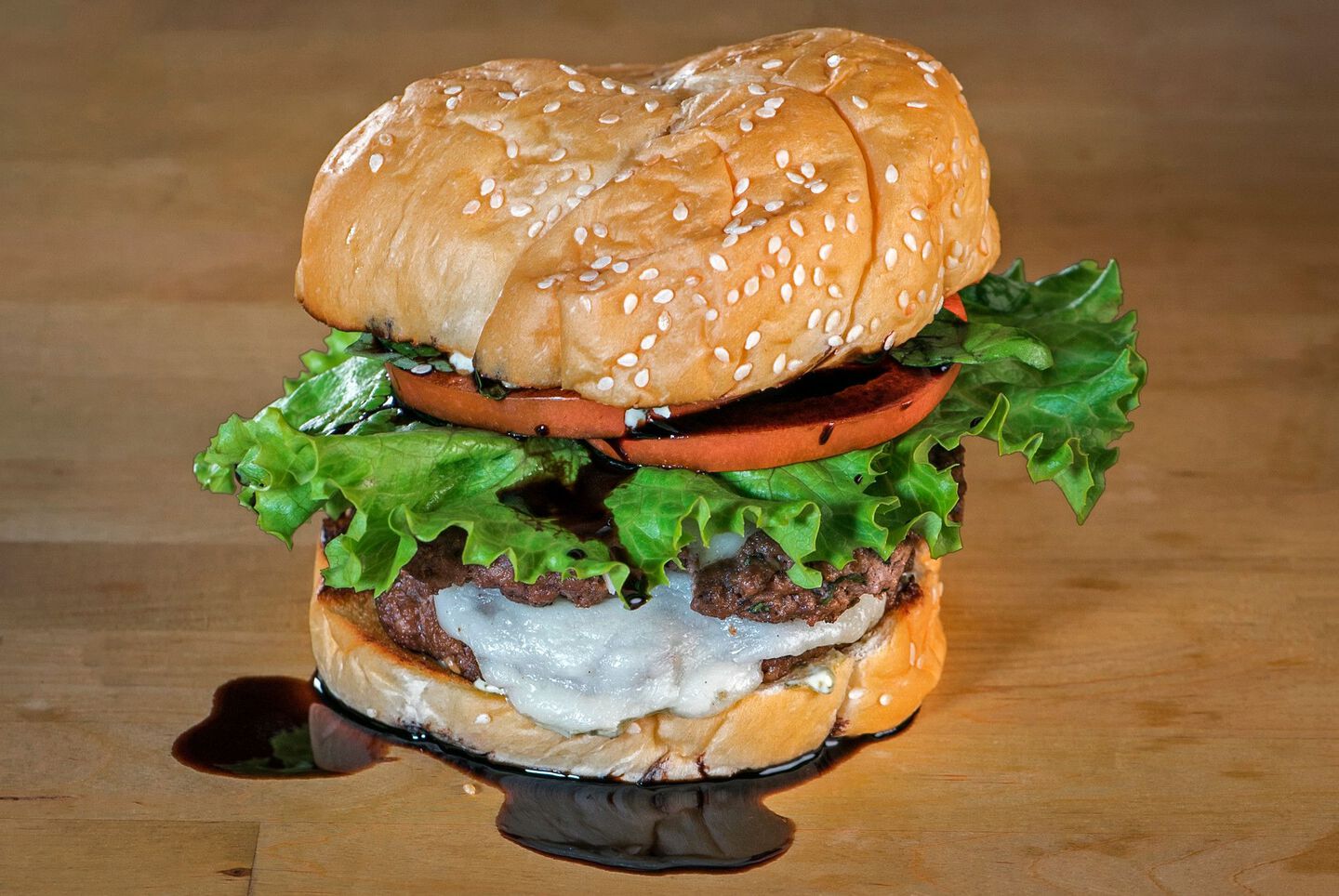 Ingredients
Toppings
Lettuce
1-2 tomatoes, sliced
Fresh basil leaves
1/2 cup balsamic vinegar (For balsamic glaze)
Artichoke Pesto Sauce
1/2 cup quartered artichoke hearts
1/2 cup prepared basil pesto
6 Tablespoons mayonnaise
All Ingredients
2 pounds ground beef
2 teaspoons salt
1 1/2 teaspoons pepper
2 Tablespoons garlic, minced
4 Tablespoons basil, minced
8 thick slices of fresh mozzarella
4 hamburger buns
Lettuce
1-2 tomatoes, sliced
Fresh basil leaves
1/2 cup balsamic vinegar (For balsamic glaze)
1/2 cup quartered artichoke hearts
1/2 cup prepared basil pesto
6 Tablespoons mayonnaise
Instructions
caprese burger
Step 1
Add ingredients for artichoke pesto sauce to a food processor or blender. Process until smooth. Set aside.
Step 2
Mix ground beef, salt, pepper, garlic, and basil. Form into 8 patties. Press the centers of the patties down so that the burgers don't get to thick in the middle when you grill them. Season each side with salt and pepper.
step 3
Preheat grill to medium/high heat.
Step 4
Grill patties until internal temperature reaches 125 °F for rare, 135 °F for medium rare, 145 °F for medium and 160 °F for well done. Flip patties halfway through cook time. The last few minutes of cooking, add a slice of cheese to patties and let the cheese melt.
step 5
Instructions for balsamic glaze: Add the balsamic vinegar to a small pot and set over medium heat. Cook for about 10 minutes, stirring occasionally. Try not to choke on the smell. It will bubble and thicken. When it is syrupy and has reduced to about 3-4 tablespoons, remove from heat. If your hamburgers aren't ready yet, leave it on the burner over the lowest setting. It needs to be warm when it is drizzled over the burgers.
step 6
Prepare additional toppings. Grill each bun until grill marks appear.