Calling all Camp Chef pellet grill owners! Bring your existing pellet grills up to speed by installing the new PID and WIFI enabled controller. This quick and easy Retro Fit is not only sleek, but will have you kickin' your feet up on the couch while keeping an eye on your pellet grill contents. Set temperatures and receive notifications from the Camp Chef Connect app when your food is ready to be pulled.
Multimedia
Features
PID, Smoke Control, WIFI, Bluetooth enabled controller
PID controller for consistent temperatures (+/- 5ºF )
Camp Chef Connect App compatible (IOS and Android)
Includes plate, screws, and instruction sheet
Includes 2 meat probes
Adjustable smoke settings from 1-10
Easy to use menu dial
High-visibility, low-glare digital display
Fitment
Compatible with most previous Camp Chef pellet grills
Not compatible with Pursuit, XXL, or Woodwind WIFI models
REVIEWS
Gen 2 Retro Fit WIFI Pellet Grill Controller
is rated out of
5
by
10
.
Rated

5

out of

5
by
Anonymous
from
Awesome enhancement
Not only can I now control the temp of the smoker but I can also adjust the level of smoke. This thing is the bomb!!
Date published: 2020-06-03
Rated

5

out of

5
by
Edmond
from
SmokePro DLX upgrade
I was considering buying a new pellet smoker mainly for Bluetooth and Wifi capabilities but was surprised to find Camp Chef offered a control panel upgrade. I don't know of another pellet smoker company that has done that. I read reviews that the Android app was problematic but the Apple app store had great reviews. Installation was very simple and I had no problems with connecting my Moto cell phone or Apple tablet. Both devices work flawlessly with the control panel. I immediately notice a quicker time to hit my target temperatures and more accurate temperature readings. I also noticed a longer shut down mode time. All and all I am very pleased with the upgrade.
Date published: 2020-05-22
Rated

5

out of

5
by
Golfsleepmaster
from
Gen 2 Installation situation:
Although I haven't, yet, used it for a Roast/Smoke, etc., I am really excited with the possibilities of having a WiFi controller. Installation was quite easy, but programming the controller took some ingenuity, that could have been avoided with a little better instruction video. Hooking up to the existing wiring was a piece of cake. Everyone should be proficient with the alphabet, and connecting the same letters is grade school wiring. Getting the controller on my WiFi system was a bit trickier. What I discovered is that turning the power off, after installation of the download, and once again when connecting solved the problem. Works perfectly.
Date published: 2020-05-19
Rated

5

out of

5
by
Wallydog1101
from
I feel like I have a brand new grill
I was very excited to see that Camp Chef came out with the retro WiFi controller for my woodwind grill. I received the controls very quickly after placing my order. As soon as I did receive it I took it out of the box and installed it immediately. This was the easiest installation. If I say its easy...it must be easy. The controls are easy to operate and not hard to understand. One of the things that I like the most is the ability to control the grill temps and smoke levels with my iPhone. I had to install an app on my phone, very simple to do, and pair the grill to my phone. That also could not of been easier. You can do every function that is available at the grill, with your phone. I smoked a pork butt the first weekend I installed the controller. I was able to see the probe temps on my phone some 30 miles away from my house. The other thing I've noticed is that my temperature readings are much more consistent. Before the new controller, I had a hard time keep my temperatures with in 15-25 degrees from where I had them set. The new controller stays with in 5 degrees of desired temp. My grill also achieves higher temperatures than before. Maybe I had a bad controller? The ONLY thing I would like to see this controller do is be programmable. What I mean by this is, Set up the grill to cook something low and slow and when the probes says the internal temperature of the item reaches a certain temp, then the grill turns up the temperature to a higher level, as programed. I believe there are some WiFi controllers on the market that are able to do this. Having said this, Camp Chefs WiFi controller offers more than most of the competitors on the market with out this function.
Date published: 2020-05-18
Rated

5

out of

5
by
Larryc5079
from
Nice to be able to change temp, smoke and shutdown
Nice to be able to change temp, smoke and shutdown from phone. Piece of cake to install
Date published: 2020-05-18
Rated

4

out of

5
by
Robert2020
from
Gen 2 Wi-Fi Controller
Unfortunately the Wi-Fi antenna is fairly weak. The Bluetooth antenna is also fairly weak. Disappointed with the signal issues, but otherwise a good product.
Date published: 2020-05-23
Rated

4

out of

5
by
Paul R
from
Much better
Added to my Woodwind SG. Installed In 5 minutes. The App is fine. However, I would like to see a cooking graph added. I just happen to like that.
Date published: 2020-05-08
Rated

4

out of

5
by
Matt P
from
A huge upgrade to an older smoker!
I've got a SmokePro SE that's about 4 years old that I absolutely love. I bought it cheap, almost as an experiment to see if I liked pellet smokers, thinking that if I did it would eventually be replaced. Well, it's awesome and it shows no signs of slowing down which left me in an odd spot of having an older, dated smoker that would be dumb to replace. So the second I saw this replacement controller I bought it, no hesitation. HUGE hat tip to Camp Chef for making this available to older machines- that's awesome that you don't force us into a new smoker to get new technology. So to the controller: It shipped quickly and install is super easy. I took my time and it took 20 minutes. The iPhone app is good. Perhaps not as intuitive as I'd like, but it's a good app (and I've used some bad ones, as I'm sure you have). The setup was easy. You have to start the smoker from the controller which is probably a safety issue, so that's fine, just FYI. It connected to my iPhone with zero issues. My only minor gripe relates to WiFi connectivity. I have an access point in my garage which is about 60' from my smoker, totally unobstructed between the two. On my phone, I have a solid 3/4 bar WiFi signal at the smoker. The controller would "see" the wifi signal and network name, but had 0/4 bars. After fiddling around I moved the access point out of the garage and to the ceiling of a covered walkway about 8' closer and not inside my garage. That boosted the wifi signal to the controller, which isn't great but it's 2/4 or 3/4 so much better. I'm always within bluetooth range so I'm not even sure how critical the wifi connection is, but if you have a spotty signal at your smoker just be aware it may or may not connect. As to the upgrade, however, it's huge. To go from a rotary control to a digital one with two probes breathes new life into an old smoker. Wifi quirks notwithstanding, this should be a no-brainer if you have an older smoker that you love.
Date published: 2020-05-05
RELATED BLOG POSTS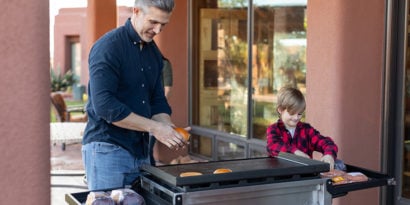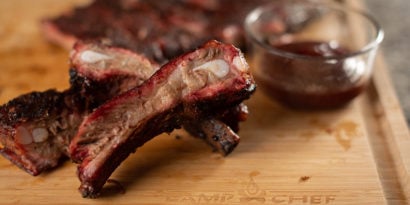 (7 Comments)