Enjoy the savory flavor of smoky BBQ with all of your favorite meats. Camp Chef's innovative Pellet Grill and Smoker Deluxe simplifies the process of smoking. Digital heat control automatically feeds pellets to maintain temperatures and infuse that satisfying taste. With the push of a button you can check cooking temperature or internal meat temperature. A grease drain system and removable ash can conveniently collect waste for easy clean up. A stainless steel design embellishes this grill to reflect its superior cooking abilities. Full cooking range from low to high smoke or 160 to over 400 degrees. Discover the real secret of award winning BBQ, low and slow smoking.
Multimedia
Features
Stainless steel lid and handle
Electronic auto-start ignition
Dual LED temperature readout: internal cooking temps and internal food temps
Easily choose your smoke setting or desired temperature
Automatic auger dispenses pellets as needed for improved smoker efficiency
Stainless steel probe measures internal food temperature
Built in sensor gauge reads cooking temperature
Included warming rack provides additional space to cook your favorite foods
Included meat probe
Clean-out ash can makes clean up simple
Large capacity pellet hopper means less filling, more smoking
New hopper clean out makes changing pellet flavors easier than ever
Includes recipe ideas in manual
Specifications
Upper Rack Area: 141 sq. in.
Lower Rack Area: 429 sq. in.
Total Rack Surface Area: 570 sq. in.
Side Shelf Dimensions: 16 in. x 12 in.
Chamber Capacity: 3,778 cubic in.
Hopper Capacity: 18 lbs. of pellets
Height to lower cooking grate: 32 in.
Overall Height, including chimney: 47 in.
Overall Weight: 140 lbs.
*Please note: This item is oversized and will be shipped via truck.
Downloads

PG24S Instruction Manual
REVIEWS
SmokePro Stainless DLX Pellet Grill
is rated out of
5
by
92
.
Rated

5

out of

5
by
Cody
from
Best smoker I've had!
I've always been a charcoal guy and now having a family and still preparing an amazing meal can be difficult! The ease of setting it and not doing a thing unless I turn the meat or slap some sauce on there it's been just amazing! I've cooked bacon and eggs on mine to making chicken parmesan! This thing has changed my grilling to doing more and getting that beautiful smoke flavor! I love the pellets Camp Chef makes and I use them religiously. The top rack makes it perfect for toasting buns or even roasting tomatoes, peppers, jalapeМ±os and more! Makes for an awesome smokey salsa! Thank you Camp Chef and your engineering!
Date published: 2017-05-17
Rated

5

out of

5
by
Jon
from
Great product
Bought one at cal ranch and the paint was bubbling contacted camp chef and they said take it back and get a new one or they could give me some accessories. I took it back to cal ranch and it was on sale and they gave me at there sale price. They were awesome about the whole thing. I showed the bubbling to the guys at cal ranch and they said they have not seen this happen. Got the new one home and ran it at 350 degrees for half hour then cooked a hole chicken for about 5 hours and the paint is fine. This is the best smoker I have every bought. Great product camp chef and cal ranch I always buy my camp chef products at cal ranch.
Date published: 2016-05-29
Rated

4

out of

5
by
Travis
from
great smoker!
I have been running this unit for a few weeks now, I have made pizza burgers, rack of pork and yesterday I made 321 ribs and that was what convinced me! It is one heck of a good smoker, not as ideal for searing but not a biggy. Really easy to change out pellet flavors and prime the auger tube with the feed feature. Ash dump feature is awesome. You can count on the grill to maintain your temperature and give you internal meat temp with the meat probe. I am having a blast playing around with this grill! I have always loved smoked meat but wad always too intimidated to cook my owen, the first time I tried with this it was perfection. Enjoy your pellet grill!
Date published: 2016-01-06
Rated

5

out of

5
by
Anonymous
from
Great Features Well Built Smokes/Grills Awesome
Purchased this product and was shipped without any damage. Assembly was a breeze when you follow the instruction. The product is well built and very rugged.The ash pot clean out feature and pellet hopper clean out make it a snap to use. The controller works great holding the temperature inside the smoker within a 10 degree window. The input for the meat temp probe makes it a snap to check the internal temp of the meat you are cooking. I pair this product with the SmokePro Sear Box make this a mean grilling/smoking machine. I would recommend this product to anyone considering changing from propane or charcoal grilling. The food taste much better when cooking with wood.
Date published: 2017-01-25
Rated

5

out of

5
by
Sstephens50
from
As expected
I did a lot of research on the camp chef and how it compares to other pellet smokers. Hands down I feel I made the right decision. Was exactly what I expected when delivered. Assembly was easy and gives you a chance to see how it all works. Just one time of being able to dump ashes with the clean out system and I knew it had to be better than taking it all apart to clean. Also I was worried about colder weather temps keeping me from enjoying it but I think that would only be a factor when it was down in the 30's. I used mine several times in the 40's with no issues. Love the camp chef.
Date published: 2018-01-26
Rated

5

out of

5
by
Kroy12
from
Amazing, would highly recommend!!
After doing a lot of research, I decided this was the grill for us. I liked the fact that the fuse was in the front, so we did not have to remove the panel to replace it, as well as the panel on the back that lets you switch out the pellets for a different flavor. I bought this for my husband for Fathers Day/Anniversary present. Everything was well packed for shipping, and instructions to put together were easy to follow. I cannot say enough good things about it. We have smoked butts and our neighbors come over sniffing out the goods. The meat fell off the bones, and the taste was amazing. We used the apple pellets. I have been recommending to all family and friends.
Date published: 2018-05-29
Rated

5

out of

5
by
partsguy009
from
Perfect Starter Grill
Let me start by saying I have no attachment to Camp Chef other than I own this unit. I wanting a pellet grill so I researched many different units before making a decision. For the price and with all the features it was the choice for me. I've owned mine between 12-18 months and have burned through some 100-150 pounds of pellets with zero issues. I have done a few mods to my unit like adding a folding shelf to the front, added the sear box and placing a heat seal to the door to help with smoke and heat leakage. I've cooked dozens of whole chickens and racks of ribs, plus briskets, hams and turkeys with great success. The recent addition of the sear box allows me to reverse sear steaks, tri-tips and burgers which gain a little wood flavor before finishing off on the grill. Wanting to cook more food at one time I wish Camp Chef offered the same basic unit just taller with 3 full racks. Keeping all the basic features as well but adding a multiple food probe system that allowed the monitoring for different degrees of doneness.
Date published: 2018-05-30
Rated

2

out of

5
by
Osternole
from
Wide temp range
My wife bought this for me last Christmas. I have used it about once a month. The temp ranges from the set temp to 30 degrees above and about 15 below. Talked with customer service because probe went bed (which they are replacing no questions asked) and asked about the temp variations. The female on the phone told me to expect 15-30 degree swings. Their webpage said any pellet variation should be around 10 degrees. Took a shot on the current smoke. Not as bad as it gets but not going to sit there with camera waiting for the 30. From reviews of other pellets, they seem to have a narrower variance. May want to look at those.
Date published: 2018-11-21
RELATED BLOG POSTS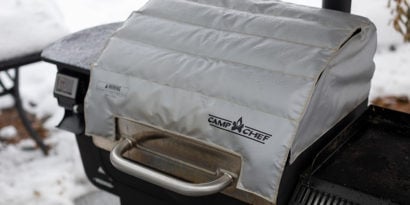 (4 Comments)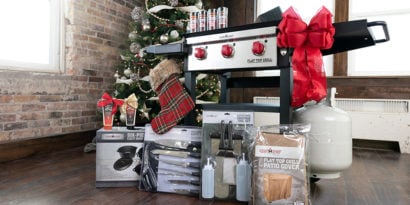 (8 Comments)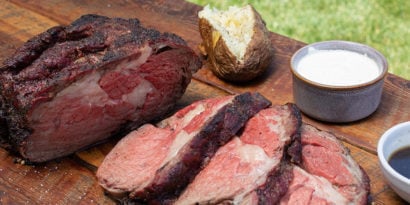 (4 Comments)