Bring more versatility, flavor, and food to your back patio with the new Camp Chef SmokePro 36 SGX Wifi pellet grill. It's our largest pellet grill size which means you can push out more food than ever! Switch seamlessly between traditional low and slow smoking and Direct Flame wood-fired grilling to achieve two delicious flavor profiles all on one grill. And, with the added feature our new WIFI controller you'll be able to monitor your cook from anywhere using the Camp Chef Connect app. Even set a customized Smoke Number with every smoke. So, whether you are craving flame-kissed burgers or tender slow cooked prime rib, the new SGX allows you to achieve the flavors you want easier than ever before.
Multimedia
Features
PID controller for consistent temperatures (+/- 5ºF )
Camp Chef Connect App compatible
Includes 2 meat probes
Adjustable smoke settings from 1-10
160º F - 500ºF temperature range
Easy to use menu dial
High-visibility, low-glare digital display
Pellet Hopper Cleanout/Purge
Slide and Grill Technology's direct flame grilling reaches 650°F
Full sized upper shelf
Ash Cleanout System
Cord Management System
Grease Management System
Expanded chamber height
Side attachment compatible (Sidekick or Sear Box)
Specifications
Upper Rack Area: 573 sq. in.
Lower Rack Area: 663 sq. in.
Total Rack Surface Area: 1236 sq. in.
Side Shelf Dimensions: 16 in. x 12 in.
Chamber Capacity: 7,000 cubic in.
Hopper Capacity: 22 lbs. of pellets
Overall Weight: 177 lbs.
Overall Height: 43.5 in.
Downloads

PG36SGX Instruction Manual
REVIEWS
SmokePro SGX WIFI Pellet Grill - Black
is rated out of
5
by
1
.
Rated

5

out of

5
by
Nick G
from
Glad I went with the SGX36!
I love my sgx36/wifi! This is the first pellet grill I've owned and wanted to make sure I was making a good purchase. I did about 2 months worth of research before I bought it, and almost eery deep dive on the internet led me to Camp Chef and one or two other companies. Everything came down to a coin flip, but after reading about Camp Chef's costumer service I decided if it coin flip I might as well go with good people. I lucked out! With a certain budget I wanted to stay under, I went SGX36 w/o a sidekick, instead of the WW 24 w/sidekick because I wanted the size. The slide and grill function does enough to keep my sear marks on my food, but I do think I'll add a sidekick soon! Glad to own a camp chef.
Date published: 2020-05-25
RELATED BLOG POSTS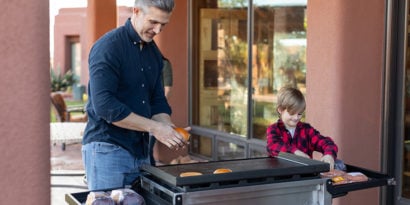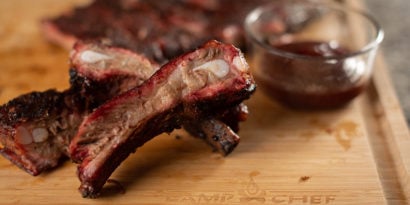 (7 Comments)