Enhance your back patio cookout with our revolutionary new SmokePro SG pellet grill featuring Slide and Grill Technology. Switch seamlessly between Indirect and Direct Flame mode to achieve two delicious flavor profiles all on one capable grill. Slow cook your favorite cut of beef or slide the grill knob and toss a few burgers on for some direct wood-fired grilling. The new SmokePro SG features a taller cook chamber with additional rack space as well as a larger capacity hopper for increased cooking space and eliminating the need to top off your grill with pellets mid-cook. Stocked with the patented Ash Cleanout System, stable temperature regulation, and dual meat probes, the SmokePro SG is the only pellet grill you need to achieve wood-fired flavor.
Multimedia
Features
Includes 2 meat probes
Pellet Hopper Cleanout/Purge
Slide and Grill Technology's Direct Flame grilling reaches 650°F
Ash Cleanout System
Cord Management System
Large capacity hopper
Electronic auto-start ignition
Dual LED temperature readout: internal cooking temps and internal food temps
Simple temperature selection system
160º F up to 500º F temperature range for slow smoking to grilling
Automatic auger dispenses pellets as needed for improved smoker efficiency
Specifications
Lower Rack Area: 429 sq. in.
Upper Rack Area: 382sq. in.
Total Rack Surface Area: 811 sq. in.
Side Shelf Dimensions: 16 in. x 12 in.
Chamber Capacity: 4,850 cubic in.
Hopper Capacity: 22 lbs. of pellets
Overall Height: 42 in.
Overall Weight: 150 lbs.
Warranty: 3 years
Downloads

PG24SG Instruction Manual
REVIEWS
SmokePro SG 24 Pellet Grill - Bronze
is rated out of
5
by
15
.
Rated

5

out of

5
by
MattyH
from
Couldn't go back if I tried...
I've had the SG for about 6 weeks now and it's been a game-changer in my household. I researched pellet grills (Traeger, GMG, etc) for over a month trying to decide on which one to buy, and I landed on the SG finally after realizing that the Traeger lacked a lot of features and the GMG had very mixed reviews. So far I haven't been experimenting on my own, just following recipes that I find online - and everything has turned out perfectly. It cooks true to temp, and the pellets last much longer than I anticipated they would. So far I'm a very happy customer and would choose a Camp Chef again if given the opportunity, 100%.
Date published: 2018-02-20
Rated

5

out of

5
by
ken239
from
AWESOME EXPERIENCE!!!
My first pellet grill, and why did I wait so long to buy it? Cooked 3-2-1 ribs as the first go at it and they were AWESOME! So simple a grill to use. Easy to assemble. Solid build quality. Had a small ding in the side shelf on arrival, but customer service resolved issue painlessly. Highly recommend product to grill lovers!!!
Date published: 2018-03-13
Rated

5

out of

5
by
JRM2607
from
Great Smoker-Grill
this is my first pellet grill, im very happy the smoker maintain the temperature, the option for open fire grill its a very good feature, but its not get too hot the grill, im gonna buy the cast grill option for see if i get a better sear on the steaks or to buy the sear box, but overall very happy with the Camp Chef SG smoke pro
Date published: 2018-02-13
Rated

5

out of

5
by
Anonymous
from
Everything you would want in a smoker!
I received a bonus from work and decided to get a pellet smoker. I researched which smoker would be best for two straight days. During this time I went to half a dozen stores and read dozens and dozens of reviews. This smoker has all the features you would ever want. I have smoked a chuck roast, chicken leg quarters, a cowboy steak, and used the slide and grill feature to grill hamburgers. All turned out great. I have also turned a brisket into pastrami. I would recommend this to everyone. It makes smoking extremely easy. Love it!
Date published: 2019-04-15
Rated

3

out of

5
by
Jakevsnake
from
Poor temperature regulation makes this only 3 star
I have owned this smoker for almost a year now and havent used it much because of the huge temperature swings. As an example, I was smoking ribs two days ago and had the grill set to 225 degrees. The temperature would go as high as 290 and as low and 190 throughout the 7 hrs I was smoking my ribs. Outside air temp was 85 degrees the whole time. I have used three different pellet brands and currently I am using Traeger hickory pellets, but all of them yield the same results. I thoroughly clean my grill after each use so its not because its dirty. There is a company that sells a PID controller that will claims to be able to regulate temperature to +/- 5 degrees of the temp you select. Reviews online confirm this to be an effective solution to this problem but its almost $200 for that product. I find it difficult to justify the $999 I spent on the smoker plus the sear box (sear box works perfectly) when I cannot keep the temperature close on my slow cooks. Camp Chef really needs to improve the temperature controller for this to be worth the price they want us to pay. I shouldnt have to buy an expensive third party product to get my grill to perform as it should.
Date published: 2018-05-07
Rated

1

out of

5
by
Regretting this
from
slide and sear not worth the extra money
I've used this grill 2X, I was excited to use the slide and sear for a good reverse sear on my food but unfortunately not much of a sear. The only way to get a good sear would be if the grease accumulated on the drip pan would catch on fire, also the perforated drip tray seems to allow more ash than usual onto your food. Would not recommend the additional expense of the slide and sear feature.
Date published: 2018-06-12
Rated

5

out of

5
by
Anonymous
from
With all the features its goig to be a big hit.
I like the options of being a smoker and/or an open flame grill.
Date published: 2018-01-18
Rated

5

out of

5
by
rkwheat
from
Love
I love it , easy assemble easy to use just as described no surprises
Date published: 2018-07-12
RELATED BLOG POSTS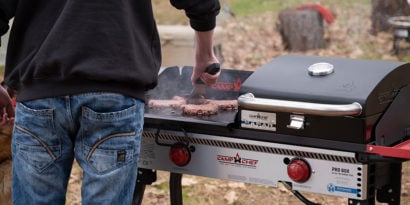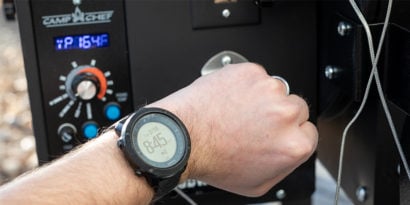 (2 Comments)