In the past, if you wanted a delicious smoky taste with the satisfying seared finish, you had to fire up your pellet grill and your gas grill together. Two grills for one cookout? Not anymore. With our BBQ Sear Box, you can do it all with one unit. The Sear Box offers 180 square inches of cooking space, a 16,000 BTU propane burner, enamel-coated cast iron, and specially designed heat diffuser plates to vaporize grease dripping. It's easy to add to your pellet grill with a simple mounting system and the included propane tank holder. You can have the best of both worlds—pick up the BBQ Sear Box today.
Multimedia
Features
Stainless steel construction
Enamel-coated cast iron grilling grates
Raised ribs for distinct grill marks
Propane burner for high heat
Propane tank holder included
Grease management system with drip tray
Built-in ignition for easy lighting
Heat diffuser plates for infrared cooking
Reaches temperatures up to 900&deg F
16,000 BTUs/Hr. stainless steel burner
Easily replaces existing side shelf with existing holes and hardware
Fitment
All full-sized Camp Chef 24 and 36-inch pellet grills
Specifications
Searing Area Dimensions: 11.5 in. x 16 in.
Total Surface Area: 184 sq. in.
Overall Weight: 34 lbs.
Overall Height: 11 in.
Total Output: 16,000 BTUs/Hr. Burner
Propane Tank not included
Downloads

PGSEAR Instruction Manual
REVIEWS
BBQ Sear Box Grill Accessory
is rated out of
5
by
52
.
Rated

5

out of

5
by
djfr
from
Quality Product
Purchased the PGSEAR last October, when we purchased our Camp Chef 24" Smoker, and very glad we did. This adds a great amount of verstility to the Camp Chef Smoker. Incredible temperature range up to an extreme high. Cooked a 1 1/2 inch ribeye, med/rare, in 5 minutes. Well designed and built, perfect for searing meat or reverse searing after you have smoked certain meat products.
Date published: 2020-05-31
Rated

5

out of

5
by
Tim Romero
from
Perfect compliment to Woodland Grill
Searer is a must accessory to the grill. Cook steaks first to just below temp on grill and then a short side trip the searer, uhmm uhmm good.
Date published: 2020-03-04
Rated

5

out of

5
by
DRU R
from
Great add on!
Wonderful addition to give a great finish on everything you cook that needs a nice sear
Date published: 2019-06-22
Rated

5

out of

5
by
CampChefed
from
Used frequently
I love my sear box and use it more than my smoker it cooks steaks better than any barbaque I've ever used, also great for burgers and chicken. I wish they made a portable stand for it or a stand alone model.
Date published: 2019-06-17
Rated

5

out of

5
by
Brillo
from
Sear box is great.
Sear box is great. Excellent for steaks. Does a nice job.
Date published: 2019-05-08
Rated

5

out of

5
by
Subic97
from
This is a must have.
I thought I cooked a good steak before, but this grill took it to a new level. The flavor screen just adds so much extra flavor to whatever you put on the grill. Added it to my SmokePro XT 24 MODEL #: PG24XT-2 fit perfect and holes already in the XT, just take out the temp screws and use the ones that come with the grill.
Date published: 2019-04-04
Rated

5

out of

5
by
bobbywagner
from
Great Mini Grill
Purchased as an addition to my PG24SG. Attached easily to the pre-mounted holes on my grill. Does a great job adding sear marks to the meat. Comes in handy when needing to cook a quick meal.
Date published: 2019-02-02
Rated

5

out of

5
by
Just Drifting
from
Solid!
It's all as advertised and then some! Reverse seared steaks are awesome and if you want the best burger in the world, use the sear box! High smoke till 105/110 degrees, then sear it! Can't get this in any restaurant. It works great! The fit and finish was right on and I can still use the smoker blanket on the smoker at the same time, the engineers did a very nice job!
Date published: 2019-01-22
RELATED BLOG POSTS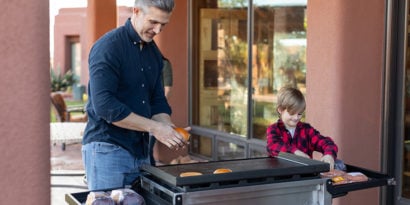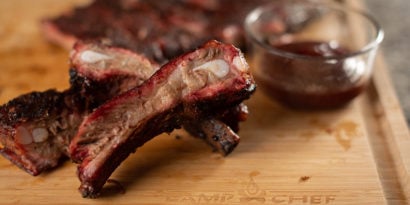 (7 Comments)