The Camp Chef XXL Pellet Smoker gives you everything you love about a pellet grill and a smoke vault in one wood pellet smoker. With four meat racks, three jerky racks, and a sausage rack with twelve hooks, you'll never run out of space for your favorite foods. Smoke jerky, sausage, pork shoulders, and other cuts that don't fit in your pellet grill. The digital temperature control and Smart Smoke Technology of Camp Chef means you don't have to babysit your smoker to keep the heat and generate the perfect amount of smoke. Keep a close watch on your food with dual meat temperate probes. Enjoy temperatures from 150° F to 350° F, plus the convenience of the Ash Cleanout system after each cookout. Smoking food has never been easier or more delicious—get an XXL Vertical for your patio today.
Features
Includes dual meat probes
Includes four standard smoking racks
Includes three jerky smoking racks
Includes one hanging rack with 12 sausage hooks
Holds up to 8 large 21.5 in. x 14 in. racks
150ºF - 350ºF temperature range
Ash Cleanout System
Smart Smoke Technology
Digital temperature display
Grease Management System
Pellet Hopper Cleanout/Purge
Swivel castor wheels for convenient transport
Compatible with Deluxe Collapsible Side Shelf (PGXXLSH)
Specifications
Body Dimensions (without legs): 24 in. L x 36 in. H x 15.5 in. W
Cooking Rack Dimensions: 21.5 in. x 14 in.
Hopper Capacity: 18 lbs. of pellets
Overall Height (with legs): 55 in.
Overall Weight: 145 lbs.
Total Output: 33,000 BTUs/Hr.
Warranty: 3 years
Downloads

PGVXXL Instruction Manual
REVIEWS
XXL Vertical Pellet Smoker
is rated out of
5
by
11
.
Rated

3

out of

5
by
Disappointed01
from
Not much smoke
Bought this a couple months ago. Cooked chicken, ribs, and a pork butt. It cooks good and is well built. BUT, if you want a "smoker" this is not for you. On high smoke settings there is very little smoke. Had to purchase a smoke maze to help this problem out.
Date published: 2020-01-09
Rated

2

out of

5
by
MCP_Dallas
from
Great features, not a lot of smoke flavor
I got one of these about a month ago, and have since used it to smoke a chicken, a pork butt, a rack of St. Louis style spare ribs, and a brisket. First things- this thing is made very well- all metal, all screwed together, well painted, etc... And it's got a lot of very convenient features- a handy handle for moving the thing around, a pellet dump, an ash collection system, a grease bucket, and a pretty well designed and HUGE interior. And a bottle opener! In short, it's got all the actual physical features you might ask for in a smoker. It keeps temperature pretty accurately- enough for slow-cooking things anyway, and the two meat temp probes make it really handy to have two different sorts of meat going at the same time. Here's the rub though... even with the high-end Lumberjack 100% hickory pellets, getting your food to actually have a smoky flavor is a challenge. The chicken and pork I cooked was faintly smoke flavored (4 hours with Cookinpellets Perfect Mix, "High Smoke" setting). The ribs were considerably better (6 hours w/Lumberjack 100% hickory AND a smoke maze lit from both ends and a smoke tube all going), and the brisket was ok- same basic thing, only the last 4 hours of the 12 hour smoke was the Cookinpellets again. I feel like I shouldn't have to go through so much effort (smoke mazes and tubes) just to get a smoker to actually you know, have the food taste like smoke. I feel like if this had been easier and less messy to dissassemble and cheaper to ship back, I might have returned it to Amazon.
Date published: 2019-10-10
Rated

1

out of

5
by
FrankH40059
from
Problems with Model PGVXXL
Purchased in April 2019 and have had problems from the start. First hot rod stopped working. Replaced and then the temperature settings stopped working. Seems the controller is the new problem. No i do not recommend this product.
Date published: 2020-02-20
RELATED BLOG POSTS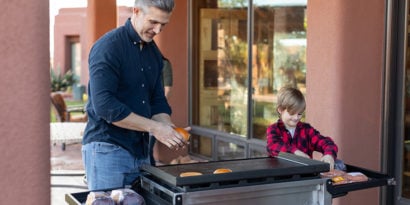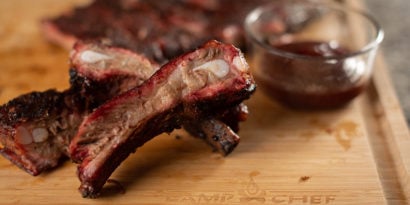 (7 Comments)