Say goodbye to the world of guesswork and hours over a BBQ pit—the SmokePro DLX Pellet Grill brings you an easy, reliable smoke, every time. The newly added Gen 2 controller is easy to use and introduces Smoke Control + PID technology. Tailor the amount of smoke your meal gets by adjusting your Smoke Number. You'll get flawless cook after flawless cook. Plus, Ash Cleanout makes clean up a breeze. Meaning less time fumbling with a suction hose and more time enjoying the beautiful day and delicious food. Now that sounds like the grill for you.
Multimedia
Features
PID controller for consistent temperatures (+/- 5ºF )
Includes 2 meat probes
Adjustable smoke settings from 1-10
160º F - 500ºF temperature range
Easy to use menu dial
High-visibility, low-glare digital display
Pellet Hopper Cleanout/Purge
Full sized upper shelf
Ash Cleanout System
Cord Management System
Grease Management System
Side attachment compatible (Sidekick or Sear Box)
Specifications
Upper Rack Area: 141 sq. in.
Lower Rack Area: 429 sq. in.
Total Rack Surface Area: 570 sq. in.
Side Shelf Dimensions: 16 in. x 12 in.
Chamber Capacity: 3,778 cubic in.
Hopper Capacity: 18 lbs. of pellets
Height to lower cooking grate: 32 in.
Overall Height, including chimney: 47 in.
Overall Weight: 140 lbs.
Warranty: 3 years
Downloads

PG24 Instruction Manual
REVIEWS
SmokePro DLX 24 Pellet Grill - Black
is rated out of
5
by
97
.
Rated

5

out of

5
by
BrianT
from
Great upgrade from electric / wood
I've been considering upgrading from my electric (less smoke / size and not set and forget) & charcoal/wood "mountain" smokers (not set and forget, too long to get set up). A couple friends have this or the woodwind and rave about them. Finally did some reading about how electric smokers smolder the wood so you don't get a good smoke ring or as much smoke flavor and I wanted easy, set and forget type cooking. After tons of review reading I settled on the DLX24 and couldn't be happier I did. It arrived quickly (4 days) and is really well packed. I got a pleasant surprise when I opened the box in that there are a lot of Woodwind features added to this which aren't pictured. The window to the pellet hopper, the bottle opener, the handle on the pellet hopper have all been upgraded over the picture. Setup was quick and easy - was able to do myself and get it seasoning in about 1/2 hour. Didn't have any issue with dents, screws stripping or any things that I've read in other reviews. The only minor issue I had was I didn't catch that when turning the dial to "Feed" you also have to hold the bypass button in for 3 seconds for it to begin feeding. User error and no big deal. Since seasoning I've done porterhouse pork chops (seared on my weber kettle to finish), spatchcock whole chicken, pork shoulder and wings on consecutive days - all were best I've done using any other smoker. I have a bluetooth temp probe and the temperature probe on the DLX controller is spot on with the probe I put on grill with a grill clip. Cooking was truly set it and forget it - temps stayed within 10 degrees-ish of where I'd set it, when it looks like it's getting a bit higher than set it'll begin to drop as the auger has stopped, when it gets a bit below set temp don't worry, auger will start to warm things up. Couldn't be easier. I've done a couple "modifications" to it which have really helped, first I built a shelf between the legs for storage, the legs have holes pre-drilled as I'm sure they're the same legs used on Woodwind which comes with a bottom shelf. A couple pieces of leftover deck board and I was in business. I also bought a box of fire bricks and lined the bottom of the smoker with them, this will be used year round in WI and I wanted to make sure it held heat well and was stable and didn't run through pellets like crazy in the winter. I drilled out the temp probe hole a bit to more easily accommodate multiple probes going through the hole. Lastly I picked up a 6" joint knife to scrape down the drip tray and keep it clean - I'm going to try putting some no-stick grill mats down there next smoke as well to make clean up even easier. Overall, HIGHLY recommended!
Date published: 2019-08-07
Rated

5

out of

5
by
Rjk52
from
Just amazing
I finally pulled the trigger on a pellet grill and I haven't looked back. It is stupid easy to make amazing bbq on this and Camp Chef does is right. Every feature and part is thought through. The sale price made it an easy decision. Buy this now!
Date published: 2019-07-04
Rated

5

out of

5
by
Miller
from
Quality product
Very well built.assembly instructions clear,worked as it should.Highly recommend.
Date published: 2019-06-04
Rated

5

out of

5
by
KarenandDennis
from
Excellent quality!
We absolutely love this grill!! It was easy to assemble and works fantastic. Very easy to operate. We have made burgers, chicken, steak, but our favorite is homemade pizza! Tastes just like it's firebaked! Highly recommend to anyone looking for a pellet grill.
Date published: 2019-02-18
Rated

5

out of

5
by
BBQ john
from
First pellet smoker
I have had this smoker for about 4 months now I bought it from all the good reviews they were on the money l absolutely love this unit came packed awesome fast to assemble and now I cannot stop using it smoked ribs pork chops beer can chicken doing a pork shoulder soon all come out great I have had a large unit sold it and so glad I have this smoker also let me say the pellets outdoor cooking are the best if you are a seasoned or beginner this is the smoker for you thanks outdoor cooking
Date published: 2018-10-20
Rated

5

out of

5
by
AGLS
from
Love it!!
New to smoking and a friend recommended the PG24. We checked out all the reviews, etc. and decided to purchase it. So far we've done a chicken, but oh my, was it good. We also did pizza, which turned out very good. We did brine our chicken first, but the flavor was amazing. We love the ash clean out and the pellet hopper clean out. Right this minute we have another chicken on, we're practicing for Thanksgiving. I'm just not sure how big a turkey will fit inside our smoker and which pellets to use. We've used apple and the competition is what we're trying now. We'll see which one we like better. I did post the question about the size inside for a turkey, but so far our possibilities are endless. Also, we need to see how she does in cold weather. Oh, the packaging and the assembly was the best that we've seen. It was so easy to put together and all the new parts fit to a T, but there wasn't much to assemble. Perfect!!! So far we're happy CAMPers.
Date published: 2018-10-08
Rated

5

out of

5
by
jbsdkfz251
from
Great first smoker!
Christmas 2017 gift and I love it! I have used this for many months, in both cold and hot weather, and it's easy to use and adds a great smoke flavor to everything I've cooked. Wanted it mostly for meats, specifically for pork butts to ribs to steaks. Even without a sear box, steaks taste great from only a few minutes smoking. Favorite feature: the digital temp settings and thermometer. The included meat probe has stopped working, but I'm not really concerned about that, as I prefer an external model anyway. Easy to load and unload pellets and clean up after use. Only wish is for Camp Chef to make a custom-fit cover that is heavy duty to protect from UV and weather. Wondering if you can use pellets of your own choice? I almost always do, and find the results to be very flavorful, but some burn faster than others, so you have to learn as you go to know if less expensive pellets truly save money or not. Not the largest smoker, but very easy to learn, and I would highly recommend this smoker to any starting smoking enthusiast or cook who just craves smoke flavor.
Date published: 2018-08-19
Rated

5

out of

5
by
Michealeb
from
Love it
Best buy yet, never smoked before but this makes it easy.
Date published: 2018-08-14
Rated

5

out of

5
by
Joey A
from
Features above the rest!
I was waiting for my other pellet grill to malfunction (again) so that I could help justify getting my hands on a Camp Chef. I have seen a dozen different makes and found none with the features of the camp chef. The center fire box, ash dump, and pellet dump are all great features. I've had this smoker about a month now and have used it about a dozen times. It never fails to disappoint!
Date published: 2018-08-09
Rated

5

out of

5
by
Tyler
from
Excellent Grill, Amazing Price!
If you're considering purchasing this grill, just do it! The grill was shipped extremely fast, and came nearly assembled. I was shocked at the time and effort I DIDN'T spend putting this together, I've spent more time putting together a conventional propane grill than my Camp Chef. The quality and ingenuity of the design and product are un matched. I received the grill late in the afternoon and was cooking dinner in less than an hour. It's easy to use and cooks amazing, with more features at this price point than the nearest competitor. Easy Choice, Buy this Grill!
Date published: 2018-08-03
Rated

5

out of

5
by
Canucklehead
from
Sorry, dear gas grill...it's not you, it's me.
Bought a PG24 for myself for Father's Day after reading great reviews. Had gotten pretty good with my gas grill but really wanted to try using a smoker. Absolutely no regrets! The flavour is incredible, and the difference noticeable when cooking the same food on both types of grills. Guests have also noticed, saying that the taste of the food is in a whole new level. Fantastic. Greats very little ash. Did a 14 lb turkey with a turkey cannon. Total of about 4 hours. Less than 1/2" of ash in the cup. Now, I only use the gas grill to sear. The smoker can be cranked up, but realistically, can't get anywhere near the gas grills higher temps. I find it faster when reverse grilling to finish on the gas grill...it also allows me to justify to my wife why I need to keep both! Note, though, that the smoker uses electricity to burn the pellets, so make sure that you have a power source near where you plan on using it.
Date published: 2018-07-14
Rated

5

out of

5
by
VinnDe
from
Works like a Charm but I have a Question
Everything works as it should and I'm enjoying using it. Ribs and chicken come out just as expected. I do have 1 question though. Is it normal to have a pile of sawdust on the bottom under the drip pan. Every time I use it I find a lot of dust on the bottom of tank.
Date published: 2018-07-04
Rated

5

out of

5
by
Rocky 48
from
Fantastic Smoker & Grill
I bought this machine approx 11 months ago, the best money I ever spent.
Date published: 2018-06-06
Rated

5

out of

5
by
Bones
from
Just set it and forget it
This is a fantastic smoker . The only thing I would do next time is get a BIGGER ONE!!!!
Date published: 2018-06-02
Rated

5

out of

5
by
partsguy009
from
Perfect Starter Grill
Let me start by saying I have no attachment to Camp Chef other than I own this unit. I wanting a pellet grill so I researched many different units before making a decision. For the price and with all the features it was the choice for me. I've owned mine between 12-18 months and have burned through some 100-150 pounds of pellets with zero issues. I have done a few mods to my unit like adding a folding shelf to the front, added the sear box and placing a heat seal to the door to help with smoke and heat leakage. I've cooked dozens of whole chickens and racks of ribs, plus briskets, hams and turkeys with great success. The recent addition of the sear box allows me to reverse sear steaks, tri-tips and burgers which gain a little wood flavor before finishing off on the grill. Wanting to cook more food at one time I wish Camp Chef offered the same basic unit just taller with 3 full racks. Keeping all the basic features as well but adding a multiple food probe system that allowed the monitoring for different degrees of doneness.
Date published: 2018-05-30
Rated

5

out of

5
by
Kroy12
from
Amazing, would highly recommend!!
After doing a lot of research, I decided this was the grill for us. I liked the fact that the fuse was in the front, so we did not have to remove the panel to replace it, as well as the panel on the back that lets you switch out the pellets for a different flavor. I bought this for my husband for Fathers Day/Anniversary present. Everything was well packed for shipping, and instructions to put together were easy to follow. I cannot say enough good things about it. We have smoked butts and our neighbors come over sniffing out the goods. The meat fell off the bones, and the taste was amazing. We used the apple pellets. I have been recommending to all family and friends.
Date published: 2018-05-29
Rated

5

out of

5
by
Darrellb75
from
Best purchase in a long time
Bought about a month ago and to say I have been pleased is an understatement. Never cooked a brisket before in my life and first time on the SmokePro it was perfect! Ribs, outstanding! Going to put it to good use this memorial day. Ordering the front shelf also and definitely getting the thermal blanket because I want to use this thing year round. Have already convinced two others to purchase and they now are very happy. Working on others. Mayby Camp Chef can through in the cover as sort of a commission.
Date published: 2018-05-25
Rated

5

out of

5
by
Tim G
from
Great Product, Every Griller's DREAM!
Incredible product very well packed. All components arrived in great condition. Easy to assemble. Fired it up on initial start and cure. All systems worked perfectly. This grill is an outstanding value. I would highly recommend to a friend. I would purchase again.
Date published: 2018-05-23
Rated

5

out of

5
by
Philipb269
from
Easy to use, easy to clean ...Love IT
Amazing smoker/grill combo, I'm very pleased with the results of each meal I cook.
Date published: 2018-05-16
Rated

5

out of

5
by
Jakeo
from
Easy to use
It's easy to use best bbq/smoker I've ever had love it
Date published: 2018-05-07
Rated

5

out of

5
by
GreatWallSmoking
from
Awesome producct
This thing is legit!!! I've never had a smoker, but wanted to get into it. After researching, this thing is the best option avail. Being in the cold of WI, it keeps that constant temp throughout the smoking time. We have family from the south & they think our ribs are better than they can replicate on a traditional wood smoker. Very few models have the separate meat probe & having it is the most convenient tool when doing briskets or pork shoulders;not having extra wires running in your work space is nice. I love not having to monitor the smoker all day, when I could be doing yard work, having fun with the family, etc.; it's ideal for a busy life. We even go out boating, just to come back to amazing food that didn't need constant attention. Also, the Camp Chef customer service was amazing. I had 2 minor problems when mine was shipped; which appeared to be the shipping service, not the Camp Chef. Easy to submit the warranty & the parts were shipped the next day, while also getting tracking info & invoice confirmation. Only worry is that I may not have gotten a big enough one, lol.
Date published: 2018-05-07
Rated

5

out of

5
by
Flo51
from
Solid Costruction, Great Price
Just bought my first Camp Chef Smoker (Smoke Pro DLX) and I am so happy with my purchase. First off, it is constructed off a heavy gauge steel, and is rock solid, way better than my old vertical smoker. Smoked a tri tip today and it turned out amazing. The controls are easy to use, and removing unused pellets is very easy. Don't be a fool, buy Camp Chef!
Date published: 2018-03-17
Rated

5

out of

5
by
Hawkman1950
from
One Great Smoker
My wife bought this for me last year for my birthday and we have smoked all kinds of meat and fish on this smoker. It is very easy to use and does a WONDERFUL job of smoking any kind of meat. Do yourself a favor and buy one, you won't be sorry.
Date published: 2018-03-12
Rated

5

out of

5
by
Kraler
from
Best tasting food ever
Money well spent. Ease of operation.temp control.Ash clean out ,ease of changing
Date published: 2018-02-08
Rated

5

out of

5
by
Teaysguy
from
Perfect Smoker/Grill for a small family
Love this thing, the first Camp Chef product I ever brought and made me completely switch brands from another. This thing has never given me a bit of a problem. I've put literally thousands of hours on it. Great for Reverse Searing Steaks, Butts, Briskets, Ribs, Chops, heck, any cut of meat!!!! Smoke On.....
Date published: 2018-02-05
Rated

5

out of

5
by
jono19
from
WONDERFUL PELLET GRILL!
I had looked into pellet grills for 3 months before i pulled the trigger on my DLX. Let me be the first to tell you its Amazing! Im so glad i went with Camp Chef! there is no better way to grill or smoke then on a pellet grill.
Date published: 2018-01-30
Rated

5

out of

5
by
Sstephens50
from
As expected
I did a lot of research on the camp chef and how it compares to other pellet smokers. Hands down I feel I made the right decision. Was exactly what I expected when delivered. Assembly was easy and gives you a chance to see how it all works. Just one time of being able to dump ashes with the clean out system and I knew it had to be better than taking it all apart to clean. Also I was worried about colder weather temps keeping me from enjoying it but I think that would only be a factor when it was down in the 30's. I used mine several times in the 40's with no issues. Love the camp chef.
Date published: 2018-01-26
Rated

5

out of

5
by
Smokin' Smitty
from
1st Smoker
My wife spent many hours researching prior to purchasing the Camp Chef Smokepro DLX. Very well packed and protected! Our local delivery person was not kind or careful to say the least when unloading the package. Opened back door and basically pushed it out on the ground! We were very relieved after unpacking to see nothing looked to be damaged. Set up was easy, and we were smokin' in about an hours time! This is a very well made smoker, and pretty straight forward to use. Have already done steak, taters and Baby Back ribs. Very nice product Camp Chef! Thank you!
Date published: 2018-01-08
Rated

5

out of

5
by
ScottS
from
Wonderful Experience
I have only had it for 3 weeks, but I have never had more enjoyment cooking outdoors! Set it and check it every few hours till it get closer. My Family wanted Smoked Brisket for Christmas, getting up at 3:30 AM to get it started wasn't optimal, but the results are worth every minute of interrupted sleep! Cooked 6 different meats and all have been perfect. Looking forward to many years of cooking with this one, sorry old gas BBQ!
Date published: 2018-01-05
Rated

5

out of

5
by
Brad
from
Excellent Choice
I've always been a fan of eating BBQ but never gathered up the courage to do it the old fashioned way. Glad I waited because this grill took less than an hour to unpack, assemble, and prep to cook. I made ribs and smoked sausage for the first smoke ever. I only opened the grill 3 times over 6 hours, so easy. Family ate every single bite, no left overs. Already excited to smoke something else.
Date published: 2018-01-03
RELATED BLOG POSTS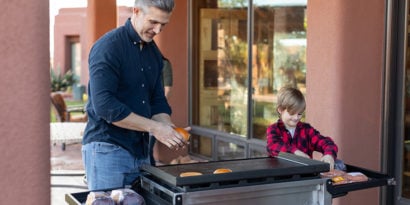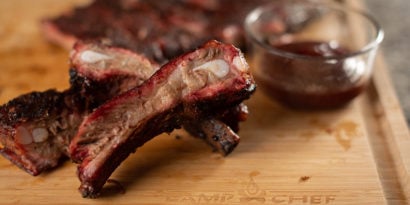 (7 Comments)