The Woodwind SG doesn't just make grilling easier—it also makes it more delicious. Use the new Slide & Grill Technology for an even more diverse grilling experience by direct flame broiling your food. Your Woodwind SG is fueled by premium hardwood pellets that generate heat and smoke—infusing your food with a savory wood fire taste that'll make your taste buds sing. The Woodwind houses our largest hopper capacity, meaning those long cooks can go even longer. With grill temperature settings from 160°F to 500°F and the included Sear Box that reaches up to 900° F, you can achieve perfect results, whether you're grilling, smoking, baking, roasting, braising, barbecuing, or even searing. And when you're finished cooking, cleanup is a breeze with our patented Ash Cleanout System.
Discover the new heavenly taste of the Woodwind SG. With an increased hopper size, Slide and Grill Technology, and 40% more cooking capacity you'll be living large all year long. Buy now to begin your journey to grill mastery.
Multimedia
Features
Includes 2 meat probes
Includes removable 2-piece enameled steel lower rack
Includes removable 2-piece nickel plated upper rack
Smart Smoke Technology
Pellet Hopper Cleanout/Purge
Slide and Grill Technology's Direct Flame grilling reaches 650°F
Ash Cleanout System
Cord Management System
Grease Management System
Large capacity hopper
Electronic auto-start ignition
Dual LED temperature display: internal cooking temps and internal food temps
Simple temperature selection system
160º F up to 500º F temperature range for slow smoking to grilling
Automatic auger dispenses pellets as needed for improved smoker efficiency
Bottle opener
Clear hopper window
High temperature paint with matte finish
Sear Box
Stainless steel construction
16,000 BTU stainless steel burner
Enamel-coated cast iron grill grates
Raised ribs on grates for distinct grill marks
Propane burner for high heat
Propane tank holder included
Grease management system with drip tray
Built-in ignition for easy lighting
Heat diffuser plates for infrared cooking
Reaches temperatures up to 900°F
Propane tank not included
Specifications
Upper Rack Area: 382 sq. in.
Lower Rack Area: 429 sq. in.
Total Rack Surface Area: 811 sq. in.
Chamber Capacity: 4,850 cubic in.
Hopper Capacity: 22 lbs. of pellets
Overall Height: 42 in.
Overall Weight: 150 lbs.
Warranty: 3 years
Sear Box
Searing Area Dimensions: 11.5 in. x 16 in.
Total Surface Area: 184 sq. in.
16,000 BTU stainless steel burner
Overall Weight: 34 lbs.
Downloads

PG24SGWWS Instruction Manual
REVIEWS
Woodwind SG 24 Pellet Grill with Sear Box
is rated out of
5
by
74
.
Rated

5

out of

5
by
Anonymous
from
Woodwind SR- Just WOW!
Great purchase,setup and instructional videos. So far everything prepared has been excellent. We may never go to a restaurant again!
Date published: 2019-11-07
Rated

5

out of

5
by
WoodwindSG
from
Awesome Grill!!!
I've owned multiple grills over the years and this one provides the best flavored food by far! I spent a few months researching, and comparing multiple grills and I'm very satisfied that I went with the Woodwind SG! You won't be disappointed!
Date published: 2019-10-23
Rated

5

out of

5
by
Satisfied Customer
from
Camp Chef Woodwind SG Purchase
I love my Camp Chef Woodwind SG Pellet Smoker. Researched several of them for a few weeks and am glad I chose this one. Had a minor flaw with the smoker but Outdoor Cooking customer service was outstanding and handled my concern beyond my expectations.
Date published: 2019-10-14
Rated

5

out of

5
by
Clarkman
from
Woodwind SG with Sear Box
My gas grill bit the dust and had decided I wanted a pellet grill to replace it. This one fit the bill perfectly for our family. The sear box is perfect for quickly doing a few burgers or brats and I'm loving the reverse sear technique for steaks and chops or chicken. Overall it's worth everything I paid for. The grill showed up with a little damage in shipping but customer service was quick to help me out. Overall you will not be disappointed with purchasing this grill from here!
Date published: 2019-09-10
Rated

5

out of

5
by
JQuack
from
Woodwind SG 24 smokes my Pro 575
I bought another smoker for our vacation home a couple months ago, did not get the quality of smoke I was expecting. I have several wood fired smokers so I know what good smoke is. Well I did a lot of research and bought a Camp Chef Woodwind SG 24 for our full time home. Wanted the convenience of set it and forget it for pork shoulder and brisket. I could not be happier with the results from this smoker, don't be fooled by people calling it a cooker, the Woodwind IS a SMOKER! The additional char box was great for finishing the chicken and steaks I've done. I have had it for 3 weeks and have used it over 10 times already, my family loves the quality and smoked flavor from everything I have cooked. The Woodwind is built solid to withstand years of use. Now I need to sell my Pro 575 and get another Woodwind! Pics of tasty chow, 11 hour brisket salt and pepper only, 9 hours on high smoke, 2 hours wrapped on 225, 1 hour of rest. Smoked chicken thighs with a sear. I would highly recommend this smoker to anyone on the fence, so far so great.
Date published: 2019-07-23
Rated

5

out of

5
by
Tim1471
from
Great Pellet Grill.
I purchased this grill in early June. It arrived in a timely manner and packaged well. Didn't have any issues putting it together. Just took my time and had fun with it. Been cooking on it for almost 2 months, and am super happy. I had purchased a different manufactures pellet grill from Home Depot originally and had nothing but trouble. The hottest temp I could get it to was 380 degrees. Took too long to cook anything so I returned it. I researched Camp Chef, looked at a lot of reviews and decided to go with purchasing one from them. I am so glad I did. After the initial burn in I wanted to see how hot it would get. I set it on high and stopped it once it reached 520 degrees.The slide grill works really well. I love the versatility of this grill from smoker to oven. I have cooked wings, whole chickens, steaks, fish, pork butt and brisket.. They have all turned out amazing. Just purchased the jerky rack and that will be my next endeavor.
Date published: 2019-07-22
Rated

5

out of

5
by
Kevin S
from
Purchase and first impressions
Fast shipping and delivery. Assembly was easy, great instructions. Cooking has been great. Very flavorful, best grilling we have ever done.
Date published: 2019-07-02
Rated

5

out of

5
by
DRU R
from
SIMPLY THE BEST
After months of looking and comparing features, this grill has completely exceeded my expectations coming from a gas grill. You will truly want to cook everything on this grill as it is so much simpler than having to tend to a flare up gas grill.
Date published: 2019-06-22
Rated

5

out of

5
by
Mountain Man
from
Who Needs A Kitchen?
I've had my smoker for a few weeks and I've used it 15 times already. In very happy with my purchase.
Date published: 2019-06-15
Rated

5

out of

5
by
Anonymous
from
Was everything I was looking for and more. Best ribs and Brisket that I've smoked yet and I've only had it a few weeks. Looking forward to trying more recipes.
Date published: 2019-05-27
Rated

5

out of

5
by
Maried
from
Great Smoker
After using for a couple of months and getting the hang of it (first pellet smoker) I appreciate the features of this grill compared to the two electric upright smokers I had previously. I love that I can set the temperature and virtually forget about it. Lots of smoke, easy to clean, and reaches high enough temps to grill. I haven't even used the sear box yet. Wish list: A call on my cellphone when internal probe reaches desired temperature - that would be awesome (or just a beep alert would be great too!) Recommend!
Date published: 2019-05-21
Rated

5

out of

5
by
Woodstock
from
Great grill & so easy to use, Love it!
I bought this in July 2018 and started on a fun filled, exciting journey preparing great ribs, pulled pork, pizza, etc. This was in a retirement community in SC and our friends said they were the best ribs they had ever had and I was instantly the official grill master of our group of friends. One friend had a BGE but his wife raved about the flavor and brought over three more racks so she could take and share a few weeks later. I cannot tell you how rewarding this grill has been. Now we are back in Ohio for the summer and my new Woodwind SG 24 with Sidekick is coming in three days. Could not bear thinking about not having one available all year. Before I bought the first one I read a lot of reviews and carefully looked at many brands and came to the conclusion that the Camp Chef Woodwind SG provided far more value and features than any other grill on the market.
Date published: 2019-04-27
Rated

5

out of

5
by
Brutus
from
Amazing!
Easy to assemble and very easy to use. This is my first pellet grill and i love it!
Date published: 2019-04-26
Rated

5

out of

5
by
The Smoking Turtle
from
You've gotta get one!
I have had my Woodwind SG24 with Sear Box for 9 months and it has been spectacular. I have used it for ribs, brisket, pork butt, bugers you name it and it always produces fabulous results. I have seen some comments about it not producing a lot of smoke and that it is hard to get a smoke rings or flavor. I have not had any problem with that! The ribs I cooked last week came out looking and tasting like competition level ribs. This is so easy to use and produces a great meal, I would never consider grilling on anything else. The grill works as advertised, is easy to use and clean. I really appreciate the ease of emptying the ashes from the firebox.
Date published: 2019-04-10
Rated

5

out of

5
by
Smokey Sam
from
Amazing Pellet Grill
This is a must for a grilling enthusiast that enjoys the smoked flavor as it produces the very best deep smoked flavor in all your favorite dishes. I have smoked everything from prime rib to pie in this machine and have savored every bite. You don't get a bigger bang for your buck with any other grill in it's price range. Dual thermometers, Low smoke, high smoke, up to 500 degrees and a seer box to boot. Very easy to clean. Reduced cleanup with the built in soot removal system.
Date published: 2019-01-26
Rated

5

out of

5
by
Chav S
from
Great grill awesome customer service!
I bought this grill a month ago, I was excited to put it together, opened the box and it somehow had a dent in the hopper lid, the were super friendly and handled the issue fast and more than satisfactory!!! Not only is this grill awesome they are too!!! Already made two great briskets and a couple racks of ribs and couldn't be more pleased!!! I recommended this grill and company to over ten people! If you're looking, get it!! So worth it!!!
Date published: 2018-12-25
Rated

5

out of

5
by
Jrae94
from
Amazing Grill
I bought the woodwind a couple weeks ago, I couldn't be more satisfied and impressed with this grill! the sear box is a difference maker. I had a minor problem in the beginning due to shipping but it was resolved very quickly. Amazing support staff.
Date published: 2018-12-19
Rated

5

out of

5
by
Blue
from
Love the two "smoke" settings on my Woodwind
I've had my Woodwind for six months. I bought it with a sear box. I have a nice offset smoker also. I also use two sizes of Weber grills. The Woodwind is incredible! Using the two smoke settings insures perfect heat and smoke control. The probes keep the temperature where you want it. I used it on a "high smoke" setting with cherry wood pellets.to cook Thanksgiving Turkey. Best turkey I've ever cooked and, at 74 years old, I've cooked a lot of birds! The color, the consistent internal turkey temperature, the wonderful smoked flavor. It's the best smoker I've ever cooked on!
Date published: 2018-12-13
Rated

5

out of

5
by
Michi 123
from
Amazing!
I absolutely love this product! Everything I've cooked on this so far has been amazing! The burgers taste so much better on this grill then my charcoal grill. It super easy to use and never burns the food. It makes the food so juicy and tender. I'm more impressed every time I use it.
Date published: 2018-11-05
Rated

5

out of

5
by
grill baby grill
from
Great Grill, Great Company!
After researching pellet grills for 6 months, I finally selected the Woodwind SG Pellet Grill and would never go back to anything else. The probes let's you know exactly when to pull your food off. The sear box is such a great addition and makes the perfect grill marks and texture quickly without overcooking. I have smoked salmon, pulled pork, flank steak, and even grilled burgers using the slide grill. Cleaning is actually easy, especially with the removable ash pot. Customer support is also one of the best. My grill and hopper lid was damaged during shipping. Support said the grill lid was still on back order but sent me a new hopper lid with a shelf for the inconvenience. The grill lid was shipped a few days later.
Date published: 2018-09-20
Rated

5

out of

5
by
TechSmoker
from
A crowd pleaser
Every year I have a big smoked meat party. This year featured 45lbs of Brisket 3 turkey breasts and salmon. It was the best yet. The features on this grill are great. It was easy to assemble. The only knock I have is there were some missing bolts and a small problem with the finish. CampChef made good on both. Having the sear box is great for doing the reverse sear or when you just want to grill something up super quick. Great capacity. Love how easily the upper racks come out. I added some super strong magnetic hooks for things like grill brushes, and tongs while working etc.
Date published: 2018-08-16
Rated

5

out of

5
by
Rick1213
from
This is an awsome machine!!
I have wanted this grill for a long time, but $899.00 was more then I wanted to spend. Then my old grill stopped working and the new model was $999.00. I made the decision to purchase the new Woodwind, and I am so happy I did. Once you taste meat cooked on this unit, you will only want to cook your meat on this grill. The sear box is amazing. I have also found their customer service to be great!
Date published: 2018-08-08
Rated

5

out of

5
by
Wandering Hawkeye
from
Easy to setup and Use
I looked at other pellet grills before I bought this one. One of our local stores uses another and it looked good. When I saw the features of the Camp Chef Woodwind I knew I found the one I would get. I received it and set it up and was smoking. I have enjoyed the finished product so much. The Woodwind has even turned my wife around she now likes the output very much.
Date published: 2018-08-03
Rated

5

out of

5
by
BBQ Texan
from
Woodwind SG is awsome
Had my new grill for about a month and couldn't be happier. So far gave cooked chicken and lots of steaks. Have been cooking with wood and charcoal for years and own several other grills and will still use them for their specific purpose. (the Woodwind cant replace my large smoker it fits up to 10 briskets at once).My experience so far has been great started with chicken at first to get used to the grill and like all grills you have to be careful not to dry it out.The main reason I got a pellet grill and specifically the Woodwind, was a steak cooker, that I didn't have to wait for the charcoal to burn down. Let me tell you now it cooks reverse sear steaks that are better than any I have tasted. Gas grills will soon go the way of the dinosaur
Date published: 2018-07-23
Rated

5

out of

5
by
anckutza
from
Great everything!
Got this for my husband for Christmas and we have used it many times since then. We tried brisket, ribs, steaks, burgers and chicken several times. It never disappoints. I highly recommend giving it a try. It's easy to use and clean and great quality. All of our friends are asking what we used when they taste our food. Amazing smoker!
Date published: 2018-07-23
Rated

5

out of

5
by
akrause75
from
Woodwind SG for the win
I am very happy with my first few cooks on my WWSG. I have reverse seared a couple NY Strip Steaks and smoked a couple Pork Butts and a Brisket Flat. Coming from a electric smoker, this thing is amazing. Construction of this smoker is very good, and feels like it will last a long time. I haven't specifically tried, at the time of writing this, using the Slide and Grill feature but its very easy to switch between the 2 different cooking modes as I have done that to clean out the smoker. Assembly was fairly straight forward, a little difficult to install the legs alone and would be much easier for that part of the assembly to have a second person, but I did manage alone. Using the build in controller is easy and having the 2 build in meat probes is also a plus. The sear box is a great addition. Saves me from firing up my separate grill just to sear off food. It gets very hot and i got instant sizzle when i put my NY Strip Steaks on the Sear Box. Cleaning up everything is a breeze. I have been doing a light scrub in the sink and putting the grates into the dish washer. I do really enjoy this smoker and would highly recommend it for its cooking ability, build quality, and easy of use.
Date published: 2018-07-09
Rated

5

out of

5
by
davidweb
from
Simple to use & turns out AWESOME food!!!
I bought the whole package directly from Camp Chef and am I ever happy I did. I grill 3-4 days out of the week and was tired of the inconsistent results that propane alone produced. After seeing the commercials and comparing the Woodwind to other manufacturer's grills, I chose Camp Chef due to features that no other has. I first used the grill to make Camp Chef's 3-2-1 ribs and did they ever turn out great! So much so that my wife stated that these were the best ribs I have ever made. They actually fell off the bone with a gentle pull. I can't state how awesome this grill is. Today is steak & shrimp day so I will put the sear box to use. THANK YOU Camp Chef for producing an outstanding and simple to use grill!!!
Date published: 2018-07-08
Rated

5

out of

5
by
Matthieu
from
Best BBQ ever
The food I cooked since I have it tasted so good. Just love it!
Date published: 2018-07-06
Rated

5

out of

5
by
Jeff D
from
I love this!
I got my woodwind about 9 months ago and it has changed everything for me. I THOUGHT I was a pretty good cook...now I get family and neighbors ASKING me to cook for them. I've smoked meat in the past on charcoal, and it's was good.. but the woodwind makes it easy. Just pick your temp and walk away, and using the sere box... we'll wait until you do a reverse sere steak.
Date published: 2018-06-23
Rated

5

out of

5
by
Leester
from
Best of the best pellet grills in 2018
I have had another brand of a pellet grill for seven, or more, years and I love it. I cook on it four or five times a week at my distillery and I have just about worn it out. I decided to replace it and I started looking at what was available today, new features, etc. In the process, I discovered the Camp Chef brand and their WoodWind grill with a sear box. This grill is everything my other pellet grill was and much more. First, I love the Low Smoke and the High Smoke settings. Low Smoke is around 160 degrees and High Smoke is around 225 degrees. I use these settings the most and both of them make a ton of smoke. Second, the sear box is a great feature. I have cut my pellet use in half. With my old pellet grill, I had to run the grill up to 500 degrees to do a good sear, but it used a ton of chips. The WoodWind's sear box goes over 935 degrees, the limit of my IR temperature reader. Third, the ash clean out system means that I don't have to open it all up and clean out the fire box several times a week. I just pull the lever and the fire box ashes fall into the cup underneath the grill. Now I only change the foil on the drip trey when it looks like it needs it, only once a month or so. And finally, I love the ability to change the pellets or just to empty them back into an air tight bag. Sometimes it is humid here in Dallas and the pellets can soak up too much moisture. I did remove that silly augur guard from the pellet hopper. What idiot attorney thought that was a good idea? Four screws and it was gone! But, all in all, the Grill God was correct. This grill is the real thing and I love it. My only complaint is that with the sear box on the right side, you lose the shelf that was there. I don't understand why the self doesn't attach to the sear box so that you get it back. Perhaps the sear box just gets too hot.
Date published: 2018-06-17
RELATED BLOG POSTS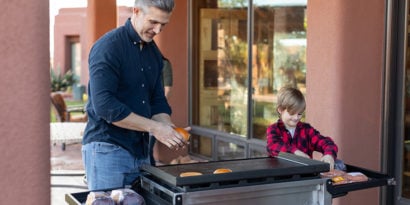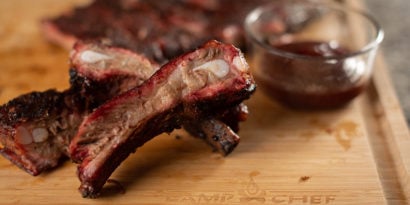 (7 Comments)