Say goodbye to the world of guesswork and hours over a BBQ pit—the SmokePro DLX Pellet Grill brings you an easy, reliable smoke, every time. The newly added Gen 2 controller is easy to use and introduces Smoke Control + PID technology. Tailor the amount of smoke your meal gets by adjusting your Smoke Number. You'll get flawless cook after flawless cook. Plus, Ash Cleanout makes clean up a breeze. Meaning less time fumbling with a suction hose and more time enjoying the beautiful day and delicious food. Now that sounds like the grill for you.
Multimedia
Features
PID controller for consistent temperatures (+/- 5ºF )
Includes 2 meat probes
Adjustable smoke settings from 1-10
160º F - 500ºF temperature range
Easy to use menu dial
High-visibility, low-glare digital display
Pellet Hopper Cleanout/Purge
Full sized upper shelf
Ash Cleanout System
Cord Management System
Grease Management System
Side attachment compatible (Sidekick or Sear Box)
Specifications
Upper Rack Area: 141 sq. in.
Lower Rack Area: 429 sq. in.
Total Rack Surface Area: 570 sq. in.
Side Shelf Dimensions: 16 in. x 12 in.
Chamber Capacity: 3,778 cubic in.
Hopper Capacity: 18 lbs. of pellets
Height to lower cooking grate: 32 in.
Overall Height, including chimney: 47 in.
Overall Weight: 140 lbs.
Warranty: 3 years
Downloads

PG24 Instruction Manual
REVIEWS
SmokePro DLX 24 Pellet Grill - Bronze
is rated out of
5
by
30
.
Rated

5

out of

5
by
Gregg 469
from
Great Smoker
This is my first smoker very easy to use made 321 ribs came out great made some jerky came out great n BBQ some burgers n hot dogs came out great Love the smoker. Can't wait to do a brisket. ++++++
Date published: 2019-06-05
Rated

5

out of

5
by
Gundy
from
Smoke Pro
I have had this for a month now and it works fantastic.
Date published: 2018-07-26
Rated

5

out of

5
by
LoPro56
from
Set It and Forget It
I have been using my SmokePro for about a month now and absolutely love this thing! Its very well made, what little assembly needed was a breeze. I have smoked a lot of ribs over the years and none have ever turned out so evenly cooked and tender than what I get from this smoker. Fill it, plug it in, set it, and forget it!
Date published: 2018-07-12
Rated

5

out of

5
by
Liquid
from
Grilling/smoking made easy! S
Bought this as a birthday present to myself and LOVE IT! I find myself looking for things to grill every time we go to the grocery store.
Date published: 2018-07-03
Rated

5

out of

5
by
WLDC
from
Best wood pellet grill out there!
We bought this for our son who is a grill master. He wanted this brand specifically, and when it was delivered to his door, he was the happiest man on earth!! We went right to it, got it all together, and he started cook'in!! It was great, and he loves it.
Date published: 2018-06-15
Rated

5

out of

5
by
DHizzle
from
Great Pellet Smoker/Grill
I had a Pit Boss prior to getting this. The Pit Boss was garbage couldn't maintain consistent temps and cooked very unevenly. Did a lot of research prior to buying this and I have to say I haven't been disappointed at all! Everything you smoke/cook on this turns out fantastic! You won't regret buying this I promise you that!
Date published: 2018-05-18
Rated

5

out of

5
by
WestSloper
from
Great little pellet grill!
I've been using this grill for the last month, probably 3-4 times a week. I've owned a couple other brands of pellet grills and have to say this is by far a better product! It cooks consistently delicious food. It hold a consistent temperature throughout the cooking process. I would definitely recommend it to anyone that is looking for a new grill!
Date published: 2018-04-24
Rated

5

out of

5
by
Gene
from
Great
This is the most awesome grill I have ever used. It works perfect every time and makes the best ribs I have ever had,
Date published: 2018-01-08
Rated

5

out of

5
by
ScottS
from
Wonderful Experience
I have only had it for 3 weeks, but I have never had more enjoyment cooking outdoors! Set it and check it every few hours till it get closer. My Family wanted Smoked Brisket for Christmas, getting up at 3:30 AM to get it started wasn't optimal, but the results are worth every minute of interrupted sleep! Cooked 6 different meats and all have been perfect. Looking forward to many years of cooking with this one, sorry old gas BBQ!
Date published: 2018-01-05
Rated

5

out of

5
by
Shagnat
from
Excellet, fun to use
Love this smoker/grill. Food tastes great and so simple to use. You can cook almost anything! Best fun I've ever had cooking!
Date published: 2017-10-03
Rated

5

out of

5
by
Rob in Texas
from
Superior common sense engineering
I did tons of research before purchasing the SmokePro DLX pellet grill.. I looked at all of the features of many of the top brands, but I kept coming back to this model. Three things that won me over. The trap doors that open to quickly clean out the unused pellets and the ash. The available Sear Box that you can put on the side for perfect steaks and the built in digital temperature probe. This baby rocks with superior common sense engineering at its best!
Date published: 2017-08-11
Rated

5

out of

5
by
Anonymous
from
Very pleased
First I recieved my smoker yesterday as a Fathers Day present. First, I have never got anything that was packaged so well. The quality of the smoker is great I can't imagine anything as good or better for the same cost. Put it together by myself in an hour. Seasoned it and will try it out tonight. Thanks CampChef
Date published: 2017-06-24
Rated

5

out of

5
by
Anonymous
from
great value and good eats
I bought the Camp Chef Pellet Grill six months ago and have cooked all different kinds foods. Great taste no matter what you make! Don't have to worry about flare ups and burnt food.
Date published: 2017-02-07
Rated

5

out of

5
by
Helidriver
from
Fits like a glove
This is a nice cover and should last a long time, it fits like a glove
Date published: 2017-01-19
Rated

5

out of

5
by
Clifton
from
Good cover for stove
This cover fits the stove like a glove and will stay on due to the bungee cord around the bottom hem. Received in a timely manner and was in great shape. Seems to be well built and should last a long time. I would recommend this cover to anyone that has this stove which is also great.
Date published: 2016-01-06
Rated

5

out of

5
by
scott
from
Best pellet grill for the money
This Camp Chef Pellet Grill and Smoker offers the best bang for the buck. It comes up to temp quickly and is very good on pellet consumption. It has features that the competition does not have. Just pull a lever and your fire-pot is cleaned and ready to go. Smokestack is mounted on the back-side so the smoke stays in the chamber longer. Fit and finish is excellent. It worked right out of the box and works every time.
Date published: 2016-01-06
Rated

4

out of

5
by
Billy Traylor
from
Love it!!!!
It arrived within 7 business days. Upon opening the box I discovered that the knob for the ash clean out lever was busted. Started assembling the unit, and it went together very easy. All except the front wheeled leg, one attaching bolt wouldn't start because the hole was miss aligned. These two reasons is why I gave it 4
Date published: 2017-12-19
Rated

2

out of

5
by
bunsmac_0
from
Paying for Ash Cleanout
This is not my first pellet smoker.I bought this one because of the Ash cleanout..The smoker itself is all right.It just has alot of hype because of the ash cleanout.which is not that big of a deal.My camp Chef came with 2 dents.Pne on the lid of pellet hopper the other on the grease catch .I called customer service and the woman just laughed and said "Oh Well' hurtful comment.Have I had a good dinner from it No,did it smoke,yeah all over .did the feeder work,No.I am stuck with this Smoker and $600 dollars.
Date published: 2020-03-26
RELATED BLOG POSTS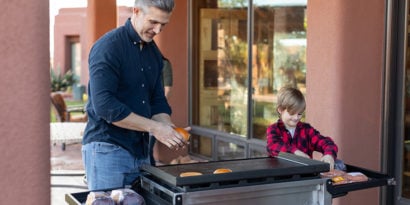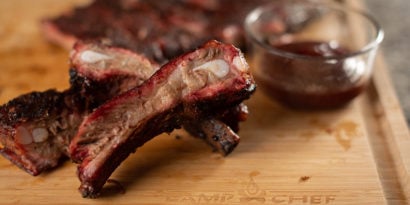 (7 Comments)