Mouthwatering, tender, and scrumptious: that's what you can expect from food that's prepared on a wood pellet grill. This guide book and recipe collection provides all the information you need to create incredible meals on your unique and amazingly versatile outdoor cooker. Bob Devon, barbecue master extraordinaire, begins by explaining how you can use a wood-pellet grill as a smoker, grill, barbeque, oven, and broiler to cook virtually any food out of doors. He then kicks off the recipe section with a medley of barbecue rubs, marinades, and sauces designed to transform even the most mundane food into a culinary treat. You will also find a huge selection of recipes for steaks, burgers, dogs, sausages, pork, chicken, turkey, seafood, vegetables, breads, pizzas, and even desserts. From slow-cooked, fall-off-the-bone meats to crispy pizzas, every dish is easy to make and even easier to enjoy.
Features
Guide to cooking on wood pellet grill
Recipes for rubs, sauces, and marinades
Wide variety of entree & appetizer recipes
Specifications
Paperback Book
192 pages
Language: English
Weight: 1.1 lb.
REVIEWS
The Complete Wood Pellet Barbeque Cookbook
is rated out of
5
by
11
.
Rated

5

out of

5
by
Grilling Conductor
from
Excellent help
I bought this for help in my new Wood Wind and it has been very helpful. He gives times, temps, brine and pellet suggestions. I have found this book to be very helpful.
Date published: 2018-03-29
Rated

5

out of

5
by
Bjkaboom
from
...This Book is 'Complete'!!!!...
....Hello there!!! It is finally nice to add a 'Book Full' of first hand information and Wood Pellet Smoking to my Library!!!! This book contains all the info you'll need to know and will keep you 'Successfully' smoking on your wood pellet grill/smoker for many years!!! This book is a must have!!!!! Thanks!!! Semper Fi! Godspeed!!!
Date published: 2018-09-16
Rated

5

out of

5
by
Colodaddy
from
Good book for starting smoking with pellets
This book is perfect for getting started with your new pellet smoker.
Date published: 2018-08-04
Rated

5

out of

5
by
Baylor65007
from
Very good book
Lots of good Recipes and tells you how to make a Lot of good rubs
Date published: 2018-05-27
Rated

4

out of

5
by
Wilhelmina
from
Thanks for referring
Thanks for referring. It's helped me understand the pellet grill.
Date published: 2016-12-16
Rated

5

out of

5
by
MarkGreen
from
Love it
Great book, very helpful. Cooking on a pellet grill is different than a charcoal grill so I had to learn how to grill different.
Date published: 2018-09-12
Rated

5

out of

5
by
Beetle156
from
Very Helpful!
I just upgraded my smoker to the Wood Wind, and this book provides many new pieces of information too the pot!
Date published: 2018-03-01
Rated

5

out of

5
by
DJ haz
from
Great
Glad I brought it a month ago and great works very well
Date published: 2019-04-13
RELATED BLOG POSTS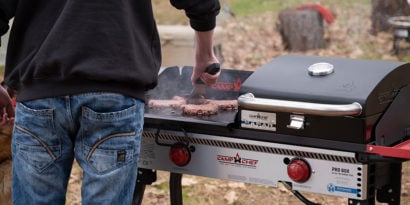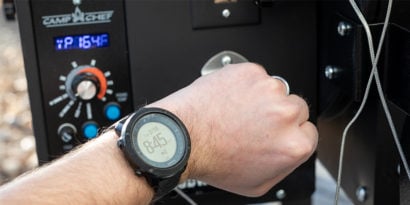 (2 Comments)