When you buy a 24-inch Camp Chef pellet grill smoker, a grill cover should be your next purchase! Especially if your smoker plans to stay on the back patio for most of the year, then it's a no brainer—it's time to protect your investment. Crafted from durable, high-quality materials and a weather-resistant liner, this grill cover will do it's job from day one. Debris, insects, snow, rain, mildew is no match for the Full 24-inch Pellet Grill Cover.
Features
Durable, weather-resistant liner
Chimney and side shelf tie down
Formed to fit over shelves and smoke chimney
Fits over Sear Box and Sidekick accessories
Newly improved water resistance and UV coating on the fabric
Fitment
Fits all Camp Chef 24 in. Pellet Grills
Fits over Sidekick, Sear Box, or side shelf
Specifications
Fits BBQ and Pellet Grills up to 51 in. x 21.5 in.
Material: 600 Denier-coated nylon
REVIEWS
Pellet Grill Cover - 24" - Full
is rated out of
5
by
89
.
Rated

2

out of

5
by
Greensboro
from
At least it looks good. . .
As several folks have stated, it is just a tad too small, especially with the front shelf accessory. It just doesn't quite fit. I was able to live with that, but we had a big rain last night and when I took the cover off to grill tonight the grease trap for the Sidekick griddle was half full of water, there was water trapped on the underside of the folded down front shelf, and there was wet places on the rest of the grill. I was really disappointed, especially for the price. The purpose of the cover was to protect my grill and to keep it from rusting from rain. Really happy with the grill, but not with the cover! The agent on the Live Chat said the cover is not advertised to be water proof - not helpful.
Date published: 2019-07-12
Rated

3

out of

5
by
BBQ Savant
from
Poor fit!
I can't understand why many reviews state that this cover fits perfectly. The quality is good but this cover does not fit my woodwind with a sidekick well. It is not wide enough. If it were 2 inches wider it would fit perfectly. It also won't come close to covering the propane tank if mounted on the hook. I must leave the tank on the ground to come anywhere close the cover fitting. Quality good. Fit not.
Date published: 2019-01-20
Rated

2

out of

5
by
SpkRob
from
I Don't Get It
I've given this some time, all summer with my Woodwind SG W/Sidekick. Does it fit? Technically yes, but well? No. If it was $35, ok.. you get what you pay for. Just seems an easy fix. Would the larger 36" one be a better fit for the Woodwind w/SK?? I'm not eager to spend more, but honestly for something that was simple to toss on and secure, and remove when I was ready to use,..I would. As it is, I have to go side to side, pull, adjust, squeeze over propane tank, hopper, side-kick, etc, etc to get on and off. Sounds lazy I agree, but it is a pain compared to the other quality I have found with Camp Chef. Maybe they are like clothes, no two same sizes fit the same? Mine does not fit like some in photos. It looks like I bought the wrong size to anyone viewing it. I would not recommend for WW with Sidekick.
Date published: 2019-10-04
Rated

4

out of

5
by
SewerRat563
from
make bigger
I have the new woodwind sg with sidekick. It's hard to put on and off it could be made at least 2" bigger all the way around. It will go over but not easily both on and off. Quality is there though
Date published: 2019-02-05
Rated

2

out of

5
by
AeroAgg06
from
Faded fast - failed miserably after 2 years
I am not sure what the normal life span of a grill cover is, but i would have expected longer than 2 years. Mine is right at two years old and has become brittle and i can poke a hole in it with my finger. Apparently the warranty is 90 days. Pretty awful for a $70 cover; fortunately mine came with my grill, but a replacement will be ridiculously expensive for the quality
Date published: 2019-10-23
Rated

5

out of

5
by
Nitro
from
Pellet Grill Patio Cover 24" Long is a Rockstar
I bought this 24" long cover for my Camp Chef Smoke Pro SG. This cover fits great over my SG. I love the protection it gives to my smoker grill.
Date published: 2018-04-26
Rated

1

out of

5
by
Hoot
from
Fades & Stitching
After about 2 weeks, it's faded terribly and the stitching is starting to unravel on the velcro and seams. I'm a long-time supporter of Camp Chef products, but they missed the mark on this one. Terribly disappointed as this was not cheap.
Date published: 2018-05-29
Rated

5

out of

5
by
SE Smoke Master
from
FITS LIKE A GLOVE!!!
I have the Smoke Pro SE with the solid front shelf, the sear box, and a propane tank mounted. I had been using a Wally World special on the grill and it just didn't fit right - everytime the wind blew, the cover took a ride. I finally ponied up and spent the money on this cover and couldn't be more pleased - heavy duty material, water tight, and goes all the way down to the ground even with all my accessories mounted. Top quality product - don't hesitate to buy it - you won't be disappointed.
Date published: 2018-04-25
RELATED BLOG POSTS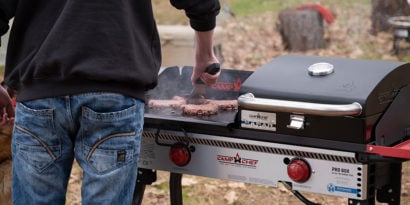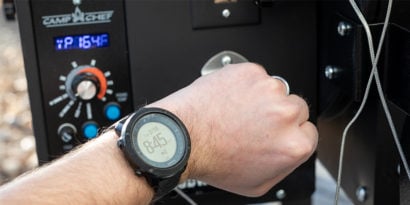 (2 Comments)