Our Pellet Grills & Smokers make the smoking process a cinch—but with the Meat Probe accessory, you'll have total control over the temperature of your food. With an easy digital display, you will know in seconds what's going on under the grill lid. Hit the hot spot every time with the Meat Probe.
Fitment
PG24
PG24S
PG24B
PG24STX
PG24WWS
PG24LTD
PG24LS
PG36LUX
PG36LUXB
REVIEWS
Pellet Grill Meat Probe
is rated out of
5
by
42
.
Rated

1

out of

5
by
Sorry
from
Wish it wasnt so delicate.
Im on my third probe since purchasing my woodwind during the summer of '17 and these things arent cheap. Happy with the smoker but after spending almost a grand with camp chef on a woodwind with searbox, I would have thought that theyd cover any probe malfunction under warrantee - no such luck. Afterall, the built in probe is one of their benefits over the competition. If it doesnt work, guess its not much of a benefit. When I called customer service after the first one failed I seriously (and naively) expected them to offer me an expedited replacement for free - no such luck! I had to pay for it and if I needed it quick was informed that would be extra. I was extremely careful with the replacement (not to submerge in water or take above 350F), but again another probe error and had to replace on my dime. Not happy, but appreciate the oppty to share with others. Thanks, Camp Chef!
Date published: 2018-01-25
Rated

1

out of

5
by
Anonymous
from
Meat Probe Failure
I absolutely love my Camp Chef Woodwind Pellet Grill however for the money we spend for this grill you would think they would include a quality meat probe. I put a brisket on this morning, checked the temperature after several hours and nothing. The probe quit working. I had only used the probe appropriately 10-15 times as I received the grill as a Christmas present last Christmas. Luckily, I have never used the other probe and I was able to change them out. I had no idea people were having probe failures until I started reading the reviews. Come on Camp Chef, you can do better.
Date published: 2019-09-01
Rated

1

out of

5
by
Grant
from
Don't trust it alone with an expensive brisket!
I bought a Woodwind SG in July. It came with two probes, I use them weekly on steaks or pork chop, getting to around 115°F. I smoked a brisket a few weeks back, I checked probe temperature every half hour or so. After seeing the internal temp not rise from 160° for several hours I took that probe out and put the other in. I waited a couple minutes, suddenly the temp jumped to over 200°F. Needless to say my brisket was basically ruined. These probes seem to be cheaply made and not accurate at higher temps (150°F+). Sad to put something so cheap with such a nice grill.
Date published: 2018-11-19
Rated

1

out of

5
by
Rjko
from
Doesn't hold up!
The probe worked great the first 3 times. Then it stopped working. I handled it carefully. Based on this, I would never buy it again, unless it was heavily discounted. It was the only disappointment in my grill purchase.
Date published: 2018-06-27
Rated

1

out of

5
by
ANyS
from
Love the grill, hate the probe
I use the grill alot because it the best way to bbq. I now have to replace my third temp probe in less than a year. This is just a bad design and when you add in the shipping cost way too expensive.
Date published: 2018-07-20
Rated

1

out of

5
by
rlg92656
from
Accuracy questionable and eventually failed
The temperature probe was one of the things I loved about using a pellet grill, but I found that (by testing with a quality probe) it wasn't as accurate as I like. Also, I inadvertently left it hanging loose in my Woodwind at 400degF. It, of course, no longer works - you aren't supposed to let it get that hot. I also learned that the electronics on my oven temperature probe in my Woodwind is not working, because it was reading 285degF, but the meat probe read 399degF. Great. Solution for my nearly $1k pellet grill? I bought a cheap oven thermometer, since I can't trust the reading on the built-in, and I bought a remote meat probe from Walmart, rather than waste my money on the official CampChef product.
Date published: 2019-02-25
Rated

1

out of

5
by
Colin s
from
Meat probe that can't take the heat
It will stop working if exposed to temps over 400, bought a third party wireless probe and its much more useful
Date published: 2018-05-02
Rated

4

out of

5
by
TerryFromMesa
from
Hopefully improved
I bought this a few weeks ago because the previous one had failed. Several users have previously reported problems and Camp Chef has been very good at providing replacements. I decided to purchase one to have a spare. I was pleased to see this one is little different from the previous ones - a little longer metal probe and a fatter cable. Hopefully this one will last longer. Worked well in my DLX with no problem.
Date published: 2018-03-19
RELATED BLOG POSTS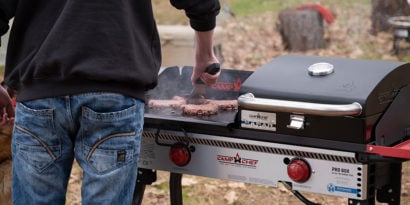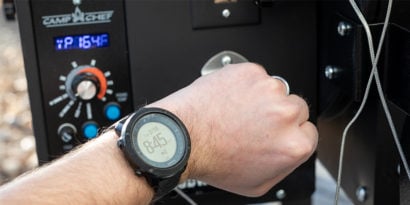 (2 Comments)