Running out of hands? Hook the Pellet Grill & Smoker Shelf onto the front of your grill, and use all the space you need. Make it a serving area, a condiment shelf, a tool rack—whatever you want it to be. Its convenience and versatility make this front shelf indispensable to your grill set-up.
Features
Adjustable knobs for leveling
Makes loading and unloading grill convenient
Collapsible when not in use
Fitment
Fits 24" and 36" Camp Chef pellet grill models.
Specifications
Dimensions: 21.8 L x 11.2 W
REVIEWS
Pellet Grill and Smoker Shelf
is rated out of
5
by
39
.
Rated

3

out of

5
by
JohnHudson
from
Pellet Grill Shelf
I like the idea of the shelf but with the lid closed it's not usable due to the lid handle in the way. Camp Chef might want yo move the handle up in future designs. See attached picture.
Date published: 2018-05-28
Rated

5

out of

5
by
Anonymous
from
Awesome Addition
This shelf makes smoking/cooking a breeze with the additional space. Easy to install and use. In its retract position my Camp Chef patio cover fits nicely over it. Another great product from Camp Chef.
Date published: 2017-01-29
Rated

2

out of

5
by
Mgs52
from
Front shelf
Great shelf for any grill. Unfortunately not a great fit for the Woodwind. Hangers are too short, if you have anything other than a cookie sheet on the shelf you can open the lid of the grill. Probably would not recommend for the Woodwind.
Date published: 2018-02-02
Rated

2

out of

5
by
SmokeMaster
from
Not well thought out
Not well thought out. When you put anything on the shelf, the lid handle is in the way. Feels cheap and not very sturdy.
Date published: 2018-02-15
Rated

5

out of

5
by
tbneau
from
Great Accessory For The Pellet Grill
Our pellet grill shelf arrived today. As soon as I installed it (easy as pie to do), I could tell that it is going to be a great cooking accessory for the Camp Chef. I did scrounge up a couple of plastic caps that I temporarily put over the end of the leveling screws to prevent the screws from scratching the front of the grill until I can get a couple of "proper" bolt caps. Hopefully the heat that low down on the grill will not melt them.
Date published: 2018-01-20
Rated

5

out of

5
by
Uncle
from
By far the best pellet grill on the market
I have had to use most of the pellet grills on the market and the Camp Chef has all the rest beat hands down. Holds temperature better,the only one with ash dump for easier cleaning.
Date published: 2016-06-12
Rated

5

out of

5
by
Bruce in Texas
from
Looks good works great!
I bought this shelf because I have sear box and needed a shelf. It looks good and is solid but folds out of the way when not needed. A great addition to my Woodwind smoker!
Date published: 2018-01-25
Rated

1

out of

5
by
Damian
from
Too Bad
I purchased this smoker shelf to help me especially when I make ribs so I don't lose alot of heat in the ribs when wrapping. Well the 1st use of the product the rivets broke and the shelf just kind of hangs there unusable. I'm going to probably get the welder out to fix the problems with the poor workmanship. If you buy one take it to a local auto shop and have them TIG weld the rivets so they don't break
Date published: 2018-05-30
RELATED BLOG POSTS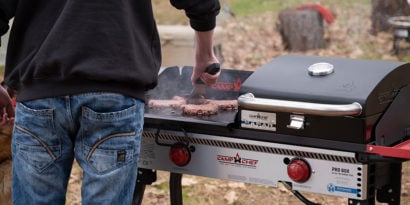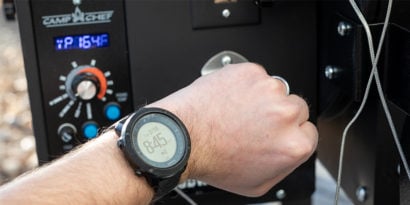 (2 Comments)