Your pellet grill is big, but sometimes you're fighting for more space. We get it. That's why we're bringing you almost quadruple the cooking surface area with our SmokePro Jerky Racks. With three removable racks at your disposal, you'll be able to tackle any smoking job, from jerky to fish, wings to ribs. All without breaking a sweat.
Features
Three removable jerky racks
Frame simply sits inside smoke chamber
1584 sq. in. of cooking space
Fitment
SmokePro DLX 24 Pellet Grill, PG24
SmokePro SE 24 Pellet Grill, PG24SE
SmokePro XT 24 Pellet Grill, PG24XT
SmokePro SG 24 Pellet Grill, PG24SG*
SmokePro STX 24 Pellet Grill, PG24STX
Woodwind Classic Pellet Grill, PG24WWS
Woodwind Classic Pellet Grill with Sear Box, PG24WWSS
Woodwind SG Pellet Grill with Sear Box, PG24SGWWSS1*
Woodwind SG Pellet Grill with Sidekick, PG24SGWWSK1*
*remove the current warming rack brackets to install the 24-inch Jerky Rack brackets
Specifications
Material: Nickel-plated steel
REVIEWS
Pellet Grill Jerky Rack - 24"
is rated out of
5
by
26
.
Rated

4

out of

5
by
Ryan12
from
Works for Woodwind SG....if you
I bought these jerky racks for the new Woodwind SG. Upon arrival I read the directions and immediately noticed they would not fit in the Woodwind SG as it comes standard. I contacted Camp Chef customer service and they replied promptly that I would need to remove the top warming rack frame to use the jerky racks with the Woodwind SG. At first I was irritated but figured I would give it a try. To remove the warming rack frames, you just need to remove 4 bolts. After removal the jerky rack frame slides in and the pressure from the lower grates holds them in place. You can then slide the warming rack back into place on the top section of the jerky rack frame when not using the jerky racks. Overall I am impressed with the quality of the jerks racks and it greatly increases cooking space.
Date published: 2018-07-19
Rated

5

out of

5
by
WillyB
from
A Must for Maximizing cooking space!
I bought this rack specifically for competing in a chicken competition. My brother and I are 4-time grand champions of a competition in Gainesville, GA and this little gem helped cook our Apple Bourbon Chicken Wings to perfection, enough to place 1st Place for Smoked Wings in the Professional Division! My Woodwind Pellet Smoker performed like a dream! This allowed us to pump out chicken of the highest quality and max quantity. The only con is the racks are a little time consuming to clean, but creating award-winning chicken makes it worth it!
Date published: 2018-04-30
Rated

5

out of

5
by
Teaysguy
from
Adds so much cooking space!!!!
This is a must, don't let the "Jerky Rack" name sell it short. Very solid build. Can use it to smoke even more on. Ribs, Steaks, Pizzas, and so on and so on. Use just 1 rack and you can add more pans to smoke in also. Adjust as many pans as you'd like for your use. These things are probably the first accessory I'd buy. Easy to install also.
Date published: 2018-02-05
Rated

5

out of

5
by
Leolion3
from
Fit perfectly, tons of surface area
I bought this to make beef jerky and it worked beautifully. I put 4 pounds of sliced jerky in the smoker at once. Without the racks it would have taken several batches to cure that much meat. The money I spent on the rack will be saved in wood pellets by being able to stuff a lot of meat into the smoker at once. Looking forward to trying different jerky recipes. yum.
Date published: 2018-04-01
Rated

4

out of

5
by
Poppa51
from
Great jerky
I got this as a gift a week ago and love it. It holds five pounds of jerky at a time. I am on my third batch and the end result is fantastic. The reason for four stars is the trays are hard to move in and out. You can't just turn on and leave as the edges seem to cook quicker than the centers. Also the middle rack is a little slower as well. Because if this after about ninety minutes you need to start turning and moving pieces around to different locations. Hence with the trays stiff to slide complicates things. First pieces (thinner cuts) are done in 2 hours. Then you have to check about every twenty minutes so you dont over cook and dry out the meat too much. All said makes awesome jerky
Date published: 2019-03-12
Rated

4

out of

5
by
Desertdwlr
from
Jerky Rack
Easy to install, however the racks are very tight to insert and remove...made a batch of jerky per Camp Chef instructions and it came out marvelous! My wife raved over the Teriyaki style and the peppery style was very good too. The racks cleaned up surprisingly easy too.
Date published: 2018-05-21
Rated

5

out of

5
by
Art L
from
Smoker racks in SG
I bought some of the smaller jerky racks originally. Then I ordered the Jerky Rack with larger racks. I was disappointed I had to remove the brackets for the warming racks for the jerky racks to fit. For the cost of the SG they could have just built them right into the grill in place of the warming rack rail to begin with probably no extra production cost and they would have been secured with bolts on the top. Then you would have only had to purchase the wire racks. I am not disappointed with the grill at all. It makes the best smoked meat around.
Date published: 2018-10-18
Rated

5

out of

5
by
chilidog
from
Smokes and cooks great. Cleanup easy
Used this smoker three times so far and it is easily the best and easiest to use smoker I have used. You can almost set it and forget it. Great recipes on the internet walk you through an easy process. Then a very simple and easy clean
Date published: 2018-05-16
RELATED BLOG POSTS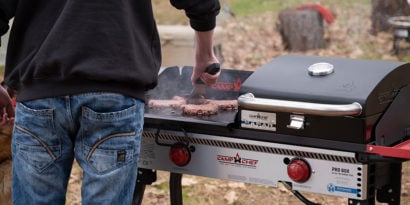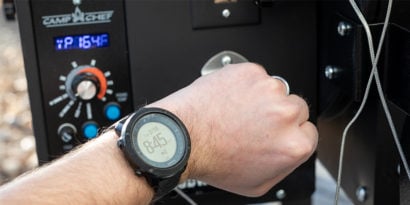 (2 Comments)