Lock the delicious smoked flavor of mesquite, hickory, cherry, and more into your meats with the Smoke Vault 24". This simple smoker cooks your meat low and slow with a heavy-gauge steel wood chip tray and water pan to infuse it with a delicious flavor you can't get any other way. Use the Smoke Vault for a variety of foods from ribs to a whole turkey or even baked pies. Fully adjustable heat-control dials, three damper valves, and a door thermometer will help you control internal temperatures throughout the cooking process. Cooking temperatures can vary from 160° F to 350° F. We'll throw in some cooking tips, ideas and recipes with your purchase to help you get on your way as a master outdoor chef. Lock in your Smoke Vault purchase today.
Multimedia
Features
Two adjustable smoking racks
One jerky smoking rack
Water pan
Heavy-gauge steel wood chip tray
Removable porcelain base tray for easy clean up
Three adjustable damper valves; one on top and one on each side
Easy to read door thermometer from 50 to 350 degrees
Protected burner drum for maximum heat control
Convenient matchless snap-ignition
Cooking tips, ideas, and recipes included
Specifications
Body Dimensions (without legs): 24 in. W x 16 in. D x 30 in. H
Door Dimensions: 22 1/2 in. W x 28 in. H
Cooking Rack Dimensions: 21 1/2 in. W x 14 in. D
Shipping Dimensions: 25 in. x 17.5 in. x 30.5 in.
Overall Height (with legs): 44 in.
Overall Weight: 75 lbs.
Total Output: 18,000 BTUs/Hr.
Downloads

SMV24S Instruction Manual

Natural Gas Conversion Guide
REVIEWS
Smoke Vault 24"
is rated out of
5
by
39
.
Rated

5

out of

5
by
Woody R
from
Great Smoker
Bought this smoker about 8 months ago love it. I have smoked Hams, Ribs, Chickens, Pork Butts, and Fish all perfect!!!! This is one great smoker!
Date published: 2020-05-01
Rated

5

out of

5
by
JandBCreations
from
Amazing all around !
Inherited my 24 vault so being second hand has some wear and tear, but after looking around and talking to others who smoke I'm very pleased with this smoker . Electric ones may hold set temp better , but just dont cook or taste the same . Still on LP , but might convert to NG this summer. As for now I can cook around 235deg for an entire day and really not devoured a tank of LP as expected. For first time smokers we love to make own baste and mixes and try new things and the experience with this smoker is absolutely great hands down . Its 30deg outside with snow on ground and we are happy and excited to be smoking today - give idea of how much we enjoy it . Pulled pork and jerky are only two things we have yet to make . Have smoked two meats at same time using wireless thermometers to track temps interal and externally and flavors have not mixed enough to notice . Side by side - dont stack them dont want juices to cross between the meats . When this one dies we are planning on buying a new one exactly same accept maybe a jerky rack ( that would be nice ). Thank you guys and gals for creating this amazing smoker .
Date published: 2019-12-29
Rated

5

out of

5
by
Rambo
from
Long lasting
I've had one for many years now. Use it to smoke summer sausage and fish mostly. Easily holds fifty pounds of summer sausage. Have to watch the meat as one side of the smoker gets done before the other at times. I finally wore out the burner today so will see if it can be repaired or if I replace the entire unit. This one has lasted longer than other brands owned by friends.
Date published: 2019-12-21
Rated

5

out of

5
by
Mountainchuck
from
The best smoker ever
I cut my teeth on a Master Chef upright. Great smaller smoker and then I got the Camp Chef Smoke Vault. Great rack size with 3 racks. Wonderful temperature control and wood trough is strong and durable. Once set, the only chore is to keep it wood supplied. The pork , chicken or beef is top shelf cooked in it.
Date published: 2019-09-02
Rated

5

out of

5
by
gator
from
Great Smoker for the Money, But
Excellent smoker, holds temperature well, easy construction. Good quality racks etc compared to my previous smoker. My only comment is to switch out the temperature gauge for a tell tru temp gauge which will run you 30 bucks.
Date published: 2019-08-03
Rated

5

out of

5
by
JoelCP
from
Very happy buyer
I purchased this late last summer and it allows to me to turn out awesome smoked meats. One of my justifications for buying this was "...and we can use it as an outdoor oven!" Indeed we have! I've roasted many dinners outside when it was just too hot to turn on the oven. Make sure you use your own temperature probes, like every other outdoor grill I have owned the temperature gauge is approximate. Love it, Thanks Camp Chef!
Date published: 2019-07-18
Rated

5

out of

5
by
Joey R
from
Amazingly Simple
This is an amazing product on all fronts. The unit is very simple to put together, instructions are laid out fairly clearly. In my excitement I didn't notice the stainless steel skirt that goes on the front so ended up having to take the front legs off to put that on and do it properly. I also converted it to natural gas and those instructions were also very clear. When put together the unit looks great. I like the safe vault look to it. With outdoorcooking.com you get the free cover for it which should hopefully keep it looking nice for a long time. Useability is also a strong feature of this smoker. The water pan is large and does a good job of keeping the temperature constant. The wood chip pan is sturdy and of a thick steel construction to heat up the chips. I only have two complaints: 1. Thermometer. I know this plagues every BBQ and every smoker, but why can't they figure something out for this. 2. The handle doesn't feel great. It is a bit too tough to open and latch closed. I have a feeling I'll be forced at some point to fix that. I've already smoked some ribs and a salmon in the unit and I'm already questioning why I have a kitchen because I'm convinced smoking is the only way to cool anything! If you're on the fence for buying this. DO IT! YOU WILL NOT REGRET IT!
Date published: 2018-04-05
Rated

5

out of

5
by
Drewzintense
from
All Around Excellent Smoker!!!
This is my first smoker and after much research I feel couldn't have made a better choice. I've now made dozens of chicken breasts, two 14lbs turkeys (simultaneously, there is plenty of room in the 24") for Christmas Eve dinner, and venison burgers. Everything has come out fantastic. Temperatures are very stable even in windy conditions. An excellent product and well built.
Date published: 2018-03-26
RELATED BLOG POSTS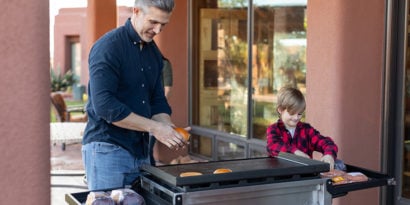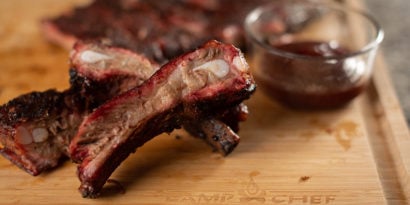 (7 Comments)