Lock the delicious smoked flavor of mesquite, hickory, cherry, and more into your meats with the Smoke Vault 24". This simple smoker cooks your meat low and slow with a heavy-gauge steel wood chip tray and water pan to infuse it with a delicious flavor you can't get any other way. Use the Smoke Vault for a variety of foods from ribs to a whole turkey or even baked pies. Fully adjustable heat-control dials, three damper valves, and a door thermometer will help you control internal temperatures throughout the cooking process. Cooking temperatures can vary from 160° F to 350° F. We'll throw in some cooking tips, ideas and recipes with your purchase to help you get on your way as a master outdoor chef. Lock in your Smoke Vault purchase today.
Multimedia
Features
Two adjustable smoking racks
One jerky smoking rack
Water pan
Heavy-gauge steel wood chip tray
Removable porcelain base tray for easy clean up
Three adjustable damper valves; one on top and one on each side
Easy to read door thermometer from 50 to 350 degrees
Protected burner drum for maximum heat control
Convenient matchless snap-ignition
Cooking tips, ideas, and recipes included
Specifications
Body Dimensions (without legs): 24 in. W x 16 in. D x 30 in. H
Door Dimensions: 22 1/2 in. W x 28 in. H
Cooking Rack Dimensions: 21 1/2 in. W x 14 in. D
Shipping Dimensions: 25 in. x 17.5 in. x 30.5 in.
Overall Height (with legs): 44 in.
Overall Weight: 75 lbs.
Total Output: 18,000 BTUs/Hr.
Downloads

SMV24S Instruction Manual

Natural Gas Conversion Guide
REVIEWS
Smoke Vault 24"
is rated out of
5
by
21
.
Rated

5

out of

5
by
AJ
from
Perfect for my needs
So, as I tell my wife, each grill or smoker has it's own job to do. There is no such thing as a do it all from my years of experience. I truly enjoy using this smoker for its ease of use, size and consistency. Plenty of area for the wood chips or small chunks. Plenty of volume in the water pan. Plenty of rack slots and width for cooking your meat of choice. I especially like the slide out bottom tray so it can be cleaned or just wrap it in foil for even easier clean up. Is there a negative? No exactly but any one who grills or smokes alot knows the stock thermometer may not be the best. I have a remote digital thermometer I use. Don't let the hard core " I only use wood or charcoal." cooks deter you, I have three of them in various sizes and I like this smoker tremendously!! Enjoy the purchase!
Date published: 2017-02-28
Rated

4

out of

5
by
ShawnE
from
Well constructed
Very well constructed, easy to control temperature. Might be nice to have a better seal on the door to keep more smoke in the chamber, and less play in the control knob.
Date published: 2018-05-01
Rated

5

out of

5
by
Jack
from
My first smoker and I love it
Assembly was reasonably easy. The only problem was getting the door off but WD40 took care of that. We had never used a smoker before so I followed the seasoning instructions and several of the hints and tips. Our first attempt was a 22 pound turkey. We butterflied the bird, applied a dry rub and used mesquite ( this is Arizona!) chips. We smoked it the day before Thanksgiving, let it cool, sliced it, wrapped it plastic wrap then foil and stuck it in the frig. The next day we simply put the foil pouch in the oven to reheat. No the plastic wrap doesn't melt and it helps keep the meat moist. We thought it was the best turkey we had ever eaten and everybody at the dinner love it. So we next tried a "picnic" port roast with similar success. Two or two, we look forward to using our smoker frequently. We are smokin' fans!
Date published: 2016-01-06
Rated

5

out of

5
by
Anonymous
from
Great smoker even for a beginer
I bought this smoker recently from a friend. I've been in the market for a smoker for a while, but wasn't willing to spend the money on something I wasn't entirely sure I was going to use all that much. I picked the smoker up in new condition from a friend who like me didn't use it like they thought they would. After using a few weekends in a row now, I will probably never go back to smoking on the grill. This is easier than the grill smoke method, and the food comes out amazing. Set your temperature, set your chips, put your food in and your done. There's no adjusting temperature, unlike trying to smoke on my grill where it was a constant. Even for me someone who has never fooled with a smoker much, just been around them can look up recipes online and come out like a professional. I have the 24" propane smoker and I will never own anything but. Would definitely recomend, even for a beginner.
Date published: 2016-01-06
Rated

5

out of

5
by
Drewzintense
from
All Around Excellent Smoker!!!
This is my first smoker and after much research I feel couldn't have made a better choice. I've now made dozens of chicken breasts, two 14lbs turkeys (simultaneously, there is plenty of room in the 24") for Christmas Eve dinner, and venison burgers. Everything has come out fantastic. Temperatures are very stable even in windy conditions. An excellent product and well built.
Date published: 2018-03-26
Rated

5

out of

5
by
Chef of the Future
from
Easy to use, fantastic results!
After years of consideration, reading reviews and getting totally confused as people do have their own opinions on fuel (stick burner, charcoal, gas, both NG and Propane, or pellet) I finally made up my mind, fuel is fuel, wood is smoke. Propane is steady and reliable, although I did convert the 24 to NG. I never run out of fuel. The 24 is simple to use, water, wood, set temp, however as mentioned above, the door therm can be off so I do suggest a dual probe thermometer to know what the ambient temperature is in the box and what the product temperature is. I am a bbq seasoning blender by trade and have my own line of products which get tested on my grills, in this smoker and of course in my kitchen. The 24 gives me repeatable results and I must say, I can produce Q of the highest quality in my 24. Yes, even better than most BBQ joints, and I have been to plenty of them. PS, soaking your smoking wood does not give any advantage.
Date published: 2017-05-02
Rated

3

out of

5
by
dklntn
from
Looks really nice.
Love it but the grates are to short. Not sure what happened but the grate holders that were installed at the factory are to far apart. If you move the grate a half inch either way it falls out of the holder. I am going to fix it myself but shouldn't have to. Just a couple spacers should help. Just not worth the effort to return it.
Date published: 2018-09-23
Rated

5

out of

5
by
Double D
from
Good value smoker
Just purchased this past month. I read reviews and selected this one as it can be converted to use natural gas. Camp Chef does give instructions on how to do this, and it does require you to drill larger hole in the valve orifice. This will not allow you to go back to propane without a new valve assembly per Camp Chef. However, when I got this, I examined the valve assembly and saw that the orifice is a brass plug that can be screwed out. I took the valve assembly to my local gas supply dealer and was able to purchase another orifice that fits the valve assembly in a smaller size than what is needed for natural gas. I drilled the new one out instead of the propane orifice that came with the unit. So now if I want to switch back to propane all that is needed is just to switch out orifices. No need to buy a valve assembly. I have only seasoned the smoker at this point, but it assembled OK and seems reasonably well built for the price range. Looking forward to using it soon.
Date published: 2018-03-07
Rated

5

out of

5
by
Smockie
from
Awsome smoker
My 24" Smoke Vault does what it advertises. Holds temp well and is easy to clean. I've smoked over 20 meals so far and it has performed perfectly. I recommend it to anyone shopping for a new smoker.
Date published: 2017-11-13
Rated

5

out of

5
by
Ret. Firefighter
from
First smoker and it works great!
I've always went to friends and resturants for smoked food and decided or was time to try it and so far so good.
Date published: 2016-09-21
Rated

5

out of

5
by
Tammy88
from
Great product
I bought this for my husband he just loves it he is enjoying his new smoker
Date published: 2018-01-25
Rated

5

out of

5
by
Joey R
from
Amazingly Simple
This is an amazing product on all fronts. The unit is very simple to put together, instructions are laid out fairly clearly. In my excitement I didn't notice the stainless steel skirt that goes on the front so ended up having to take the front legs off to put that on and do it properly. I also converted it to natural gas and those instructions were also very clear. When put together the unit looks great. I like the safe vault look to it. With outdoorcooking.com you get the free cover for it which should hopefully keep it looking nice for a long time. Useability is also a strong feature of this smoker. The water pan is large and does a good job of keeping the temperature constant. The wood chip pan is sturdy and of a thick steel construction to heat up the chips. I only have two complaints: 1. Thermometer. I know this plagues every BBQ and every smoker, but why can't they figure something out for this. 2. The handle doesn't feel great. It is a bit too tough to open and latch closed. I have a feeling I'll be forced at some point to fix that. I've already smoked some ribs and a salmon in the unit and I'm already questioning why I have a kitchen because I'm convinced smoking is the only way to cool anything! If you're on the fence for buying this. DO IT! YOU WILL NOT REGRET IT!
Date published: 2018-04-05
RELATED BLOG POSTS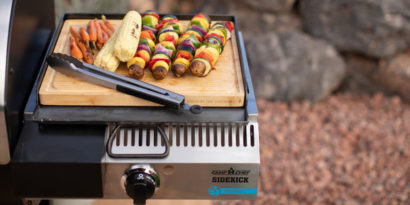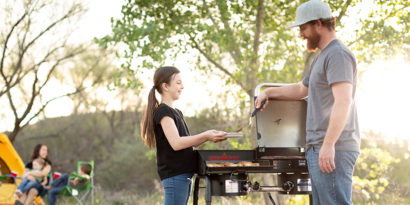 (1 Comment)