Lock the delicious smoked flavor of mesquite, hickory, cherry, and more into your meats with the Smoke Vault 24". This simple smoker cooks your meat low and slow with a heavy-gauge steel wood chip tray and water pan to infuse it with a delicious flavor you can't get any other way. Use the Smoke Vault for a variety of foods from ribs to a whole turkey or even baked pies. Fully adjustable heat-control dials, three damper valves, and a door thermometer will help you control internal temperatures throughout the cooking process. Cooking temperatures can vary from 160° F to 350° F. We'll throw in some cooking tips, ideas and recipes with your purchase to help you get on your way as a master outdoor chef. Lock in your Smoke Vault purchase today.
Multimedia
Features
Two adjustable smoking racks
One jerky smoking rack
Water pan
Heavy-gauge steel wood chip tray
Removable porcelain base tray for easy clean up
Three adjustable damper valves; one on top and one on each side
Easy to read door thermometer from 50 to 350 degrees
Protected burner drum for maximum heat control
Convenient matchless snap-ignition
Cooking tips, ideas, and recipes included
Specifications
Body Dimensions (without legs): 24 in. W x 16 in. D x 30 in. H
Door Dimensions: 22 1/2 in. W x 28 in. H
Cooking Rack Dimensions: 21 1/2 in. W x 14 in. D
Shipping Dimensions: 25 in. x 17.5 in. x 30.5 in.
Overall Height (with legs): 44 in.
Overall Weight: 75 lbs.
Total Output: 18,000 BTUs/Hr.
Downloads

SMV24S Instruction Manual

Natural Gas Conversion Guide
REVIEWS
Smoke Vault 24"
is rated out of
5
by
36
.
Rated

5

out of

5
by
Danceswithbeercans
from
First smoker but I can't believe there's any better
I've smoked everything, brisket, ribs, yard birds (chicken), turkey, salmon, peach cobbler. All came out great. We no longer can buy bbq from a restaurant. And it's so easy to carry on trips. I never leave without putting it in the travel trailer. Propane readily available and water and wood blocks and you're set. Smoke fills the campgrounds and everyone knows it's going to be great food. Buy yourself some thermometers. One for the oven, the thermometer on the door ain't so accurate, and one for the meat. It is so easy to cook perfect meat. USE the thermometer.
Date published: 2016-05-11
Rated

5

out of

5
by
MAD Acres - Morrison, CO
from
The BEST Hands Down
I converted a 24" unit to NG and could not be happier with is unit. I was a rookie but after 3 seasons and 100's of pounds of ribs, chicken, prime rib, rib eye, sausage and the best ever brisket I'm getting the hang of this. Our fav is bacon wrapped scallops. Smoked salmon to rival any store brand. Bacon wrapped lobster anyone? When hickory smoke fills the air it's a sure sign good stuff is about to happen. Love this unit. I've use Camp Chef equipment at Elk camp for over a decade and that my friends is the true test of durability. Thanks.
Date published: 2017-06-16
Rated

5

out of

5
by
Kerry
from
Great smoker for the price, easy to use, gas is better.
I used an expensive pellet smoker for years but the food was too dry and too smoky for my tastes. The pellet smokers require special fuel and have too many moving parts to fix and no water tray. They are hard to clean and maintain. The camp chef gas smoker cooks moist meat at low heat with minimum fuss and few parts to replace or break. The water tray is a must for low heat smoking and creating moist meat. The camp chef 24 model is first class gas smoker at a reasonable price. Good value for the buck. Assembly was easy and the service at camp chef is good if you need it. I also own a camp chef gas stove and the burners are high quality like the smoker. You can't go wrong with this smoker and in 5 years you can afford a new one at this price.
Date published: 2016-01-06
Rated

5

out of

5
by
Stro
from
Quality, Operation and versatility Excellent
I did a lot of research on smokers because I live in Northern PA and it can get cold around Bear and Deer season when I smoke for camp. I was looking for a smoker that was large enough and could smoke brisket at 20 deg for 13 hours. This smoker has delivered with everything I've thrown at it. I've smoked Brisket, ribs, meatloaf, wings, almonds, chickens, etc. Last year my wife bought me 2 more grates and the cover. I love it all. I would recommend this smoker to anyone...and I have.
Date published: 2018-02-22
Rated

4

out of

5
by
BD
from
Buy a thermometer
This purchase was my first gas smoker and the only thing that could have made the experience better would have been a functional thermometer in the unit. I had read earlier reviews and ordered a remote thermometer with the smoker so I was prepared when the door thermometer didn't work. They might as well have not put one on the unit and saved themselves the trouble. Although the gauge inside he faux lock dial does look cool, even if completely useless. I just used the smoker and cooked four three pound pork loins for a large party and they came out great. Everyone could not get over how good they were. My suggestion is to buy this item, as long as you buy a thermometer with it
Date published: 2016-01-06
Rated

4

out of

5
by
Rob in Texas
from
Natural gas conversion
I converted to natural gas and love being able to not worry about running out of propane. Natural gas does not burn as hot as propane but if you are smoking slow and low it works great. I found the grates and water pan should be cleaned after use and removed then stored inside so they don‰ЫЄt rust. Great for smoking turkey, pork ribs and chicken. For Amazing baby back ribs dry rub and smoke for 20 min at 225 then keep cooking for another 2 hours then covered with tin foil in a shallow pan and finish for another 2 hours with bbq sauce.
Date published: 2017-10-27
Rated

4

out of

5
by
Tom
from
Great but needs some improvements.
I received this unit ( 24" Smoke Vault) and overall the assembly was easy and the unit is very sturdy. I have smoked over 50 meals in this unit to include all kinds of meat, pork, poulty, fish, vegetables and even used it as a warming oven as well as a baking oven for large pans of Mac and Cheese etc. I would like to see the handles on the sides of the unit change to stay cool handles, the drip tray on the bottom is very very thin and flimsy, it easily warmed the first few smokes. I am concerned that isoon the smoking trap and the water pan will erode to the point it will need replacing. I wish they pans would have remained cast iron as in previous models. Over all though it is a great unit to smoke a bunch of meat. I can do 100 lbs of brisket, or 100 lbs of chicken or 100 lbs of pork butt and 18 racks of ribs.
Date published: 2016-09-18
Rated

4

out of

5
by
ShawnE
from
Well constructed
Very well constructed, easy to control temperature. Might be nice to have a better seal on the door to keep more smoke in the chamber, and less play in the control knob.
Date published: 2018-05-01
RELATED BLOG POSTS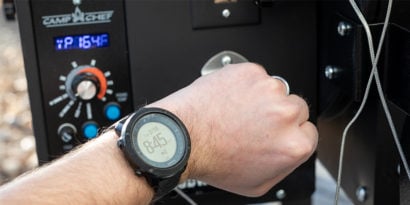 (2 Comments)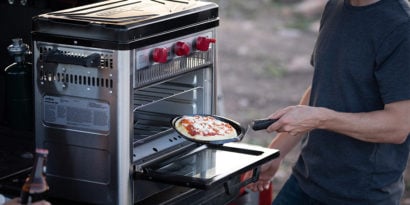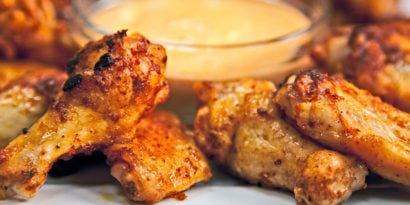 (4 Comments)