Lock the delicious smoked flavor of mesquite, hickory, cherry, and more into your meats with the Smoke Vault 18". This simple smoker cooks your meat low and slow with a heavy-gauge steel wood chip try and water pan to infuse it with a delicious flavor you can't get any other way. Use the Smoke Vault for a variety of foods from ribs to a whole turkey or even baked pies. Fully adjustable heat-control dials, three damper valves, and a door thermometer will help you control internal temperatures throughout the cooking process. Cooking temperatures can vary from 160° F to 350° F. We'll throw in some cooking tips, ideas, and recipes with your purchase to help you get on your way as a master outdoor chef. Lock in your Smoke Vault purchase today.
Multimedia
Features
Two adjustable smoking racks
One jerky smoking rack
Water pan
Heavy gauge steel wood chip tray
Removable porcelain base tray for easy clean up
Three adjustable damper valves; one on top and one on each side
Easy to read door thermometer from 50 to 350 degrees
Convenient matchless snap-ignition
Cooking tips, ideas, and recipes included
Protected burner drum for maximum heat control
Specifications
Body Dimensions (without legs): 18 in. W x 16 in. D x 30 in. H
Door Dimensions: 16 in. W x 28 in. H
Cooking Racks Dimensions: 15 in. W x 14 in. D
Shipping Dimensions: 19 in. x 17.5 in. x 30.5 in.
Overall Height (with legs): 44 in.
Overall Weight: 65 lbs.
Total Output: 18,000 BTUs/Hr.
Downloads

SMV18S Instruction Manual

Natural Gas Conversion Guide
REVIEWS
Smoke Vault 18"
is rated out of
5
by
18
.
Rated

5

out of

5
by
Anonymous
from
Great value
The Smoke Vault 18 was easy to assemble. Parts were easy to identify. Instructions did a great job of walking me through all the way to smoking my first piece of meat. This was my first time smoking anything and the pork loin came out great using a recipe from the website. Next I did ribs and they came out great. Beer can chicken got great reviews as well. The unit holds temperature very well, it is not a gas hog and fairly easy to clean considering whats going on inside there. The unit is all of what Camp Chef says it is. A very nice unit for beginners. I will definitely buy another Camp Chef product.
Date published: 2016-01-06
Rated

5

out of

5
by
Taz
from
Great looking smoker and even better performance.
I love this product I actually converted mine to natural gas at time of installation which was fairly simple. I debated between the 18" & 24" settled for the 18" and it is definitely big enough to do everything I will want it to do. Did have an issue with the valve not aligning with the off/low/high settings. I contacted customer service and Julie the very friendly and helpful rep apologized and told me no worries and sent a replacement right out. The first smoke was a Boston butt and it was better than our favorite local BBQ place. I highly recommend this unit.
Date published: 2017-06-23
Rated

5

out of

5
by
Briguy
from
Great smoker/great value
I received this smoker as a Christmas gift probably 4-5 years ago and use it often. This smoker has been through a lot! Getting blown over several times in our back yard wind tunnel, left uncovered several times and rained on, cover blew off during a wicked winter storm and left for days buried half way up with snow and it still keeps on producing delicious meat! The only thing we've replaced was the cover in all these years. It still fires right up and seems to just sip on propane, a 20lb bottle seems to last us well over a year and we use it probably 5-10 times a season. Cant say any bad about this smoker.
Date published: 2019-07-14
Rated

5

out of

5
by
CSD
from
Great Smoker
I have owned this for almost 2 years now. I have never had a bad meal while using it. I have smoked just about every kind of meat on it and it comes out tasting better than my favorite barbecue restaurant. I converted mine to natural gas so the convenience of not getting propane tanks. You can literally set this smoker and forget about it. You will only need to add water to the water pan in about 3-4 hours.
Date published: 2017-02-01
Rated

4

out of

5
by
GCB647
from
Great smoker
I have had mine about a year. Easy to assemble and easy to use. Grest for smoking deer and I made the best turkey I have ever cooked.(including frying one) Only issue was the thermometer. It was off by several degrees. Had to get a dual thermometer. Once I figured out how to adjust the controls, it does a great job.
Date published: 2017-12-02
Rated

5

out of

5
by
pachef
from
Top of the line Smoker
The Smoke Vault 18" is a great smoker and excellent add to any patio/outdoor kitchen. My first major project was an apple wood smoked ham, with pineapple maple glaze, green bean casserole, and apple galette. Yes all cooked in the smoke vault. The smoking of the ham happened first, followed by finishing it in the Smoke Vault along with the beans, then the pie. The trick to the pie was to use the Camp Chef cast iron pie pan. Second was BBQ'd Chicken legs (thigh and drum stick) with a blue berry pie. Again all low and slow. Pie goes on top, and finishing the chicken by raising the temp to 300F at the end to crisp up the skin a little more. Use the Camp Chef pie pan again for a perfect pie. Camp Chef these products are outstanding. Would have loved to get the sausage hooks which seem to be discontinued.
Date published: 2016-01-06
Rated

5

out of

5
by
NG30year
from
Great Smoker
I received this as a corporate gift (great company!) and have used it several times with fantastic results - pork butts, brisket, oysters, pork belly. I never used a smoker until I got the Smoke Vault 18" and found it really easy to set up and use.
Date published: 2017-05-29
Rated

5

out of

5
by
Manzan
from
Out door cooking at it's best!
One in awhile I would like the 24" model but I am extremely pleased with the 18" one. I smoke salmon about three times a month, ribs every three to six weeks. Chickens (two at a time) once a month. Turkeys occasionally and goose once a year. Brisket a couple times a year Cheese when the smoke starts to billow out. Black cod is a favorite. I have not tried steaks but have done extra thick pork chops. Everything is so much better with the smoke flavor. Fun using different smoke chips and rubs. I have had this for about four years and am still learning. No problem at all getting people to share the out put._x000D_ I made a wind screen to make winter smoking easier and keeping the sun off makes temperature control easier.
Date published: 2016-01-06
RELATED BLOG POSTS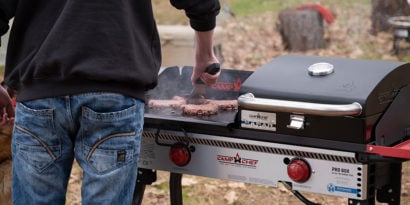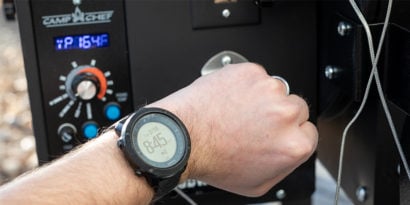 (2 Comments)