The Camp Chef Portable BBQ Grill is perfect for grilling just about anywhere. This Portable BBQ Grill is light, portable and powerful. A 12,000 BTU tube burner under the grill is perfect to grill up some burgers, steaks, or whatever is on the menu. Nickel plated grill grates, a porcelain coated base, and a removable grease drip tray make clean up easy. A locking lid and convenient a convenient carry handle are perfect for when it's time to go.
Features
12,000 BTU stainless steel tube burner
Matchless ignition
Nickel plated cooking grates
Stainless steel lid
Porcelain coated base
Removable grease drip tray for easy cleaning
Runs on 1 lb. disposable propane bottle
Includes regulator
Lightweight and portable
Locking lid for easy transport and storage
Specifications
Cooking Surface Dimensions: Over 200 sq. in. total
Total Output: 12,000 BTU/hr
Fuel: Disposable propane bottle
Weight: 22 lbs.
Warranty: One Year
REVIEWS
Portable BBQ Grill
is rated out of
5
by
4
.
Rated

5

out of

5
by
kayak 54
from
Great Grill, very durable, replacement parts avail
I have had this outside for eight years, used hundreds of times. Original starter still works. Had to replace the grease trap, grills and diffuser. Great customer service and it was around $30 for all parts! Works great w/ 2 changes. 1.put stainless screws in to hold diffuser down, if it is tilted diffuser can move locks the top from opening.. 2. put an insulator between the handle and the grill body as it can get warm. This has replaced the grill for my travel trailer.
Date published: 2019-05-03
Rated

2

out of

5
by
Puddin Tane
from
should be all-stainless for this price...
...and have better legs. I have an equivalent grill made by Blue Rhino, re-branded for Better Homes & Gardens. I bought it off the shelf at Wally World for 56 bucks. It's 100% stainless, including the grill, and has very strong folding legs. I leave it out in the weather year-round and it's still in great shape after three years. For this price, I'd only buy a portable grill that blows that one away, and this thing obviously doesn't. After three years in the elements this would be a ball of rust and the legs would've collapsed. Shame on you!
Date published: 2020-04-02
Rated

5

out of

5
by
Boss
from
Very well made
Love it even better than I expected ! Cooks even easy to clean.
Date published: 2018-03-07
Rated

5

out of

5
by
Clark
from
Perfect for camping
I have had this grill for 2 months and it is great. Well built. The grill comes assembled except for the handle on the lid. Highly recommend!
Date published: 2018-09-26
RELATED BLOG POSTS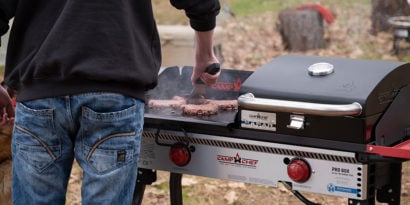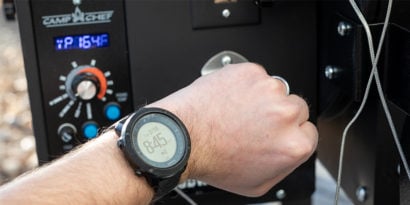 (2 Comments)