Say goodbye to the world of guesswork and hours over a BBQ pit—the SmokePro DLX Pellet Grill & Smoker brings you an easy, reliable smoke every time. We've designed each feature with the back patio griller in mind, from the digital temperature readout to the simple temperature setting system. But what really sets this pellet grill apart from the competition is the exclusive Ash Cleanout system. Instead of vacuuming out your grill after each use, you can pull a lever to empty the ash from the fire box. That means less time fumbling with a suction hose and more time enjoying the beautiful day and delicious food. Now that sounds like the grill for you.
*For the best performance, use Camp Chef Premium Hardwood Pellets. Our pellets burn hotter and cleaner, meaning they last longer and create an improved flavor.
Multimedia
Features
Includes meat probe
Includes warming rack
Smart Smoke Technology
Pellet Hopper Cleanout/Purge
Ash Cleanout System
Large capacity pellet hopper
Electronic auto-start ignition
Dual LED temperature readout: internal cooking temps and internal food temps
Simple temperature selection system
160º F up to 500º F temperature range for slow smoking to grilling
Automatic auger dispenses pellets as needed for improved smoker efficiency
Specifications
Upper Rack Area: 141 sq. in.
Lower Rack Area: 429 sq. in.
Total Rack Surface Area: 570 sq. in.
Side Shelf Dimensions: 16 in. x 12 in.
Chamber Capacity: 3,778 cubic in.
Hopper Capacity: 18 lbs. of pellets
Overall Height: 32.5 in.
Overall Weight: 140 lbs.
Warranty: 3 years
*Please note: This item is oversized and will be shipped via truck.
Downloads

PG24 Instruction Manual
REVIEWS
SmokePro DLX 24 Pellet Grill - Black
is rated out of
5
by
61
.
Rated

2

out of

5
by
Osternole
from
Wide temp range
My wife bought this for me last Christmas. I have used it about once a month. The temp ranges from the set temp to 30 degrees above and about 15 below. Talked with customer service because probe went bed (which they are replacing no questions asked) and asked about the temp variations. The female on the phone told me to expect 15-30 degree swings. Their webpage said any pellet variation should be around 10 degrees. Took a shot on the current smoke. Not as bad as it gets but not going to sit there with camera waiting for the 30. From reviews of other pellets, they seem to have a narrower variance. May want to look at those.
Date published: 2018-11-21
Rated

1

out of

5
by
BBQ Guy
from
Any Quality Control?
I had high hopes for this especially with all of the 5 star reviews, but that changed from the minute I started unboxing the unit. Packaging was well done, but a bolt fell out as I pulled the top cover off. The inside of the unit had glops of excess sealant at the bottom and the lower edge that the grease tray rests on was bent in two different places. Exterior-wise it looks great except for the legs being uneven. Tried loosening the bolts to re-adjust...no go. Well let's fire this up anyway and try the initial burn cycle.Things looked good until hitting around 105 deg. Flame message (flame out). Pellets were feeding through the auger, but it couldn't keep a burn going. Tried different pelllets same thing two more times. Then I realized the fan wasn't working. Don't you guys test this stuff? Quality control receives an F on this unit. By the way, it's not easy to return a 140 pound item. But return it I will.
Date published: 2018-05-06
Rated

5

out of

5
by
Tim G
from
Great Product, Every Griller's DREAM!
Incredible product very well packed. All components arrived in great condition. Easy to assemble. Fired it up on initial start and cure. All systems worked perfectly. This grill is an outstanding value. I would highly recommend to a friend. I would purchase again.
Date published: 2018-05-23
Rated

4

out of

5
by
Newbie
from
High smoke setting
I just purchased a Camp Chef DLXPG24 grill and this is my first experience with a pellet grill. So, I am learning. I have a curiosity question and hope somebody can answer it. This grill has a low smoke dial setting (160 degrees) and a high smoke dial setting (220 degrees) Other than the 5 degree difference in heat is there a difference in the amount of smoke delivered to the meat -- high smoke setting (220) vs 225 degree setting on the dial? I didn't know if the smoke setting dumped more pellets at one time, thereby creating more smoke as compared to the other. Hope this makes sense. DF
Date published: 2018-11-25
Rated

5

out of

5
by
Tyler
from
Excellent Grill, Amazing Price!
If you're considering purchasing this grill, just do it! The grill was shipped extremely fast, and came nearly assembled. I was shocked at the time and effort I DIDN'T spend putting this together, I've spent more time putting together a conventional propane grill than my Camp Chef. The quality and ingenuity of the design and product are un matched. I received the grill late in the afternoon and was cooking dinner in less than an hour. It's easy to use and cooks amazing, with more features at this price point than the nearest competitor. Easy Choice, Buy this Grill!
Date published: 2018-08-03
Rated

5

out of

5
by
Smokin' Smitty
from
1st Smoker
My wife spent many hours researching prior to purchasing the Camp Chef Smokepro DLX. Very well packed and protected! Our local delivery person was not kind or careful to say the least when unloading the package. Opened back door and basically pushed it out on the ground! We were very relieved after unpacking to see nothing looked to be damaged. Set up was easy, and we were smokin' in about an hours time! This is a very well made smoker, and pretty straight forward to use. Have already done steak, taters and Baby Back ribs. Very nice product Camp Chef! Thank you!
Date published: 2018-01-08
Rated

5

out of

5
by
AGLS
from
Love it!!
New to smoking and a friend recommended the PG24. We checked out all the reviews, etc. and decided to purchase it. So far we've done a chicken, but oh my, was it good. We also did pizza, which turned out very good. We did brine our chicken first, but the flavor was amazing. We love the ash clean out and the pellet hopper clean out. Right this minute we have another chicken on, we're practicing for Thanksgiving. I'm just not sure how big a turkey will fit inside our smoker and which pellets to use. We've used apple and the competition is what we're trying now. We'll see which one we like better. I did post the question about the size inside for a turkey, but so far our possibilities are endless. Also, we need to see how she does in cold weather. Oh, the packaging and the assembly was the best that we've seen. It was so easy to put together and all the new parts fit to a T, but there wasn't much to assemble. Perfect!!! So far we're happy CAMPers.
Date published: 2018-10-08
Rated

5

out of

5
by
Darrellb75
from
Best purchase in a long time
Bought about a month ago and to say I have been pleased is an understatement. Never cooked a brisket before in my life and first time on the SmokePro it was perfect! Ribs, outstanding! Going to put it to good use this memorial day. Ordering the front shelf also and definitely getting the thermal blanket because I want to use this thing year round. Have already convinced two others to purchase and they now are very happy. Working on others. Mayby Camp Chef can through in the cover as sort of a commission.
Date published: 2018-05-25
Rated

5

out of

5
by
Kevin E
from
Amazing Product and great customer service
I love the DLX for cooking pretty well anything from meat to pizza to bread, this thing is so versatile and has ever had really any issues at all and the food comes out amazingly. Camp Chef also has some of the hands down best customer service I've ever seen, they have jumped all over any product issue of their I have had, I recently had a major incident with a product (not necessarily the products fault) and they were super responsive and quick to help understand the issue and get me a replacement.
Date published: 2017-09-21
Rated

3

out of

5
by
Zoolou
from
Needs help...
Basically Ilove this pellet grill, BUT, they need to change the pellet cover...I grill year around , rain or shine..and was very disappointed when my pellets got WET...the pellet cover needs to be extended, to cover the whole top of the shelf, so the rain will drip down the side rather than sitting on top and dripping onto the pellets below...
Date published: 2016-03-19
Rated

5

out of

5
by
BBQ john
from
First pellet smoker
I have had this smoker for about 4 months now I bought it from all the good reviews they were on the money l absolutely love this unit came packed awesome fast to assemble and now I cannot stop using it smoked ribs pork chops beer can chicken doing a pork shoulder soon all come out great I have had a large unit sold it and so glad I have this smoker also let me say the pellets outdoor cooking are the best if you are a seasoned or beginner this is the smoker for you thanks outdoor cooking
Date published: 2018-10-20
Rated

5

out of

5
by
Joshua
from
Outstanding product, customer service is amazing
I got this a few weeks ago and have had the chance to use it a few times now. It is absolutely great, steaks come out with an amazing flavor that gas or charcoal just cant match. I made beef jerky that was easy and the kids couldn't get enough. Then to top it off it is so easy to use and clean. I looked at another brand that was a few hundred dollars more that starts with a "T" and found this one was built better, just felt like better materials. Now for the one glitch, my meat probe didn't work when I got it, normally an issue, not with these guys! I went online, sent in a warranty claim on a weekend and had a response Monday morning by 930am telling me they were sorry and that a replacement was on the way! You can't get better service than that! I would buy this again in a second! Oh and also smoked a pork butt, simply amazing flavor!
Date published: 2017-12-11
Rated

5

out of

5
by
Will
from
Love the grill - great service too
My wife bought me this grill for Christmas a while back. It's a versatile grill that let's you do pretty much everything you need to on it. Brisket and ribs obviously turn out amazing on this thing. My grill actually had an issue with the temp probe (not the meat probe) not showing the correct temp. It could have been user error or a faulty probe. We'll never know. But Camp Chef promptly took care of me and I'm back to grilling.
Date published: 2017-02-23
Rated

5

out of

5
by
Fred
from
Absolutely great.
This is like cheating it does everything for you and it's always perfect just follow the simple recipes and you will be amazed every time. I have had mine for months now and still every time I use it I am amazed. DLX is a cheater of a smoker any wood burning smoker people will be put to shame. I have made it so that we can not go out to eat why would I pay for something that I can make way better at home. It is super easy to use.
Date published: 2017-02-07
Rated

5

out of

5
by
Poozelnut
from
Love It
Between the Camp Chef SmokePro DLX PG24 and the optional attachable sear box (PGSEAR), I can get any recipe smoked, cooked, baked, and seared to perfection. I also recommend the attachable bottom shelf (PGBS) and especially the jerky racks (PGJERKY) for more in-grill real estate for wings, jerky, etc; I've found that all these things hugely come in handy. Anyway, awesome grill, and excellent customer service if ever needed.
Date published: 2017-10-24
Rated

5

out of

5
by
Anonymous
from
Best pellet grill for the money
This Camp Chef Pellet Grill and Smoker offers the best bang for the buck. It comes up to temp quickly and is very good on pellet consumption. It has features that the competition does not have. Just pull a lever and your fire-pot is cleaned and ready to go. Smokestack is mounted on the back-side so the smoke stays in the chamber longer. Fit and finish is excellent. It worked right out of the box and works every time.
Date published: 2016-01-06
Rated

5

out of

5
by
Fred
from
WOW....just WOW
Granted, I just received Smokepro and after the break-in I decided to smoke some brats. I used Lo-smoke setting for first hour and Hi-smoke setting until internal temp reached 160 and the smoke ring this pellet grill left was amazing. Best brats I have ever had. Easy to assemble, easy to use, features that no other pellet grills have.....its a no brainer, buy one!! I am extremely pleased with my purchase.
Date published: 2017-06-16
Rated

5

out of

5
by
Brad
from
Excellent Choice
I've always been a fan of eating BBQ but never gathered up the courage to do it the old fashioned way. Glad I waited because this grill took less than an hour to unpack, assemble, and prep to cook. I made ribs and smoked sausage for the first smoke ever. I only opened the grill 3 times over 6 hours, so easy. Family ate every single bite, no left overs. Already excited to smoke something else.
Date published: 2018-01-03
Rated

5

out of

5
by
Sculpin
from
A No Brainer Smoker/BBQ
Before I bought this I owned one of those propane chest smokers. I longed for something that would have consistent temperature and was lower maintenance. Enter the Camp Chef SmokePro DLX. This has taken nearly all of the maintenance and brain power behind smoking and grilling. I pick the pellets, set the temp, push my probe in the meat, and walk away. No more making sure the water tray is full, adding more wood chips, or any of that stuff. This pellet grill offers a great feature I'd never expect such as a low smoke and a high smoke setting as well as the ability to get up to 400и_! I tested it on a 20и_ night and though it took a few minutes it was able to get that hot. And the food... It's been amazing! I just did cedar plank chicken breasts the other day that turned out awesome. The SmokePro gave a delicious mild smoke and with it's competition blend pellets complimented the cedar nicely.
Date published: 2017-03-11
Rated

5

out of

5
by
Joey A
from
Features above the rest!
I was waiting for my other pellet grill to malfunction (again) so that I could help justify getting my hands on a Camp Chef. I have seen a dozen different makes and found none with the features of the camp chef. The center fire box, ash dump, and pellet dump are all great features. I've had this smoker about a month now and have used it about a dozen times. It never fails to disappoint!
Date published: 2018-08-09
Rated

5

out of

5
by
Canucklehead
from
Sorry, dear gas grill...it's not you, it's me.
Bought a PG24 for myself for Father's Day after reading great reviews. Had gotten pretty good with my gas grill but really wanted to try using a smoker. Absolutely no regrets! The flavour is incredible, and the difference noticeable when cooking the same food on both types of grills. Guests have also noticed, saying that the taste of the food is in a whole new level. Fantastic. Greats very little ash. Did a 14 lb turkey with a turkey cannon. Total of about 4 hours. Less than 1/2" of ash in the cup. Now, I only use the gas grill to sear. The smoker can be cranked up, but realistically, can't get anywhere near the gas grills higher temps. I find it faster when reverse grilling to finish on the gas grill...it also allows me to justify to my wife why I need to keep both! Note, though, that the smoker uses electricity to burn the pellets, so make sure that you have a power source near where you plan on using it.
Date published: 2018-07-14
Rated

1

out of

5
by
pv46sd
from
What A Joke!
I order this grill & it comes with the front panel damaged,putting it together & the control knob won't stay on, cooking first 2 steaks & using the meat probe & took them off at 140 (MR) they were closer to well done & now the 3rd time I try to use it, it won't heat up!! Evidently the heat rod is done for... what next?
Date published: 2018-07-15
Rated

4

out of

5
by
meat
from
Like to eat
I have had my camp chef pellet cooker for about 4 years now . I have cooked Turkeys, hamburgers, hot dogs, steaks, pork chops, fish, corn on the cob in the husk, all have turned well. I like the cooker. I wish the legs were not so wobbly and the wheels were a little bigger around. After all is said and done I have enjoyed it and hope it will last about 20 yrs more.
Date published: 2019-04-30
Rated

5

out of

5
by
Flo51
from
Solid Costruction, Great Price
Just bought my first Camp Chef Smoker (Smoke Pro DLX) and I am so happy with my purchase. First off, it is constructed off a heavy gauge steel, and is rock solid, way better than my old vertical smoker. Smoked a tri tip today and it turned out amazing. The controls are easy to use, and removing unused pellets is very easy. Don't be a fool, buy Camp Chef!
Date published: 2018-03-17
Rated

4

out of

5
by
Anonymous
from
I love it!
I never heard of a pellet smoker. Then the infomercials were all over the place for the other brand. I did my research and picked my camp chef. Glad I did. You get a lot more for your money. The grilling area is much bigger. I had a few small issues. The customer service is second to none. They stand behind their products! Definitely would recommend!
Date published: 2017-08-19
Rated

2

out of

5
by
Deke 1946
from
NOT SATISFIED
I bought my Camp Chef DXL about 2 months ago. It was highly recommended by the salesman for GRILLING and smoking. First time smoking ribs, I couldn't get temperature up and when I opened smoke box to baste ribs, lost temperature and it took forever to build up. Second, tried grilling steak and that was a total disaster. The tech was very kind, knowledgeable and sent out and box thermometer. It didn't help. I used the wood pellets the salesman recommended, now I will try Camp Chef pellets and see if that helps. I don't see this unit as good for grilling and will have to buy a cheap grill. For the money spent, I am quite unhappy and will have to wait till after Memorial Day to call tech support again. Although I gave a poor rating, Tech support may point me to errors I am making. If we can figure this out, I will reevaluate. I will not recommend this product at this time, Tech support might change my mind and show me the error is mine.
Date published: 2019-05-27
Rated

5

out of

5
by
Anonymous
from
Incredible Smoker
I've smoked brisket, beef and pork ribs, steaks, turkey, chicken and ham on this unit. I love it. I have a wi-fi temperature probe too, so I literally set it and monitor the temp remotely until I'm ready to baste or wrap. The temperature holds consistent, and I think this is the easiest pellet grill on the market to clean. Best value too.
Date published: 2017-07-14
Rated

5

out of

5
by
Anonymous
from
Best smoker I've tried
I tried many smokers and never received the consistent results I've gotten from this smoker. The Smoke Pro makes it easy. The temperature regulator coupled with the auger feed makes professional gourmet results a no brainer. The flavor of my beef and ribs that I've cooked on it so far has been lip smackin good. Glad I bought it.
Date published: 2017-09-04
Rated

5

out of

5
by
Teaysguy
from
Perfect Smoker/Grill for a small family
Love this thing, the first Camp Chef product I ever brought and made me completely switch brands from another. This thing has never given me a bit of a problem. I've put literally thousands of hours on it. Great for Reverse Searing Steaks, Butts, Briskets, Ribs, Chops, heck, any cut of meat!!!! Smoke On.....
Date published: 2018-02-05
Rated

5

out of

5
by
Anonymous
from
Wish i had this sooner
This pellet grill is amazing, its like that infomercial where you set it and forget it, its that easy. The ash clean out makes clean up a breeze , I have yet to use the pellet clean out because their completion blend pellets go with everything. The customer service is amazing also.
Date published: 2017-07-06
RELATED BLOG POSTS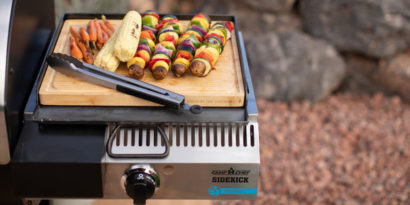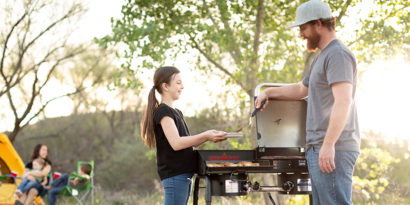 (1 Comment)