If you are serious about outdoor cooking, this is the Big Gas Grill you've been looking for. Three powerful 30,000 BTU burners, 608 sq. inches of ample cooking space, and a variety of accessories will tackle any cooking job you can throw their way. Equal parts powerful and portable, the Big Gas Grill also boasts removable legs and a folding side shelf. You can jump right to cooking with the included Deluxe BBQ Grill Box; it features a specially designed heat diffusion system and a pre-seasoned cast iron grill grate that sears perfectly. Remove the Deluxe BBQ Grill Box and replace it with any Camp Chef 16" system accessory for even more options. Make room on the patio—the Big Gas Grill is moving in!
Features
Includes 3 ft. hose and regulator
Includes Professional BBQ Grill Box (BB90L)
Includes detachable steel legs and folding shelf
Compatible with most 16 in. Camp Chef accessories
Patented Wind Baffle Burner Technology
Three 30,000 BTUs/Hr. cast aluminum burners
Matchless ignition
Appliance-style temperature controls
Propane tank not included
Specifications
Cooking Dimensions: 16 in. x 38 in.
Cooking Area: 608 sq. in.
System Height: 30 in.
System Weight: 49 lbs.
Total Output: 90,000 BTUs/Hr. Burner
Warranty: One Year
Grill Box Specifications
Cooking Dimensions: 16 in. x 24 in.
Cooking Area: 384 sq. in.
Overall Dimensions: 16 in. x 24 in. x 7 in.
Overall Weight: 33 lbs.
Downloads

SPG90B Instruction Manual

Natural Gas Conversion Guide
REVIEWS
Big Gas Grill Three-Burner Stove
is rated out of
5
by
36
.
Rated

5

out of

5
by
Ed_H
from
A very flexible grill
About a little over a week ago I received my 3-Burner Big Gas Grill (SPG90B) with the Deluxe BBQ Grill Box. I ordered this without physically seeing the BBQ, but ordered it based on photos and reviews. It was replacing an expensive Char-Broiler 4 burner gas grill that had rusted out. Here are my initial impressions based on only a couple of days of use. 1. Loved the quick setup, basically sliding on the legs and tighting them and putting the hand on the grill box. This will be an easy grill to move around. 2. I was worried about the height of the grill box cover from the grill grates, after using it I don't think it will be any problem (My bigger items like roasts and hams will be using my smoker.) 3. Able to keep and maintain a good cooking temperature. 4. Bonus, I did not realize that grill box could take wood chips. One night I grilled hamburgers, with apple and peacan wood chips. They were delicious. 5. Used my cast iron pan over the open burner, very convenient. Since, It met my expectations I decided to go ahead and pick up the professional griddle, very glad I did. I have used it for cooking sliced bacon and garlic seasoned potatoe wedges (which turned out terrific). It came with a holder for holding a grease can which did work, but today I pickup the Professional Grease Cup which will be a lot better. Overall very pleased with the flexibility of this grill, no buyers remorse.
Date published: 2020-05-17
Rated

5

out of

5
by
SloPoke
from
4 years and still loving it
For years... I've been looking at the Camp Chef grills that others camped with - in envy. Four years, my better half suprised me with the Big Gas Grill (yea - a play on names - say that fast 5 times) and it has gone with us to some amazing places for some amazing meals. Over the past years, we have added the griddle and grill-box and use the heck out of them. Now looking for the Pizza oven to go with it.
Date published: 2020-04-20
Rated

5

out of

5
by
Romantraveler
from
great stove/grill
I've had mine for 9 years and still works great. I just replaced the grill box, the old one was getting tired but still cooked good I use it as a travel stove for my RV. Easy to store and set up. Would recommend to anyone that's serious about outdoor cooking.
Date published: 2019-09-08
Rated

5

out of

5
by
Beemer Rev
from
Absolutely Bomb-proof outdoor stove!
Purchased My Big Gas Grill nearly a dozen years ago, along with the griddle and BBQ. I have cooked for many large gatherings of hungry Motorcycle Campers, breakfast lunch and dinner. Always great performance, and the quality is fantastic. Imagine my delight when I just discovered the Pizza Oven accessory! Can't wait to amaze my fellow campers with fresh artisan pizza in the woods! Keep up the great work.
Date published: 2019-04-12
Rated

5

out of

5
by
oconco68
from
EXCELLENT GRILL
I was never into the grilling or bbq thing in the back yard. Just was not for me. Did not care for taste of meets grilled and do not care for bbq sauce. Give me seafood and a boiling pot and that was different. Well in 2005 hurricane Katrina hit and I was stationed at an oil refinery that was badly damaged for a little over a year. There was no utilities for months and I lived in a travel trailer near the plant. I could not stand cooking in the camper. Well I had to travel a long ways to a Lowes that was finally able to reopen to get some materials. As soon as I walked through the door a cool looking gas grill caught my eye, but that was all. when checking out I went back in and took a second look. Hmmmm......This thing has a cool suitcase like grill that separates, it has 3 nice burners to just cook on and it came with propane bottle. So I bought it. That was 2005 and in 2018 I still have the burner, but I am on the 3rd grill part. It is part of an outdoor kitchen and is used more than the house stove. The way the grill uses the melted fat and drippings to slightly smoke whatever you cook is the best tasting there is. Just learn house to use and deal with the fire that comes sometimes. Used to see it as an, oh darn, moment, but years ago I learned how to use it and look forward to the fire most of the time. Sadly my three burner is getting old and rusting, The burners and knobs still work fine, but the sadly will turn to happy when I deem it time to order a WHOLE NEW BIG GAS GRIILL III once again. Love this thing and will never live without one again.
Date published: 2018-06-12
Rated

5

out of

5
by
Cass
from
Does everything well and is small in size.
Excellent all around grill that cooks everything well and does not take up much space.
Date published: 2018-05-24
Rated

5

out of

5
by
ericaz
from
Really Nice Travel Grill
The Big Gas Grill is really nice for travel. Folds up and fits neatly into back of our Rav4. It is very powerful and cooks food nicely. If you are buying a carry bag for the Big Gas Grill, be sure to order the one with the wheels. Some bags say they fit a three-burner stove, but only the one with the wheels fits this stove.
Date published: 2018-03-22
Rated

5

out of

5
by
cajun
from
I recoommend it highly.
Got it as a gift. this stove is the greatest. It cooks everything fast. It is easy to clean. I recommend it highly.
Date published: 2018-01-04
RELATED BLOG POSTS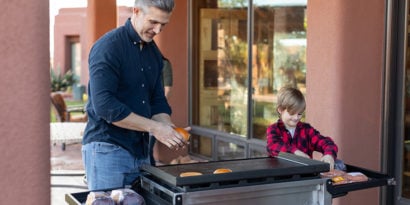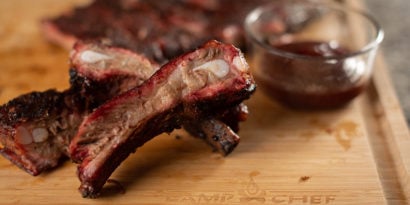 (7 Comments)