If you are serious about outdoor cooking, this is the Big Gas Grill you've been looking for. Three powerful 30,000 BTU burners, 608 sq. inches of ample cooking space, and a variety of accessories will tackle any cooking job you can throw their way. Equal parts powerful and portable, the Big Gas Grill also boasts removable legs and a folding side shelf. You can jump right to cooking with the included Deluxe BBQ Grill Box; it features a specially designed heat diffusion system and a pre-seasoned cast iron grill grate that sears perfectly. Remove the Deluxe BBQ Grill Box and replace it with any Camp Chef 16" system accessory for even more options. Make room on the patio—the Big Gas Grill is moving in!
Features
Includes 3 ft. hose and regulator
Includes Professional BBQ Grill Box (BB90L)
Includes detachable legs and folding shelf
Compatible with most 16 in. Camp Chef accessories
Patented Wind Baffle Burner Technology
Three 30,000 BTUs/Hr. cast aluminum burners
Matchless ignition
Appliance-style temperature controls
Propane tank not included
Specifications
Cooking Dimensions: 16 in. x 38 in.
Stove Cooking Area: 608 sq. in.
Stove Height: 30 in.
Stove Weight: 49 lbs.
Total Output: 90,000 BTUs/Hr. Burner
Warranty: One Year
Grill Box Specifications
Cooking Dimensions: 16 in. x 24 in.
Cooking Area: 384 sq. in.
Overall Dimensions: 16 in. x 24 in. x 7 in.
Overall Weight: 33 lbs.
Downloads

SPG90B Instruction Manual

Natural Gas Conversion Guide
REVIEWS
Big Gas Grill Three-Burner Stove
is rated out of
5
by
34
.
Rated

5

out of

5
by
Anonymous
from
Awesome and durable
I had one of these that was a hand me down and had already been well used. When I was a tent camper it served as my kitchen and survived a lot of camp outs. Now that I have an RV I would still rather cook outside and I love thiis set up. When my old grill box fell apart (from poor maintence from the previous owner) I never considered any other cooking system and went straight to my nearest dealer to get a new one. The three burner stove was still in good shape and I could have just replaced the bbq box but I elected to get the complete Big Gas Grill because I know it will last longer than I will need it to. Keep up the good work.
Date published: 2016-01-06
Rated

3

out of

5
by
Ardon
from
My love for this grill is fading..
The first summer with this grill was absolutely amazing! We raved about it on line and to every person that saw it. We brought to events at family members houses and just loved to show it off. This is now the end of the second summer and it's just not holding up that well. The finishes are heat damaged or weather damaged. We've replaced the gas line and regulator and now the ignition has quit. The grills are rusting as is the interior compartment. Even though we keep it covered and under roof. We also garage it during the winter. We keep it clean and use it only occasionally but it looks much older that it is. it is still a heck of a grill but I don't know how long it will last at this rate.
Date published: 2018-08-18
Rated

5

out of

5
by
D
from
Grill Review
The Three burner grill is awesome. It has the power to cook quickly. It is thrifty on propane also. I cooked on mine for 10 days at elevations of 6000 - 7000 feet and I only used approximately е_ cylinder of propane. The ONLY drawback that I have for this great stove is that it is VERY succeptible to being blown out by the wind........ I wish that a wind shield was available.
Date published: 2016-10-04
Rated

5

out of

5
by
ericaz
from
Really Nice Travel Grill
The Big Gas Grill is really nice for travel. Folds up and fits neatly into back of our Rav4. It is very powerful and cooks food nicely. If you are buying a carry bag for the Big Gas Grill, be sure to order the one with the wheels. Some bags say they fit a three-burner stove, but only the one with the wheels fits this stove.
Date published: 2018-03-22
Rated

5

out of

5
by
Anonymous
from
Great product.
I got one of these a few years ago when they first came out. I did eventually get the griddle and bags to carry everything. I used it as a Cub Scout leader at the campouts to cook with, and when we would family camp in camper. I still use it to go camping to cook big meals. Most versatile unit I have ever used. Not easy to keep clean, unless you make it an effort to do so.
Date published: 2017-02-22
Rated

4

out of

5
by
300Plus
from
Awesome Tahoe 3 burner grill.
I'm a contractor and sometimes work on ranches far away from Resturaunts. This grill has been awesome to work with. I also have the griddle that covers two burned. All quality made. The only draw back of this awesome grill is winds tend to blow it out. I'm going to make a wind shield for it. I'd highly recommend this to the one in need a quality outside cooking space.
Date published: 2016-11-27
Rated

5

out of

5
by
Anonymous
from
Great grill and great customer service!!!
I have had this grill for a year now and it makes life easy when preparing meals for a big family. The grill is make very well, easy to take down and easy to clean. Their customer service is excellent too!
Date published: 2016-08-23
Rated

5

out of

5
by
Vicster
from
Would recommend this product
Love this Big Gas Grill. Has come through for us camping & RV. We have now built a little camp and are still using it. Best investment we made. Have only replaces the gas regulator. Luv it Luv it.
Date published: 2016-12-26
RELATED BLOG POSTS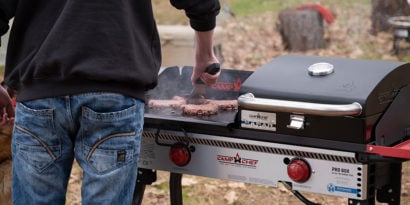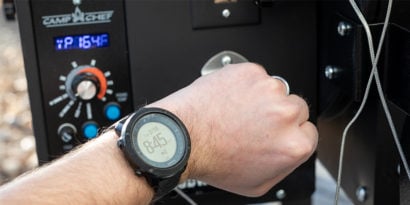 (2 Comments)