Bring more versatility, flavor, and food to your back patio with the new Camp Chef SmokePro 36 SGX Wifi pellet grill. It's our largest pellet grill size which means you can push out more food than ever! Switch seamlessly between traditional low and slow smoking and Direct Flame wood-fired grilling to achieve two delicious flavor profiles all on one grill. And, with the added feature our new WIFI controller you'll be able to monitor your cook from anywhere using the Camp Chef Connect app. Even set a customized Smoke Number with every smoke. So, whether you are craving flame-kissed burgers or tender slow cooked prime rib, the new SGX allows you to achieve the flavors you want easier than ever before.
Multimedia
Features
PID controller for consistent temperatures (+/- 5ºF )
Camp Chef Connect App compatible
Includes 2 meat probes
Adjustable smoke settings from 1-10
160º F - 500ºF temperature range
Easy to use menu dial
High-visibility, low-glare digital display
Pellet Hopper Cleanout/Purge
Slide and Grill Technology's direct flame grilling reaches 650°F
Full sized upper shelf
Ash Cleanout System
Cord Management System
Grease Management System
Expanded chamber height
Side attachment compatible (Sidekick or Sear Box)
Specifications
Upper Rack Area: 573 sq. in.
Lower Rack Area: 663 sq. in.
Total Rack Surface Area: 1236 sq. in.
Side Shelf Dimensions: 16 in. x 12 in.
Chamber Capacity: 7,000 cubic in.
Hopper Capacity: 22 lbs. of pellets
Overall Weight: 177 lbs.
Overall Height: 43.5 in.
Downloads

PG36SGX Instruction Manual
REVIEWS
SmokePro SGX WIFI Pellet Grill - Bronze
is rated out of
5
by
1
.
Rated

5

out of

5
by
Dale K Bean
from
Good looks and great grilling experience
Everybody body that sees my new SmokePro SGX grill compliments its looks and huge grill area. The first thing I tried to cook was a beef brisket and ribs. Two things I have never attempted before. What really helped was Camp Chef's BBQ Bible: Book of Brisket. Between the SmokePro grill and the Book of Brisket I came out with the perfect brisket. Not just my words, but also the 14 people I had try it. Not bad for a 75 year old male with no great grilling experience. I highly recommend the Camp Chef pellet grills. specially the SmokePro line. Even with it set to high smoke the grill used 1/3 less pellets then all the grilling articles said pellet grills would.
Date published: 2020-05-29
RELATED BLOG POSTS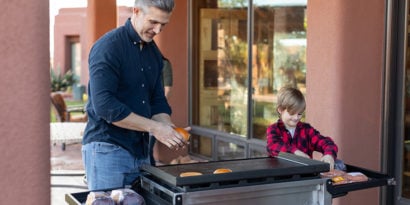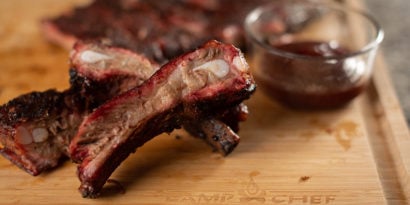 (7 Comments)