In the past, if you wanted a delicious smoky taste with the satisfying seared finish, you had to fire up your pellet grill and your gas grill together. Two grills for one cookout? Not anymore. With our BBQ Sear Box, you can do it all with one unit. The Sear Box offers 180 square inches of cooking space, a 16,000 BTU propane burner, enamel-coated cast iron, and specially designed heat diffuser plates to vaporize grease dripping. It's easy to add to your pellet grill with a simple mounting system and the included propane tank holder. You can have the best of both worlds—pick up the BBQ Sear Box today.
Multimedia
Features
Stainless steel construction
Enamel-coated cast iron grilling grates
Raised ribs for distinct grill marks
Propane burner for high heat
Propane tank holder included
Grease management system with drip tray
Built-in ignition for easy lighting
Heat diffuser plates for infrared cooking
Reaches temperatures up to 900&deg F
Easily replaces existing side shelf with existing holes and hardware
Fitment
PG24
PG24S
PG24LTD
PG36LUX
Specifications
Searing Area Dimensions: 11.5"x16"
Total Surface Area: 184 sq. in
16,000 BTU Stainless Steel Burner
Overall Weight: 34 lbs.
Propane Tank not included
REVIEWS
BBQ Sear Box
is rated out of
5
by
16
.
Rated

5

out of

5
by
Sir Sear A Lot
from
5 Star Steakhouse In My Backyard
I am spoiled. I have been learning the craft of grilling and BBQ'ing for over 20 years now, and my DLX with sear box has rendered eating out at a steakhouse wasted time and money. The sear that was missing or took to long to achieve with charcoal or oven broilers is now as simple as ever. I combo smoke and reverse sear and my Camp Chef setup are crushing 5-star steakhouses every time I step into my backyard kitchen. This is a must have addition for your DLX.
Date published: 2017-06-10
Rated

5

out of

5
by
remysdad
from
great value
i've had the sear box for a couple of months now, and i couldn't be happier with this product, I can now place the perfect steak on my family table each and every time and the quality is great, it fits on my pellet grill great. thanks for this product.
Date published: 2018-02-02
Rated

5

out of

5
by
Anonymous
from
Great Accessary
Purchased this product for my SmokePro DLX smoker/grill. Easy installation and grills to perfection. My wife wanted Hotdogs and the Searbox cooked them to perfection. Can't wait to smoke beef tenderloin and do a reverse sear. It made my SmokePro a complete awesome grilling/smoking machine.
Date published: 2017-01-29
Rated

5

out of

5
by
Auburn1
from
Perfect addition
I bought this one month ago to go with my Camp Chef pellet smoker. The seat box gives the perfect finishing touches to your meat after you smoke it.
Date published: 2018-02-06
Rated

4

out of

5
by
Grandpa Todd
from
Friends and Family love my steaks
It is about time someone made this sear box and I am glad they did. I now have a easy way to sear my T-bone now i just need a bigger pocket book, I am going to sear everything and anything I can, I plan on pushing this sear box to its limits.
Date published: 2016-05-31
Rated

5

out of

5
by
Juice
from
Worth The Wait
I was dying to purchase the sear box since I bought my smoker. Was finally able to purchase one last week. Works just as advertised. I've already seared off steaks, bacon wrapped asparagus, and some wahoo steaks. Awesome!
Date published: 2017-04-25
Rated

5

out of

5
by
Justin
from
Worth Every Penny!!!
This sear box is worth every penny. Looks so good and cooks even better!!! Just cooked the fam some asparagus wrapped in bacon on it and WOW!! I am so impressed, I had no flame ups, a good even cook and fast!
Date published: 2016-05-31
Rated

5

out of

5
by
Teaysguy
from
You need this in your life!!!
Perfect for throwing a quick sear on a steak, cooking burgers, Chicken, and more. Love this thing, no need to break out a big ol grill anymore, small and to the point. Works great....Smoke On......
Date published: 2018-02-05
QUESTIONS
Can a natural gas conversion work with the seas box?
I purchased the SE and added the Sear Box to it. I have both propane and natural gas available at my house. I was curious, so I performed a test. I used propane first and let the sear box come up to maximum heat. I am in Tucson AZ and outside temperature was in the 80's. My infrared thermometer indicated the cast iron plate was 980 deg F. I later switched the source to my natural gas line I have use for outside grilling. The maximum temperature reached was 740 deg F. So there was a loss of 240 degrees but still a temperature than can sear.
Date published: 2018-05-20
How does the Sear Box attach to the smoker? Is there a universal attachment that the box might attach to another brand of smoker? Dave
there is not a universal attachment made for other brands of smokers, it is pre drilled for camp chef brands and it will also fit the Cabela's two wood pellet smokers.  if the end of  any smoker is large enough to drill matching holes to match the pre-drilled holes in the sear box it could be adapted.  I made a suggestion to Camp Chef that they should make a stand for the sear box so in could be used as a stand alone unit to be used by any customer regardless of the smoker used.  This is a fantastic attachment and I use it a lot by itself it cuts the time in half and makes a great steak.
Date published: 2018-05-12
Will the Sear Box fit MODEL #: PG36SGXB? It is not listed on the fitment models.
I have the PG24SGB, and it is maid for the sear box to fit it. All of the new smokers are made for the sear box to fit. I would suggest that you put a couple of stainless washers between each bolt that goes to the smoker for a little extra clearance. You will be very happy with this purchase, and the sear box is the only way to go.
Date published: 2018-05-11
What is the temperature range? Can it get low enough to be used as a "normal" propane grill?
Yes it does. It has high low and medium settings on the dial.
Date published: 2018-05-11
While cooking the ny strip steaks, how soon should I turn on the sear box to reach the temperature needed to sear steaks
About 10 minutes or so a lot depends on the outside temp. Happy grilling
Date published: 2018-03-28
I am looking into buying the Smokepro Lux pellet grill, just want to make sure the sear box will mount to this model prior to buying the sear box also. Any feedback is greatly appreciated.
Yes, the Sear box accessory will mount to the LUX pellet grill.
Date published: 2018-03-23
Can this be ordered in the bronze powder coat to match my grille? Will it fit a Pro DLX?
Thank you for your question. Right now we only have it as stainless steel, and yes it will fit you DLX.
Date published: 2018-03-22
is it best to sear first and then smoke or just the opposite?
Thank you for your question. You would reverse sear: Preheat your pellet grill to 225° F Cook the steak on this lower heat until it hits 10-15° below your desired temperature (medium-rare is 130-135° F). While the steak cooks, preheat the Sear Box to high heat. When the steak is ready for searing, place it on the heated Sear Box (a cast iron skillet with some oil will also work). Sear for about 45 seconds on one side, then flip and repeat. You may hold it sideways on the grates as well to sear the sides. You can serve immediately or let it rest for a minute or two. Either way, enjoy!
Date published: 2018-05-23
RELATED BLOG POSTS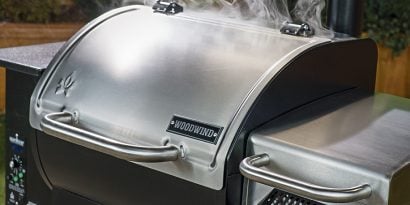 (3 Comments)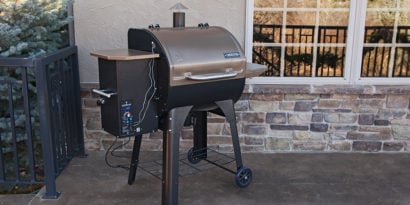 (1 Comment)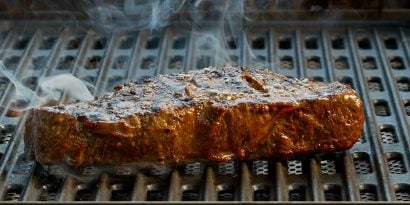 (2 Comments)