In the past, if you wanted a delicious smoky taste with the satisfying seared finish, you had to fire up your pellet grill and your gas grill together. Two grills for one cookout? Not anymore. With our BBQ Sear Box, you can do it all with one unit. The Sear Box offers 180 square inches of cooking space, a 16,000 BTU propane burner, enamel-coated cast iron, and specially designed heat diffuser plates to vaporize grease dripping. It's easy to add to your pellet grill with a simple mounting system and the included propane tank holder. You can have the best of both worlds—pick up the BBQ Sear Box today.
Multimedia
Features
Stainless steel construction
Enamel-coated cast iron grilling grates
Raised ribs for distinct grill marks
Propane burner for high heat
Propane tank holder included
Grease management system with drip tray
Built-in ignition for easy lighting
Heat diffuser plates for infrared cooking
Reaches temperatures up to 900&deg F
Easily replaces existing side shelf with existing holes and hardware
Fitment
PG24
PG24S
PG24LTD
PG36LUX
Specifications
Searing Area Dimensions: 11.5"x16"
Total Surface Area: 184 sq. in
16,000 BTU Stainless Steel Burner
Overall Weight: 34 lbs.
Propane Tank not included
REVIEWS
BBQ Sear Box
is rated out of
5
by
13
.
Rated

5

out of

5
by
remysdad
from
great value
i've had the sear box for a couple of months now, and i couldn't be happier with this product, I can now place the perfect steak on my family table each and every time and the quality is great, it fits on my pellet grill great. thanks for this product.
Date published: 2018-02-02
Rated

5

out of

5
by
Auburn1
from
Perfect addition
I bought this one month ago to go with my Camp Chef pellet smoker. The seat box gives the perfect finishing touches to your meat after you smoke it.
Date published: 2018-02-06
Rated

5

out of

5
by
Sir Sear A Lot
from
5 Star Steakhouse In My Backyard
I am spoiled. I have been learning the craft of grilling and BBQ'ing for over 20 years now, and my DLX with sear box has rendered eating out at a steakhouse wasted time and money. The sear that was missing or took to long to achieve with charcoal or oven broilers is now as simple as ever. I combo smoke and reverse sear and my Camp Chef setup are crushing 5-star steakhouses every time I step into my backyard kitchen. This is a must have addition for your DLX.
Date published: 2017-06-10
Rated

5

out of

5
by
Anonymous
from
Great Accessary
Purchased this product for my SmokePro DLX smoker/grill. Easy installation and grills to perfection. My wife wanted Hotdogs and the Searbox cooked them to perfection. Can't wait to smoke beef tenderloin and do a reverse sear. It made my SmokePro a complete awesome grilling/smoking machine.
Date published: 2017-01-29
Rated

5

out of

5
by
Jenn
from
Worth every penny!!
I added this to my pellet grill and love it. Threw away my propane grill. It sears perfectly.
Date published: 2018-03-13
Rated

4

out of

5
by
Grandpa Todd
from
Friends and Family love my steaks
It is about time someone made this sear box and I am glad they did. I now have a easy way to sear my T-bone now i just need a bigger pocket book, I am going to sear everything and anything I can, I plan on pushing this sear box to its limits.
Date published: 2016-05-31
Rated

5

out of

5
by
Juice
from
Worth The Wait
I was dying to purchase the sear box since I bought my smoker. Was finally able to purchase one last week. Works just as advertised. I've already seared off steaks, bacon wrapped asparagus, and some wahoo steaks. Awesome!
Date published: 2017-04-25
Rated

5

out of

5
by
Justin
from
Worth Every Penny!!!
This sear box is worth every penny. Looks so good and cooks even better!!! Just cooked the fam some asparagus wrapped in bacon on it and WOW!! I am so impressed, I had no flame ups, a good even cook and fast!
Date published: 2016-05-31
QUESTIONS
Can you add the sear box to any camp chef?
Thank you for your question. The Sear Box is compatible with any of the Camp Chef Pellet Grills. If you have an older model SE grill, you may not have the holes pre-drilled on the side to install it. In that case, you could drill them yourself and then add it.
Date published: 2018-03-14
Can a natural gas conversion work with the seas box?
Thank you for your inquiry. We have been informed by the engineer that the sear box is hot enough, on propane, that if you hook it up to natural gas, that it would work just fine. You shouldn't need to do any further adjustments, like to the orifice, just disconnect the propane hose that comes with the sear box, and connect a natural gas hose. Now if it's not getting hot enough for your needs, then more than likely that is the reason, and we do not have a way to convert the valve orifice bigger for natural gas, at this time. Let us know if you have any other questions. -- Best Regards, Camp Chef
Date published: 2018-03-17
What is the temperature for the low and medium?
There are so many variables that play into the temperature of any grill, like the weather outside, how much food is on the grill, and whether the lid is open or closed. However, here is a rough estimate according to the facts: The BTU's for the sear box is 16,000 on high and gets to 900 degrees or higher. Therefore the approximate BTU's on medium are about 10,000 and will get around 600 degrees or so. Then on low the BTU's are about 4,000 and will be about 300 degrees or so.
Date published: 2018-02-26
Can the Sear Box be converted to natural gas?
i assume the answer is yes in could be converted for use with natural gas, however some fittings would have to be changed to accomplish this, and you should consult an expert on the matter before trying this change for safety's sake .
Date published: 2018-03-01
Does this fit the pg24sg?
Please contact Camp Chef.
Date published: 2018-03-05
So I already have a Treager. I was a gift. I would like to mount your sear box to the side. Will this be a pain. I am very mechanically inclined, do you think I would have any issues?
With our sear box, it would have to be mounted to the side. With the chimney's on the Treager may be in the way of you attaching it. Other than that, you will have to drill out the holes and find matching nuts to hold it in.
Date published: 2018-02-06
How can I get parts for my PGSEAR grill?
You can call us at 800-650-2433 and we are happy to help you get the parts you may need.
Date published: 2018-02-06
Can you fit this to the SmokePro STX model? If not, is there a way to retrofit it or get it professionally done?
Okay, so I just received my STX and per the installation video for the sear box on YouTube, the unit's body does have the five holes to mount the sear box. It does not have a location to mount the propane tank hook, but I wonder if it'll sit on the bottom shelf of the STX. Either way, I think it's a go! Thanks, Camp Chef for not forgetting the little folks with the STX who still want a sear box!
Date published: 2018-02-01
RELATED BLOG POSTS
(1 Comment)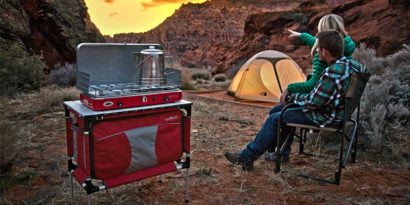 (6 Comments)