I've been trying to cook more with whole wheat (ie the giant skookie) and searched and searched for a pita bread recipe make with whole grain. I found it! Being made with whole wheat makes it a bit sweeter than traditional, but still really tasty and with a convenient pocket for all my Greek crockpot chicken!
Ingredients: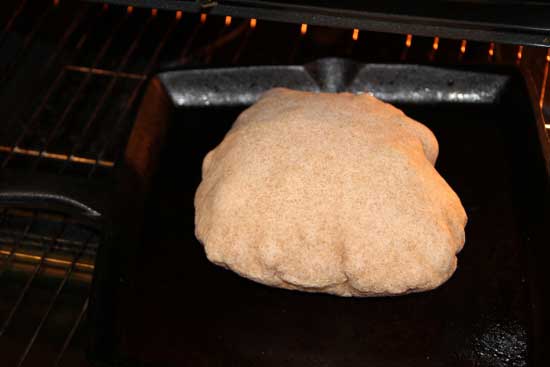 1 tablespoon instant yeast
4 cups whole wheat flour (I used white wheat flour as opposed to red wheat)
1/2 teaspoon sugar
1 teaspoon salt
1 1/2 cups warm water
1/2 tablespoon olive oil
Directions:
In a mixer bowl, add flour , instant yeast, salt and sugar.
Add water and oil . Mix til smooth and elastic about 3-5 minutes.
Place dough in a warm, oiled bowl, turning dough over to coat surface.
Cover bowl with a dry cloth and set in a warm place, allowing dough to rise until double in volume (about 2-3 hours).
Punch dough down and knead for about 2 minutes.
Form into smooth balls the size of small oranges, rolling them gently between the hands.
Place balls on a dry cloth (lightly floured) in warm place; cover with another cloth and let rise for about 30 minutes.
Preheat oven to 500F. with a cast iron pan inside for at least 30 minutes.
While oven and pan are preheating, roll balls one at a time into circles about inch thick.
Bake the pitas 3-6 minutes on a preheated baking sheet with the oven rack in the center. The bread will puff up like a balloon during baking and will collapse when cooled.
The oven needs to maintain the high heat for the pitas to balloon up. If you have the oven door open for too long the temp will drop and the pitas will not puff up. So, it is best if you close the oven door quickly between batches or wait for the oven to come up to temp before putting in the next batch.
Loaves may be eaten immediately or frozen for long-term storage. Warm frozen pitas briefly in the oven before serving.