I couldn't pass up a recent Food Network magazine at the check out counter. That almost NEVER happens. The cover was arrayed with fresh garden tomatoes, tiny bits of bacon and Parmesan. It looked so delicious that I couldn't help myself. When I opened it up, I found some great recipes, including this gem.
I found the plums at my local farmer's market and the strawberries at the grocery store (insert gasp). Just to make things fun, I made the jam in cast iron skillet. This jam is like liquid gold. It only made 2 1/2 pints, but oh the flavor! It is the perfect match of sweet and tart and the color will remind me of summer all winter long (or as long as I can hold off eating the jam!) This only took a few hours from start to finish. Sounds like a lot? Well, it's worth it. And while you are at it, you might just want to double or triple the batch!
Ingredients:
1 lb red plums, diced
1 lb strawberries, quartered
3/4 c. sugar
1 t. vanilla (the real stuff, please!)
1/2 t. cinnamon
1 lemon, juiced
1/2 c. honey
Directions: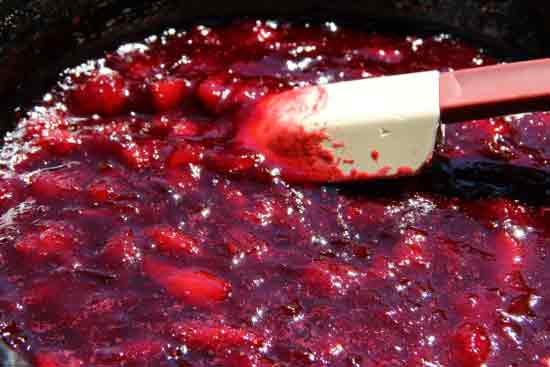 Mix all ingredients, put honey in a bowl, cover and let sit 2-6 hours.
Transfer to a large skillet and add honey.
Cook over medium heat until mixture registers 220 degrees on a candy thermometer (this will take about 30 minutes).
While the jam is cooking, fill water bath canner with water and place 6 half pint jars or 3 pint jars (and 1-2 T white vinegar) in the water.
Bring to a boil. Boil jars for 5 minutes, then remove. Also, simmer the lids in a small sauce pan.
When jam is done, fill sterilized jars, leaving a 1/2 inch headspace.
Stir with a clean small spatula to eliminate any air pockets and wipe carefully with a clean damp cloth. Using tongs, place lids on clean jar. Screw band on "finger tight" and place jar in water bath canner.
Process for 15 minutes (if you live at higher altitude, you will need to add more time. See this link for more information.)
When jars are processed, take them out of the canner and place on a toweled surface. Let sit 24 hours.
You most likely will hear a popping sound within the first 1/2 hour; this is the seal taking effect. After 24 hours, unscrew the band, and pick up the jars by the lids. If the lids stay, you are good to go. If not, refrigerate and eat within 2 weeks. Store without the bands.
| | | |
| --- | --- | --- |
| My set up | Jam Before | In the middle. |
| | | |
Want more great information, recipes, and giveaways from Camp Chef? 'Like' us and follow us on our facebook page!