Bring more versatility and flavor to your back patio with the new Camp Chef SmokePro 36 SGX - Bronze. Switch seamlessly between traditional low and slow smoking and Direct Flame wood-fired grilling to achieve two delicious flavor profiles all on one grill. Whether you are craving flame-kissed burgers or tender slow cooked prime rib, the new Slide and Grill Technology allows you to achieve the flavors you want easier than ever before.
Features
Includes 2 meat probes
Includes warming rack
Smart Smoke Technology
Pellet Hopper Cleanout/Purge
Slide and Grill Technology
Ash Cleanout System
Cord Management System
Grease Management System
Large capacity pellet hopper
Electronic auto-start ignition
Dual LED temperature readout: internal cooking temps and internal food temps
Simple temperature selection system
160º F up to 500º F temperature range for slow smoking to grilling
Automatic auger dispenses pellets as needed for improved smoker efficiency
Leg wire shelf not included
Specifications
Upper Rack Area: 573 sq. in.
Lower Rack Area: 663 sq. in.
Total Rack Surface Area: 1236 sq. in.
Side Shelf Dimensions: 16 in. x 12 in.
Chamber Capacity: 7,000 cubic in.
Hopper Capacity: 22 lbs. of pellets
Overall Height: 43.5 in.
Overall Weight: 177 lbs.
Downloads

PG36SGX Instruction Manual
REVIEWS
SmokePro SGX 36 Pellet Grill - Bronze
is rated out of
5
by
10
.
Rated

5

out of

5
by
Teaysguy
from
Love the added Direct Grill Option.....
So, I was able to use my SGX last night for the first time as an actual grill. I cranked it up to high heat and waited for it to get over 400* and pulled the slide to uncover the Burn Pot and threw some strips on. I was also using the Cast Iron Grates that Camp Chef Sells to replace my left 2 grates that came with the smoker. I think this also made a world of difference. The sear marks were easy to obtain and the steak cooked perfectly. I love a good Reverse Sear steak but every now and then when in a hurry I like to just throw it on for a good Black and Blue or Rare Steak. This thing came out great. I can't wait to throw a ton of meat on this thing over time.
Date published: 2018-02-06
Rated

5

out of

5
by
David F
from
Best grill I've ever owned
From burn in to shut down I had zero issues. Best tasting pork butt I have ever made. Instructions were thorough and after doing initial burn in and startup, everything else seemed intuitive. Really small learning curve. Couldn't recommend this enough!
Date published: 2018-03-05
Rated

5

out of

5
by
Joe K
from
This is the most amazing grill I have ever owned!
Bought it two weeks ago, have done Ribs, whole chicken, chops, steak, brisket, beans, vegetable kabobs, and asparagus. Everything has unbelievable flavor. Brisket 1.5hrs and held within 10 deg. Never have to babysit it! Much better options than Treager.
Date published: 2018-06-18
Rated

5

out of

5
by
bertstime
from
Love the features
Replaced my traeger with the SmokerPro and no regrets. Added the sear box and my family says the reverse sear steaks are the best I have ever made.
Date published: 2018-04-16
Rated

5

out of

5
by
BBQwa
from
Best Pellet grill hands down
Wow wow this does everything. Cooks so even and smokes evenly as well. Excellet product. Sear box is a must.
Date published: 2018-04-27
Rated

5

out of

5
by
Furd Smoking the Meat
from
Ease of Use...Amazing! Speed of Start Up.. Great
Purchased on Friday, Assembled in 35 minutes on Saturday, Burned in Sunday Morning, Smoked 3 Tomahawk Ribeyes (3 inches thick, 3 pounds each), and then reversed sear. Amazing, This is going to replace my Gas grill, my old school stick burner. Just great results. My family just loved the Ribeyes. I look forward to cooking some Pork Shoulders and Brisket next. ... I used the competition blend pellets, just a good balanced smoke flavor.
Date published: 2018-06-17
Rated

5

out of

5
by
Orionfree
from
Absolutely Incredible!
I've been running this through it's paces for the past couple of weeks.....smoking and grilling....just fantastic. Controls temperature +/- 10 degrees. Grills awesomely......burgers, chicken, salmon! Get the cast iron grates.
Date published: 2018-09-07
Rated

3

out of

5
by
stdecl51
from
Good Outdoor Oven
Bought this back in June after doing some in depth research. It does cook up succulent meats. It just doesn't make it smoky enough for me I tried a couple of different pellets with ribs, roasts, brisket, and butts. Meats had a smoke ring but not the heavy smoky infused taste that I was looking for. I personally like the burnt ends of anything smoked just not getting that with this smoker. The other smoker options that I considered were more expensive ( I don't know that it would be any different) I looked on the Camp Chef web site for tips for getting a heavier smoke infused flavor, not that much out there, lot of recipe tips call for liquid smoke, kinda defeats the purpose of using a smoker. They apparently think their design is fine the way it is. One of the things that sold me on the Camp Chef was the sliding cup cleanout. After using the smoker and examining the bottom of the smoker before I used it again I found that there was no ash in the reservoir to drop into the cleanout cup, instead I had a layer of dust ashes in the bottom of the smoker. Just like everybody else's smokers.
Date published: 2018-09-25
RELATED BLOG POSTS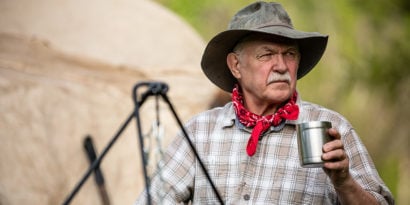 (13 Comments)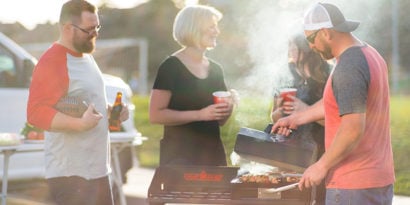 (4 Comments)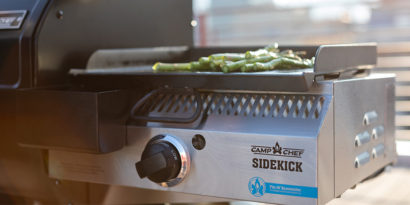 (6 Comments)