It's time to show your pellet grill and smoker how much you love it. This durable, weather-resistant patio cover will keep your grill dry and protected through hot afternoons and rainy mornings, so you'll never have to worry about it leaving it out in the elements. A bungee cord sewn into the base ensures a secure fit for windy conditions, too. Snag a patio cover today; your pellet grill will thank you.
Features
Durable, weather-resistant liner
Made of 600 Denier-coated nylon
Formed to fit over shelves and smoke chimney
Elastic bungee cord sewn into the bottom for secure fit
Fitment
PG24
PG24LS
PG24S
PG24SE
PG24LTD
REVIEWS
Pellet Grill Patio Cover - 24"
is rated out of
5
by
20
.
Rated

5

out of

5
by
Bernard
from
So far so good!
My SmokePro came in last Thursday. And it rained and poured Sunday. Good thing I had the cover. It held up to the wintery mix -- rain and ice -- without any penetration. It's made of a thick durable material that reminds me of the kind of weather-resistant covers for motorcycles. I read the reviews on Amazon about how difficult it was to get on and off. This was not my experience whatsoever. It fits well and holds well, with the elastic bottom end. I am certain that this will hold up to strong winds. While it doesn't go all the way to the ground, it does protect very nicely the important bits of the smoker. Glad I went with this compared to one of those generic vinyl covers.
Date published: 2018-02-05
Rated

2

out of

5
by
NathanM
from
Rain and Snowproof, but not Sunproof
Mine is 2 years old and lasted 1.5 years in the Colorado sun before it started cracking and developed a tear. Had a hail storm recently and it got ripped to shreds since it wasn't pliable anymore. I need a new one and will look elsewhere. This rating isn't based on its ability to withstand hail, but on how quickly it deteriorated in the sun. I realize that the sun can age stuff like this fast, but this was a lot faster than other covers I have. I would also add that it needs to be longer. Overall, for the price I'd hoped it would last at least 5 years or more.
Date published: 2019-07-29
Rated

5

out of

5
by
JTH61
from
Pellet Grill Cover
Ordered cover for my DLX grill on a Friday and had it delivered on Monday, Fits grill nice and snug, and is made of a canvas type material and not a cheap thin material, should last a long time. Great service and great products from Camp Chef.
Date published: 2018-02-14
Rated

3

out of

5
by
Dlee6336
from
Needs to be longer
I have had this for a couple of weeks. I wish it were longer so the bottom is protected from the snow and rain.
Date published: 2018-04-08
Rated

5

out of

5
by
KevinO
from
I love my cover
I'm so happy with my Camp Chef smoker. The cover is fantastic and made very well, top notch! A must have if you have a smoker. I highly suggest getting the Woodwind, which comes with a cover and some wood pellets. I've had my Camp Chef for several months, but I still feel like a kid at Christmas smoking something new, like loaded twice baked potatoes. Try a pizza too! But the basics like tri-tip or ribs will change your world if you're still use coals.
Date published: 2018-03-24
Rated

5

out of

5
by
BosBri
from
Works as advertised
This is my first pellet smoker, but not my first smoker. I wanted something that was a " set it and forget it" smoker. Something I didn't need to attend every 30 min. I've done chicken quarters, sausage and steaks so far and being able to smoke and seat on one unit it amazing. Longer smokes are planned soon!
Date published: 2018-04-04
Rated

5

out of

5
by
DJ the cook
from
The Greatest grill ever!
We just recently purchased the new woodwind grill, the features of the grill are just awesome. This grill controls the temperature withing 2 degrees of the set temperature. The smokey flavor is so wonderful. We have tried steaks, pork chops, pizza, and vegetables and other sides along with the meat that we grilled and everything tastes just great. We will never go back to any other type of grill, with just me and my wife we did not need a larger grill, but with that said we also bought the jerky trays and the jerky that our grandchildren just ask for all the time came out great and also give us the added room to grill more at the same time. We really do love our grill, we are planning on grilling so much more and cannot say enough about how much better Camp chef grills work than other types of grills. I have finally had my first most tender steak, it was not at all chewy or tough, it was the best. The Smoked Salmon was so good that we went and did another slab of Salmon. The best grill I have ever used or will ever buy!
Date published: 2018-02-22
Rated

5

out of

5
by
Sculpin
from
Perfect Fit
I was a little suspect of this grill cover since it didn't hang down like traditional covers however it stood up to high winds and 2 feet of snow with out an issue. Since getting your pellets moist is a huge no-no (the pellets will expand and break the auger) this cover is a must to any Camp Chef petted grill owner.
Date published: 2017-07-11
RELATED BLOG POSTS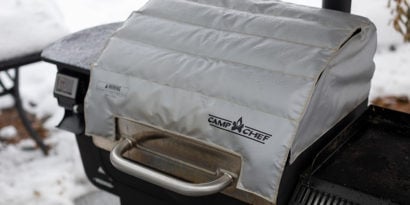 (4 Comments)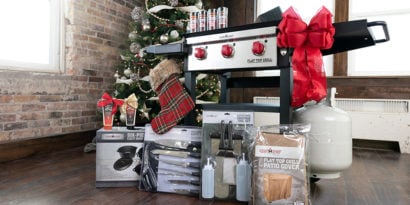 (8 Comments)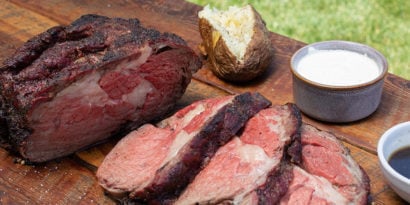 (4 Comments)