It's time to show your pellet grill and smoker how much you love it. This durable, weather-resistant patio cover will keep your grill dry and protected through hot afternoons and rainy mornings, so you'll never have to worry about it leaving it out in the elements. A bungee cord sewn into the base ensures a secure fit for windy conditions, too. Snag a patio cover today; your pellet grill will thank you.
Features
ul>
Durable, weather-resistant liner
Made of 600 Denier-coated nylon
Formed to fit over shelves and smoke chimney
Elastic bungee cord sewn into the bottom for secure fit
REVIEWS
Pellet Grill Patio Cover - 36"
is rated out of
5
by
1
.
Rated

5

out of

5
by
David F
from
Great cover
So far so good. Cover feels heavy duty and fits grill very well. Everything is covered and out of the elements. Can't speak to longevity. Just have to wait and see.
Date published: 2018-03-07
QUESTIONS
Will this cover become available? I need one for myCamp Chef 36 pellet grill. 
The cover is excellent, and fits with the bottom flexible stretch. It strong and is not real hard or difficult to put on single handed and I needed the 36" for the larger unit containing the added searing burner.
Date published: 2018-04-23
Will the PCPG36 cover fit if we have the sear box attached to the side?
Thank you for your question. Yes, the PCPG36 will fit the grill with either the side shelf or the Sear Box mounted to it.
Date published: 2018-03-07
What is the material the cover is made of?
Thank you for your question. The patio covers are made of a 600 denier fabric. They are weather resistant but not waterproof.
Date published: 2018-03-07
Does this fit the cabelas magnum pellet grill
Yes this will fit the Magnum pellet grill from Cabela's.
Date published: 2018-02-06
When will this cover be available again? It's been out of stock forever.
Will this work with the searbox
I just bought the Smokepro SGX 36.  Will this cover fit that model properly?
when will covers for 36" smoke pro be available?
RELATED BLOG POSTS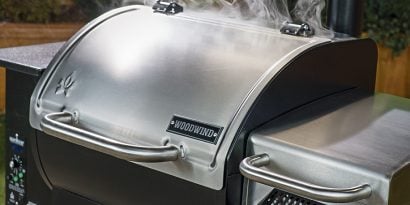 (3 Comments)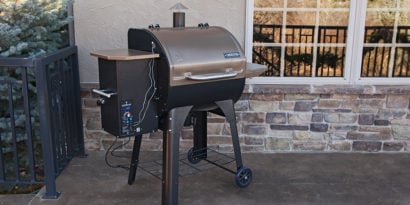 (1 Comment)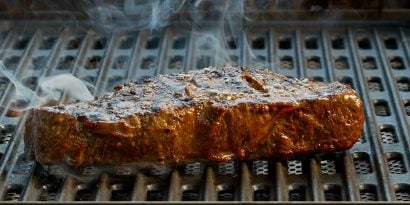 (2 Comments)