The Flat Top Grill 900 is a tank of a cooking station capable of pumping out huge amounts of food in no time at all. Think of the Flat Top Grill as a blank canvas, a really, really, big blank canvas. What work of art you choose to create is up to you. Cook, grill, or boil fast and easy with the unparalleled grilling space. The 877 sq. inch cooking capacity makes the Flat Top Griddle ideal for large family gatherings, business parties, church cookouts, catering events, tailgating or cooking at home. The FTG900 heats food evenly because of the large griddle and a heat dispersing grill design. The best part about this flat top grill is the versatility of what can be created on it. The griddle is great for making pancakes, bacon, hash browns, sausage, veggies, and even heating up water pots. Pick up a Flat Top Grill today and we're sure you'll be cooking breakfast, lunch, and dinner all on one grill.
Multimedia
Features
Includes flat top griddle
True Seasoned Surface, non-stick & ready to cook
Six 12,000 BTUs/Hr. stainless steel burners
Matchless ignition system
Grease management system for easy clean up
Grease tray, catch bucket, and micro adjust griddle levelers
Propane tank holder
Adjustable leg levers
Cold rolled steel griddle
Specifications
Griddle Cooking Dimensions: 45.5 in. x 19.5 in. (20.5 w/grease trough)
Griddle Cooking Surface: 877 sq. in.
Width (shelves up): 78 in.
Width (shelves down): 58 in.
Height to the top of the griddle: 37 in.
Overall Set Up Dimensions: 78 in. x 20.5 in. x 37 in.
Footprint: 49.5 x 21 in.
Overall Unit Dimensions: 77 in. x 22 in. x 37 in.
Overall Weight: 160 lbs.
Total Output: 72,000 BTUs/Hr. Burner
Warranty: 1 year
Downloads

FTG900 Instruction Manual
REVIEWS
Flat Top Grill 900
is rated out of
5
by
27
.
Rated

3

out of

5
by
PepRKatQ
from
Having trouble with keep the heat down.
First, I would give this unit 5 stars if the heat was easier to keep down. I have cooked pancakes, bacon, sausage, eggs, potatoes, chicken fried rice, chicken cheesesteaks, and pot stickers. Everything has come out great, and my only complaint is that I have to work fast when making pancakes, or they burn. I even tried turning the propane tank only one full turn and it was still hard to regulate temperatures. I'm not sure what is going on, but I still love cooking on it. I would recommend this product, but work with a hot/warm zone (3 burners on, and 2 burners off) style of cooking.
Date published: 2018-02-20
Rated

5

out of

5
by
Ray a
from
Yeaaah buddddy
I love this product compared to the blackstone grills this one is more efficient and engineered correctly there's a couple things I would correct as far as the grease drain, the hole needs to be bigger so it doesn't clog as easy and I would like to see the grill like the smaller ones I also recommend cooking with the three burners on two off because it gets hot, as far as cooking on it it serves a lot of people at once when I first inquired about the grill there was no reviews no videos I contacted Camp Chef to see if we can work something out as far as a review for a discount and I was denied but I love this product I just don't like the customer service
Date published: 2018-03-02
Rated

5

out of

5
by
Anonymous
from
Makes cooking fun
I've always loved eating out at japanese hibachi's, and was intrigued by the idea of taking the fun of it to my backyard instead of slaving away inside a kitchen. The FTG900 offers ample cooking area to do a full assortment of food at once. The grease is neatly collected in a tray off to the side. Assembly was easier than expected, the clear directions helped. The construction feels industrial and sturdy. I would definitely recommend it for a more fun grilling experience than a traditional grill.
Date published: 2017-11-01
Rated

5

out of

5
by
JoeJ
from
Met our needs
Purchased this grill for our local Croatian club. We cook a lot of these little Croatian sausages call "Cevapi", we've used our charcoal and gas grills in the past and will flare ups from grease dripping at times were not good to say the least. With the new flat top we can grill more, more even cooking and best of all no smoke in you eyes. Can't wait to try it for a pancake breakfast in our future plans. Joe PS myself and a couple of the other cooks are planning on getting our own flat tops for the house.
Date published: 2018-07-18
Rated

5

out of

5
by
NCpitmaster
from
Great value, and Outdoor Cooking is a great vendor
Yes, this is the biggest and "premium" flat-top in the Camp Chef lineup, and you can save a little money by going one of the two smaller models, but if you have the room for it, this is the one to get. One instinct may be "but I'm not feeding an army; why do I need all that space?". The answer is simple, and it comes from someone who is typically cooking for 4: 6 burners and a big surface allow you maximum flexibility in cooking multiple things at once, or multiple components of an item that will later come together in different ways. You can have the flat top at 600 degrees on one side and the low 200's on the other. With a smaller surface, this simply is not possible. And then, when you do have the proverbial army over, you've got that big surface to work with for sheer volume. I think the 900 is an incredibly good value, and oh, by the way -- when there was a problem with the delivery of mine, Outdoor Cooking was very responsive, professional, and straightened things out in a very reasonable way. A+ all around.
Date published: 2019-01-25
Rated

4

out of

5
by
Pops
from
Great breakfast flat top!
I have had this flat top for three months. I really have no complaints. Everything that I have cooked has come out perfect, especially the buttermilk hot cakes for breakfast. My only complaint is when it was delivered the bottom shelf was bent and I had to flatten it with a hammer so it would fit. If not for that it would be 5 stars.
Date published: 2018-04-29
Rated

5

out of

5
by
Black Knight Bar Be Quie
from
Great item
I bought mine in February. I love this grill. I had a broken shelf bracket after a couple of months of use. Customer Service was great and they sent me two brackets within a week. I too have to work to control the heat and I turn on three and keep two off or really low. Fajitas, tacos, bacon, stir fry, and so on are really easy on this. Wish I had bought the bigger one. Oooh well, maybe ill get one on sale or get one as a gift.
Date published: 2018-07-17
Rated

2

out of

5
by
coodercat
from
Poor Stand
Let me start off by staying I love the Grill Top and the burners. They work great. The grill top is sturdy and is heavy. But the stand for the grill is horrible. For this grill to be as expensive as it is, Camp Chef cheated us. They could have used a better material and/or metal for this grill. I am not happy but I have no way of correcting this other than having another company to reconstruct it. SAD>>>>
Date published: 2020-02-03
RELATED BLOG POSTS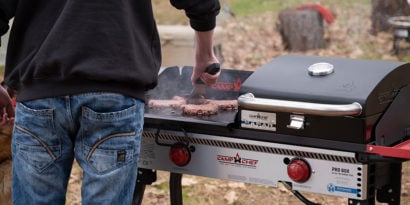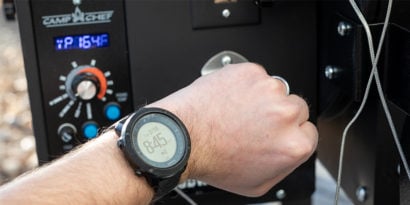 (2 Comments)