You've picked out the perfect recipe, purchased the best wood pellets, pre-heated the grill, and slapped the steaks on to cook. Sounds like the perfect meal, right? It could be—or it could turn into a night of guessing games and undercooked meat. Take the mystery out of outdoor cooking and add the Wireless Thermometer to your arsenal. A stainless steel probe detects the temperature as you cook, and the remote will alert you when the desired temperature is reached. You can check the temperature from up to 100 feet away with a backlit screen, so you won't be glued to the grill all night. To make things even easier, the Wireless Thermometer offers 6 meat settings, 4 taste settings, and the option to create your own custom setting. Save the guessing games for another time, and get ready to cook to perfection.
Features
Digital LCD screen
6 meat settings
4 taste settings
Timer
LED light
Stainless steel probe
Easy-to-use remote
Built-in alarm
Specifications
Works wirelessly up to 100 feet
Probe and wire are rated for over 475 degrees
48" wire attached from probe to receiver base
Elapsed cooking timer
Fully adjustable heat monitor
Downloads

LTRM Instruction Manual
REVIEWS
Wireless Thermometer
is rated out of
5
by
22
.
Rated

1

out of

5
by
Not to happy
from
Worked once
Bought it a few months ago planning on using it the smoker, temp never gets above 200f. Worked that time, but the top antenna cover broke first time ..... today wanted to use it again at it won't give an accurate temp, sitting on the counter in the house and indicating 165f. Replaced batteries in both units and still not working. DO NOT waist your money on this unit!
Date published: 2020-03-22
Rated

1

out of

5
by
Will return
from
Junk
Put new batteries into new unit and turned on as instructed. Base unit would not turn on. Ensured batteries were in correctly and seated. Would not turn on. Three smacks on my palm got the unit to turn on. Worked for about three hours then reported a temperature of 428 degrees in my +/-50 degree garage. Despite being in open air away from any heat source it stayed in the 300 - 400 until I turned it off. Will be returning & buying a different brand.
Date published: 2019-12-26
Rated

1

out of

5
by
DanG
from
Did not work out of the packaging...junk
I bought the Camp Chef wireless thermometer from a local retailer. I went straight home to test it and it wouldn't work. It either read hh (bad probe) or read insane high (200 degrees) sitting on the counter. I tried for an hour to get it to work and never reported correctly. I took it back and when I showed the store what it was doing and showed them the reviews they pulled the product from their shelves. JUNK, JUNK, JUNK
Date published: 2019-11-27
Rated

1

out of

5
by
cooker 123
from
Burnt out
It worked for one cook and now it reads 300+ degrees off. I have changed batteries and still reads extremely high. 456 degrees and that is sitting on my kitchen counter.
Date published: 2019-09-09
Rated

1

out of

5
by
Anonymous
from
Save your money buy something reliable
Plain and simple does not work. I get false readings and the temp jumps all over the place. Spend your money elsewhere.
Date published: 2019-07-14
Rated

1

out of

5
by
JackRex
from
Don't waste your money
Worked last weekend the one and only time I used it. Now is says my kitchen is 325 and climbing. Not even in anything.
Date published: 2019-05-27
Rated

1

out of

5
by
QASteve
from
Doesn't Last Long
First problem was it wouldn't pick up the signal from the base and probe. I learned to tip the base on it's side and then the handheld got the signal. OK fine, it now works. But wait, after about a dozen uses, the temp reading is now way off. Just setting on the counter it reads 130 degrees. This thing is now useless. I expected it to last at least a little longer. A piece of junk for the price.
Date published: 2019-05-11
Rated

1

out of

5
by
Upset
from
Works at about 2 inches
I got this as a Christmas gift and have used it twice. It would not register temperature change unless the handheld was placed right next to the transmitter. It also has a different end than the camp chef smoker so you can not hook up the probe directly. Absolutely one of my worst gifts ever.
Date published: 2019-01-21
Rated

1

out of

5
by
Bubba
from
Doesn't work
Bought this product several months ago and used it for the first time yesterday. It started out reading correctly but 2 hours later it read 430 degrees, this was in a electric smoker running 240 degrees. Very disappointed in this product.
Date published: 2018-10-20
Rated

1

out of

5
by
DayBreak
from
Utter garbage
Purchased in winter for use in spring. Does not work at all. Changed batteries, read instructions, yet has not worked once. Will not connect wireless and show temp. Also - since I bought it months before I used it, the return window closed and I cannot get my money back. DO NOT PURCHASE THIS BAD PRODUCT
Date published: 2018-03-10
Rated

1

out of

5
by
Franklin60
from
Look Elsewhere
Unit worked great for maybe six months and then I turned it on sitting on the counter and got a reading of 124 degrees. Waste of money for no longer than the unit worked.
Date published: 2018-02-05
Rated

1

out of

5
by
nansir
from
Don't waste your $
Did not work from opening the package to start using thermometer. Nothing simple about the return so I'm stuck with a failed thermometer that cost me over $30.....save your money. Camp chef was not helpful at all with this issue!
Date published: 2018-01-26
RELATED BLOG POSTS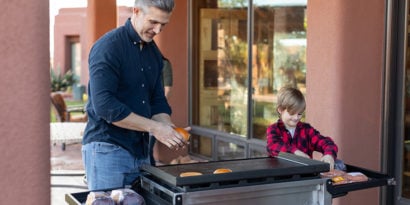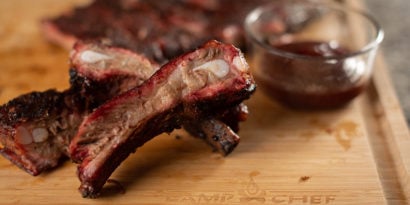 (7 Comments)