Everyone knows that food tastes better when cooked outside, but cook that food over an open fire and it will taste amazing. The Camp Chef Mountain Man Over Fire Grill & Griddle let you cook like mountain men, right over the fire. All you need to do is hammer the stake into the ground, place the griddle, grill, and charcoal box onto the stake, and you're ready to cook. Swivel the griddle and grill away from the heat when your food is finished cooking. You can use it over wood, charcoal, or propane.
Features
16 in. x 18 in. Cooking areas
Out of the box ready to cook in seconds
Heavy gauge steel grill and griddle
Includes a grill, griddle, charcoal box and two piece steel stake
Carry bag included
Specifications
Steel Grill: 16 in. x 18 in. Steel Grill
Steel Griddle: 16 in. x 20 in.
Total Cooking Surface: 576 sq in
Steel Charcoal Box: 16 in. x 20 in.
Central Post: 41 in.
Overall Weight: 36 lbs.
REVIEWS
Mountain Man Grill
is rated out of
5
by
4
.
Rated

5

out of

5
by
monstermash74
from
Love My Mountain Man Grill
I gave the rating of 5 stars but really 4.5 stars if they made an attachment that you could hang a pot or kettle from then it would be a 5 star. With that said I truly love this setup I have cook eggs pancakes sausage beacon tortilla. It's has seasoned will. I've been using it on camping trips and plan on using it at home. I'm going to replace my outdoor metal fireplace with a fire pit so I can use it instead of my BBQ. I like how well it works with wood. I have told all of my friends and family.
Date published: 2018-07-23
Rated

4

out of

5
by
Jim
from
Works great as a Dutch Oven table.
This item is multifuctional. Can be used as a Dutch Oven Table, over an open fire and for frying, and grilling. If you are camping and there isn't a fire ring, this will serve the purpose. I only wish that they would have seasoned it, but with use, that will take care of itself.
Date published: 2016-01-06
Rated

1

out of

5
by
Jeff He
from
The Steel Stake Breaks
We love the concept for this product, but the steel steak is threaded so that you can screw the two halves together and it creates a weak spot where the threads break off every couple of years. We are on our third stake for this set! And at a $160, it should not break! Disappointing!
Date published: 2019-08-12
Rated

5

out of

5
by
dr. doug and lawbear
from
Wow you do not need to go to the mountai
Wow you do not need to go to the forest to have a real outdoor barbecue, you have it in your own back yard real ranch/mountain cooking love it. I got one for my husband as a gift and one for my neighbor as a xmas gift, they both love to do dutch oven cooking so this is like heaven to them.
Date published: 2016-01-06
RELATED BLOG POSTS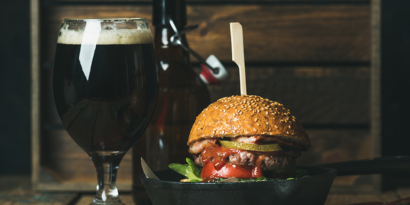 (2 Comments)
(2 Comments)
(2 Comments)