When adventure calls, are you prepared to answer? With the Explorer 2x Stove, you will be. The durable, versatile stove packs enough power in its 30,000 BTU burners to boil water and cook your food, whether you're tailgating at the football stadium or camping with the family. Portability is no problem with the removable legs, and a three-sided windscreen makes outdoor cooking easy. As one of our 14" cooking systems, you can add a griddle, BBQ box, steam pot and more to this stove for every meal. You'll be up for anything when you have the Explorer 2x Stove—now with a clean, stainless steel faceplate—so add it to your collection today.
Features
Two cast aluminum burners
60,000 total BTU/hr
Detachable legs
Three-sided windscreen
Included: Hose & Regulator
Durable, rugged construction
Specifications
Cooking Dimensions: 14" x 32"
Cooking Area: 448 sq. in.
Cooking Height: 29"
Total Output: 60,000 BTU
Weight: 36 lbs.
Warranty: One Year
REVIEWS
Explorer 2X Two-Burner Stove
is rated out of
5
by
8
.
Rated

5

out of

5
by
Paul D
from
A+ Stove
I purchased this from Dicks sporting Goods last week. I use the stove in my back yard on a concrete slab to do all my frying. Pan frying, deep frying, etc. The heat output on this thing is just insane, When you need to crank it to a higher setting, the flame screams like a jet engine. There is also a knob behind the faceplate where you can adjust the oxygen level so you get the perfect blue flame with orange tip, doing this will ensure you are getting the max heat out of the burners. Now im looking to buy accessories lol. Next on my list is the 14" griddle so I can do some habachi style cooking outdoors lol. If you are thinking about buying it, just bite the bullet and get it. It is well worth it.
Date published: 2017-09-19
Rated

5

out of

5
by
Dean S.
from
Best Outdoor Stove Available!
I purchased this stove a couple of months ago and have since been on 2 week long hunts with this stove and it cant be beat. I hunt at elevation 9000 feet and have always used a brand well known for camping equipment. It took about 45 minutes to boil water or get my coffee perking. With this new stove I can have my water at a hard boil in 5 minutes. It is no longer a major waste of time for food prep leaving more time to enjoy the outdoors. Buy one, you will not regret it.
Date published: 2017-09-30
Rated

5

out of

5
by
Ken McDonald
from
An awesome piece of equipment - highly recommended
I imported this from the US of A to Scotland as I had heard so many positive reviews and watched you tube videos. Upon receipt I had to swap out the gas regulator; a relatively simple process. After testing for gas leaks I fired up the burners and boy, are they powerful. I boiled 4 gallons of water in just over 10 minutes using the Camp Chef Aluminium water urn. This is an extremely well made and functional gas stove - and extremely portable too. I'm a Camp Chef convert - please set up a distributor in Scotland!! :-)
Date published: 2017-09-06
Rated

5

out of

5
by
Mr Jumbo
from
Great stove
Never had failed in four years of deer camp. Camp cooking three meals a day for 20 days each of those season. Only one complaint is the hoses is not long enough. It need to be at least six feet not 2 ft.
Date published: 2017-08-08
Rated

5

out of

5
by
Kristi A.
from
Same great quality that they've always had.
Just picked up my new stove from Dicks Sporting goods. I love the look of the new stoves. The quality hasn't changed, it's still the original durable Camp Chef stove that my dad loved as I was growing up. Great product, I will be a Camp Chef Customer for life.
Date published: 2016-06-01
Rated

5

out of

5
by
Jake W.
from
Huge pot of chili in no time. This stove produces ridiculous heat!
We could not have the great food we do at deer camp with out this awesome stove. During the cool fall evenings, the 30,000 BTU burners put out more than enough heat to cook us a huge pot of Chili in no time to warm up. I would recommend this stove to any one!!!
Date published: 2016-06-01
Rated

5

out of

5
by
The Yogurt Cup
from
Great high BTU Dual burner stove
Multi use dual burner, much better than pairing up two single burners. The actual burner inside is of great build quality and is easily adjustable for perfect blue flame.
Date published: 2017-05-27
Rated

5

out of

5
by
Anonymous
from
price
great stove i just bought this stove at dicks sporting goods for 99.00 last week 60.00 difference from there online price!!!
Date published: 2016-09-21
QUESTIONS
Hi, I was just wondering what is the maximum weight the stove can hold? 
Dunno about max weight but it is built like a tank. Litterly  pounds and could sit on it. 
Date published: 2018-04-22
Hi, I need to be able to conect to my onboard rv gas supply with a quick connect hose, is this possible? Or, do you have a suitable product? Thanks, James 
Hello they have an accessory hose for this. It is not included in the kit
Date published: 2018-04-22
Do I need a lighter? Or it turns on by itself
Yes, very easy to do. I do believe they make an accessory for this. Not sure of compatibility with the stove.
Date published: 2018-04-22
Hi, is the windscreen detachable?
RELATED BLOG POSTS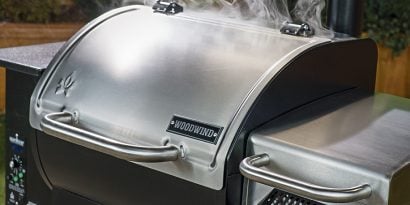 (3 Comments)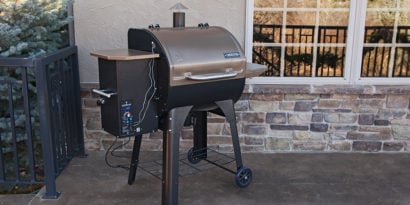 (1 Comment)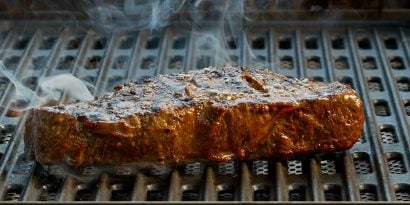 (2 Comments)