The Camp Chef Artisan Pizza Oven 90 accessory cooks the perfect pizza every time. Designed after the idea of a true, wood fire pizza oven, the Italia Pizza Oven takes your homemade pizza to the next level. A ceramic pizza stone promotes even heat and will give your pizza a delectable crust. Enjoy hot, fresh, flavorful pizzas cooked on your patio, in camp or where ever you take your Camp Chef cooking system. Great to cook breads, cookies, and pies too.
Features
Opened face pizza oven cooks like a traditional wood-fired brick oven
Fully adjustable heat allows for cooking several styles of pizza including artisan, pre-made, and frozen pizzas.
Ceramic stone pulls outer moisture off dough and promotes perfect crust, leaving the inside moist and fluffy.
Pizza stone made of cordierite ceramic
Built in temperature gauge
Includes Italia Pizza Oven Cooking Guide with recipes
Fits most Camp Chef 16 in. Cooking System
Temperature range: Temperatures can reach up to 700°F
Specifications
Cooking Surface Diameter: 15 in. x 20 in. (300 sq. in)
Overall Dimensions: 16 in. x 24 in. x 9 in.
Front Opening Dimensions: 20.5 in. x 4.5 in.
Product Weight: 30 lbs.
*Do not heat on high
Downloads

PZ90 Instruction Manual

Italia Pizza Oven Cooking Guide
REVIEWS
Artisan Outdoor Oven 90 Accessory
is rated out of
5
by
23
.
Rated

5

out of

5
by
David 1750
from
Pizza Oven
I have owned this product for many years. I have also been making my own pizzas from scratch for over 40 years. With the first pizza I baked in this oven I was overjoyed. The pizza bakes in minutes and gives the nice occasional char on the rim that you get with a wood fired ceramic oven. I have found that a slight improvement on my oven is made by placing another pizza stone on top of the hearth. This cuts down a bit on the temperature of the hearth and seems to make for a more correct combination of direct heat, ambient heat and radiant heat from above. But even without this addition this little and relatively inexpensive oven is a marvel. I have recommended this oven to many friends over the years. I also love my Camp Chef stove especially for cooking fish. Keeps the lingering fish smell out of the house. A great company with great products.
Date published: 2019-09-22
Rated

5

out of

5
by
lukskywalker
from
Love it,
Bought this for my Griddle and man, well money spent. I cooks awesome and its such a nice item to have when your Rving, something different.
Date published: 2019-08-26
Rated

5

out of

5
by
Pizza Magician
from
So simple to use
I bought this pizza oven to use with my new Somerset IV cook stove. I am now a hero at my house! We love pizza and this oven has made making cooking pizza fun. Don't let the directions supplied with the oven scare you. All this talk of different temperatures for different types of pizza may be fine for a gourmet cook, but I have found that you can heat the unit up, throw the pizza in (with some flour or corn meal on the stone), rotate it occasionally, keep an eye on it and use some common sense , and you'll get a perfect pizza every time. Great for all types of pizza, from store-bought frozen to made-from-scratch. If you love cooking outside, this unit was made for you.
Date published: 2018-10-02
Rated

5

out of

5
by
Deep Creek house of Smoke
from
Good bye Pappa Johns
Yes this is a fabulous addition to my camp chef pro 90 stove. Before I wrote this review I did a store bought non frozen pizza, a pizza shell and added my toppings. Then made one from scratch out of the recipe book. Store bought fresh pizza well blah bland but in a pinch ok. Pizza Shell not it sticks... never again. The scratch out of the book "KILLER " slides freely to turn during cooking the crust is fabulous! You walk out to the patio you can smell it cooking my grand kids are coming in a week and are pizza fanatics. This gives them something to do with you help with the peel I think I will need a 2 Nd bottle of gas for the stove
Date published: 2018-09-24
Rated

5

out of

5
by
Kare
from
Wow!
I rarely ever write a review and felt compelled to write this one. I bought this item because of the reviews here. I watched several videos as well. I had a hard time believing this would work like a real pizza oven and decided that if others said (and showed) it worked, it was worth a try. Just finished making and eating our first pizzas. Same crust we always make. It was nice and crispy and tasted better than ever. This was the best pizza I have ever made! Have to say we are ruined now for ever buying pizza out. This was far better than restaurant pizza. I'm more than impressed. This is a great product. It's a yes, definitely from me!
Date published: 2018-07-12
Rated

5

out of

5
by
SteveC
from
Great add to the stove!
I bought this to complete the stove and it is Great. They where out of stock but got lucky and found . Easy assambly just heat to 500 degrees and you are on your way.
Date published: 2018-05-29
Rated

5

out of

5
by
Happy Florida Camper
from
Better than you would ever hope!
I've been making pizzas on the grill for over 15-years, and don't get me wrong they were good and the family loved them, but there always seemed to be a little something more missing. And this little pizza oven was it! This thing is phenomenal...can't say enough good things about it. The ease, the speed, but most importantly the results. You can challenge most professional pizzerias with this oven. You'll not find or buy better for the money, and I would challenge the higher cost ovens with this oven as well.
Date published: 2018-05-15
Rated

5

out of

5
by
mountain scrambler
from
excellent oven
Used it to make pizza while camping. Also made a breakfast quiche and an apple crisp. The one thing I did was to make a cover for the open front, Now I can control the heat better. Now the top is done at the same time as the crust. It also works great on my gas grill at home.
Date published: 2017-10-21
RELATED BLOG POSTS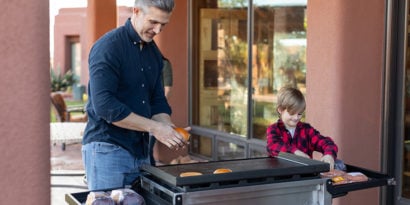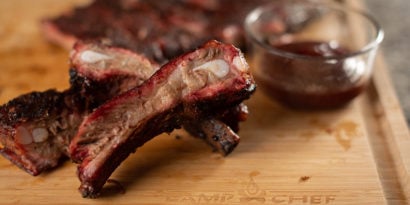 (7 Comments)