When you buy a 24-inch Camp Chef pellet grill smoker, a grill cover should be your next purchase! Especially if your smoker plans to stay on the back patio for most of the year, then it's a no brainer—it's time to protect your investment. Crafted from durable, high-quality materials and a weather-resistant liner, this grill cover will do it's job from day one. Debris, insects, snow, rain, mildew is no match for the Full 24-inch Pellet Grill Cover.
Features
Durable, weather-resistant liner
Chimney and side shelf tie down
Formed to fit over shelves and smoke chimney
Fits over Sear Box and Sidekick accessories
Newly improved water resistance and UV coating on the fabric
Fitment
Fits all Camp Chef 24 in. Pellet Grills
Fits over Sidekick, Sear Box, or side shelf
Specifications
Fits BBQ and Pellet Grills up to 51 in. x 21.5 in.
Material: 600 Denier-coated nylon
REVIEWS
Pellet Grill Cover - 24" - Full
is rated out of
5
by
97
.
Rated

5

out of

5
by
lopram
from
Perfect!
I read few reviews about this cover being to small however, I believe is just perfect. It fits my 24", with a sidekick, propane tank and front shelf.
Date published: 2020-05-14
Rated

5

out of

5
by
Kim V
from
Love our pellet grill and new cover
Fits perfect. Keeps our grill very clean. Great addition to our covered deck here in Hot Springs Village, AR. Love the WIFI
Date published: 2020-05-09
Rated

5

out of

5
by
George C
from
A must have with your new grill!
Nice custom fit to the grill. Covers the sidekick well and doesn't drag the ground like a generic cover would.
Date published: 2020-02-29
Rated

5

out of

5
by
Jjetjock
from
Great fit
My box states Camp Chef universal grill cover. Has smoke stack protrusion and fits easily over my grill with side kick and with propane cylinder attached. It has several Velcro and heavy duty click attachments on the cover but no included belt that can attach to these. Did anyone get a belt with yours? I can only awesome if you don't have a side kick or chimney on yours that these clips will reach the small belt taps on the cover. Not sure yet as to how well it will hold up to weather yet since I just received it. So far very happy.
Date published: 2019-09-06
Rated

5

out of

5
by
BillyM
from
Nice heavy cover. Fit the grill very well. Looks like it will last a long time.
Date published: 2019-07-24
Rated

5

out of

5
by
Chef Mack
from
Fits like a glove!!
This one actually fits like it is suppose to. Material is heavy duty and I like the Camp Chef logo on the front
Date published: 2019-07-15
Rated

5

out of

5
by
Pumaluap
from
Fits Perfectly even with a side Sear Box!
Happy with this cover. I have a Smokepro with side sear box. The propane tank is hanging on the bracket and the cover fits perfectly.
Date published: 2019-05-10
Rated

5

out of

5
by
Zac Lemmon
from
Material is quality!
Cover should last a long time with quality material!
Date published: 2019-04-06
RELATED BLOG POSTS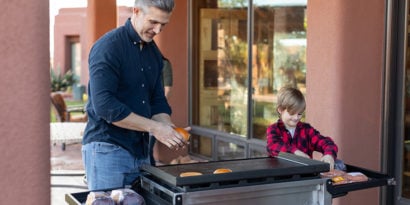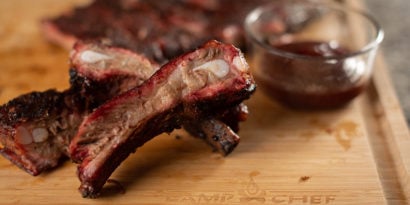 (7 Comments)