From the kitchen to the campsite the Square Dutch Oven is perfect for roasts, casseroles, ribs, breads, and much more. The eight quart capacity is large enough for all your cooking needs. The legless design makes it perfect for use in your home kitchen. This cast iron piece gives cooking superiority by evenly distributing heat to cook your food to perfection. Checking temperatures is easy with the thermometer notch allowing you to insert a probe without lifting the lid. To expand versatility the lid has been designed with raised ribs so it can double as a grill on your stove.
Our new 13" Square Dutch Oven has gained some respect. It has been featured in Petersen's Hunting Magazine as one of their "Torture Tested Products" in a recent gear magazine.
Multimedia
Features
Includes Dutch Oven starter booklet with seasoning tips
True Seasoned Finish cast iron
Lid reverses and has raised ridges for use as a grill
Built-in thermometer notch
Legless design for use in home ovens
Convenient loop handle on lid
13 in. square design
Specifications
Lid Volume: 8 qt.
Lid Depth: 1 1/2 in.
Base Depth: 3 1/4 in.
Overall Height: 5 1/4 in.
Overall Weight: 23 lbs.
Downloads

Cast Iron Recipe Book
REVIEWS
Cast Iron Square Dutch Oven
is rated out of
5
by
9
.
Rated

5

out of

5
by
Hungry
from
works great
Great Dutch oven for home use, not set up for camp fire use. Needs a lip on top so you can place coals on without them falling off. So I welded a 1" lip on and put a small loop to hook on to.
Date published: 2018-02-18
Rated

5

out of

5
by
pachef
from
Wonderful Dutch Oven/Unique Shape
One of the best dutch oven, with a very useful lid for grilling all kinds of food. Works well over fire, coal, or gas grill. Made breakfast to fantastic Ham dinner, with roasted potatoes and green beans. Unique shape gives plenty of space to cook, works well in oven, gas grill, or charcoal grill. Makes great fried eggs and bacon. Very versatile.
Date published: 2016-01-06
Rated

5

out of

5
by
PaPitMaster
from
Great Dutch Oven
Potatoes, Chicken, Grill, fry, - great cast iron dutch oven. Yes it is heavy, but it has to be. I put it up on a grate and coals under and on top or in the oven. works for many of my dishes.. Great for steaks and ribs. Easy to braze meats.
Date published: 2016-01-06
Rated

5

out of

5
by
Danmaro
from
Dutch Lovin'
This is a great cast iron product. Just used it for the first time for one of my sons Cub Scout requirements. Cooked the food perfect with very little clean-up after. Just wiped out the little amount of food that remained and boiled some water in it to fully clean. Then wiped a little oil on it and heated that up. Ready to go for the next time I need it. I'm just upset that it took me so long to use it seeing as I got it for Christmas last year as a gift. Love Camp Chef...happy cooking all.
Date published: 2016-12-02
Rated

5

out of

5
by
duane
from
Beautiful cast iron cookware
This Dutch oven was included with my Denali grill. I used it to make the Mountainman breakfast and I couldn't be happier with the results. It was large enough to feed two families which included two teenagers and we had leftovers. Wow. Easy to use, non-stick right off the bat, great results and very minimal cleanup afterward. This was my first time using it and im already collecting recipes for the next trip. By the way Zion was beautiful also.
Date published: 2016-01-06
Rated

5

out of

5
by
Petemoss4224
from
Great Dutch oven
Greetings, I got this for Christmas, and have made a wide variety of things. I came across a lot of fresh tomato's so i made pasta sauce in this, and it worked really well. Used the little recipe book that came with the oven and the BBQ chicken was great. In the last two weeks i slow cooked a couple of chuck roasts w/ potato's, onions and carrots. Wow it was good, and i just pulled the meat out and made gravy with the left over juice.
Date published: 2018-01-30
Rated

5

out of

5
by
Anonymous
from
Nice fit on a 2 burner stove
I have been looking for a square skillet/fry pan/Dutch oven combo and this is the closest I have been able to find. It was a gift. The square shape increases usable surface area for cooking on a 2 burner camp stove. I have used it for a canoe camp with my family, a Boy Scout canoe trip and our yearly group fishing/canoe trip with just the guys to the Boundary Waters. I have baked fish and bread rolls and fried pancakes, eggs, etc in the base. It works well for frying and grilling and ok for baking on a stove. Plan to add the dome cover in the future. I have not used it to bake with charcoal. I did bake bread rolls on a fire grate and it worked well. I like the compact handles for packing/transport, but you need good leather gloves. I would prefer the lid without ribs as I fry more than bake. I would also prefer both the lid and base to be the same depth (about 2 inches) for increased versatility and to nest for compact carrying. I would also prefer it to be just a bit lighter for transporting, but it is good cast iron. Overall, a great product. Thank you!
Date published: 2016-01-06
Rated

5

out of

5
by
Anonymous
from
Best one I have ever owned!
This one came with my Denali 3X and I love it! I have made numerous peach cobblers in it and even grilled a couple of streaks on the griddle/lid. Love it!
Date published: 2016-01-06
RELATED BLOG POSTS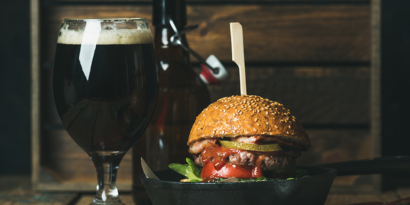 (2 Comments)
(2 Comments)
(2 Comments)