For over 25 years, Camp Chef stoves have given you the power you need to cook like a pro wherever you go. Thanks to a completely new design, the Pro 60X is raising the bar again. With two 30,000 BTU burners, matchless ignition, and a three-sided windscreen, cooking outdoors has never been easier. You can create culinary masterpieces wherever you go with all the mix-and-match 14" accessories. Munch on pizzas at the campsite, grill steaks in the backyard, fry bacon at the tailgate party, and more. New features such as two side shelves that fold down, built-in leg levelers, and convenient folding legs put the Pro 60X at the top of its class, giving you a cooking experience unlike any other. Add this stove to your outdoor kitchen today.
Learn More Here
This exclusive, limited time bundle includes a Pro60X stove, a one burner BBQ Box, one burner fry griddle, a 12-inch cast iron skillet, and a 5-piece chef's utensil set.
Multimedia
Features
Includes PRO 60X Stove
Includes Hose + Regulator
Includes One Burner Grill Box
Includes One Burner Griddle
Includes 12" Cast Iron Skillet
Includes 5 Piece Chef Set
2 - 30,000 BTU Cast Aluminum Burners
Quick Store Folding Legs + Shelves
Appliance Grade Ignition + Temp Control
Adjustable Leg Levelers + Wind Screen
Fitment
Specifications
Stove Cooking Dimensions: 14 in. x 32 in.
Stove Cooking Area: 448 sq. in.
Stove Height: 32 in.
Stove Weight: 48.5 lbs.
Total Output: 60,000 BTUs/Hr. Burner
REVIEWS
Guys' Pro60X Bundle
is rated out of
5
by
2
.
Rated

5

out of

5
by
Rob from Oregon
from
Best setup ever
I got this bundle about two months ago. This was the best investment I have ever made. Well constructed and great to cook on. Last night I made sausages on the grill side and fried taters on the griddle. They both turned out great. This is so easy to use the wind is no problem. We are full time RVers and this was perfect for our lifestyle. Thank you Campchef.
Date published: 2019-09-01
RELATED BLOG POSTS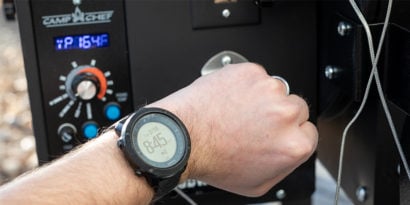 (2 Comments)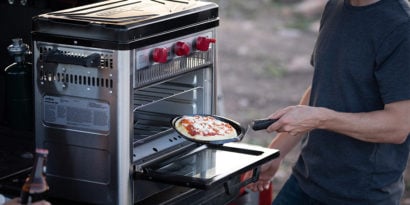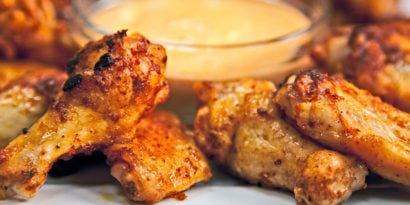 (4 Comments)