S'mores over a campfire aren't your only option when it comes to tasty treats at the campsite. When you bring along our Outdoor Oven, the cooking possibilities are endless. This oven unlocks capabilities of a home oven and range. Designed to be both portable and versatile, the Outdoor Oven provides you with enough heat to cook anything from a breakfast skillet to your fresh cinnamon rolls. It's perfect for camping, emergency preparedness, tailgating, and more. The oven can reach temperatures up to 400º F and will easily fit a 9 x 13 pan. With a 1 lb. propane bottle, you can hold a temperature of 350º F for up to 7 hours. Add a camping oven to your collection today.
Features
Two 7,500 BTUs/Hr. brass range burners
Oven power: 3,000 BTUs/hr. (Up to 400° F)
Fully adjustable heat-control dials
Matchless ignition
Built-in oven heat gauge
Removable oven racks
Enamel stove top cooking grates
Stainless steel construction
Insulated, efficient oven box
Folding lid provides a three-sided windscreen
Oven fits 9 in. x 13 in. pan inside
Convenient carry handles
Powered by a disposable 1 lb. propane bottle
Adaptable for a bulk tank with the bulk tank hose adapter
Specifications
Oven Heat Output: 3,000 BTUs/Hr.
Internal Oven Dimensions: 11 in. L x 16 in. W x 9 in. H
Maximum Oven Heat: 400° F
Range Burners: two 7,500 BTU
Range dimensions: 17 in. x 9.5 in.
Total Output: 18,000 BTUs/Hr.
Main Body Dimensions: 12.5 in. L x 21 in. W x 18 in. H
Dimensions with handles: 15 in. L x 25 in. W x 18 in. H
Weight: 32 lbs.
Warranty: one year
Downloads

COVEN Instruction Manual
REVIEWS
Outdoor Oven
is rated out of
5
by
46
.
Rated

4

out of

5
by
BG33
from
Good quality camping stove for the price
Bought this for deer camp in NE Ohio. Overall it is a quality piece. Compared to the competitors brand Stansport, the Camp Chef is 10 times better. The burners are secure and not falling out and the oven racks/ oven door fit and finish is much nicer then the Stansport. I recommend doing a dry run of the stove and oven before cooking any food on it. There are a lot of oils and paint finishes that will create a lot of smoke and smell when used for the first time. I gave this a 4 star rating because Camp Chef does not include the adapter hose/regulator to go from the stove to a 20lb. or larger cylinder, this has to be bought separately. I believe this a bit of a disadvantage because a 1 lb. disposable bottle will only last about 1 to 2 hrs with burners and oven on.
Date published: 2018-01-27
Rated

4

out of

5
by
highlandstarr
from
Great for power outages and camping.
Overall a great stove/oven combo - great for emergencies and power outages. It's a little heavy, but that's to be expected for decent quality oven. Self-igniter doesn't always work and have to try several times to light it. My biggest complaint is that the stove top burners do not have a true low flame; it's either high or medium. I've had a few over-spills because of this and had to unscrew the top to clean it properly. Wish there was a low, sturdy table/cart to put it on because it's too high and my arms get tired (and I'm not short.) But, all that said I still love it and would recommend it.
Date published: 2016-01-06
Rated

5

out of

5
by
BigBen
from
Much Better than I expected
I have just come back from a Hunting/Camping trip where i had the opportunity to use my Camp Chef Oven for the first time. I was really impressed! First off, the burners heated just as quick as home. The water boiled quicker than some camp stoves I have bought in the past, for the same money I spent on my Camp Chef Oven. The oven warmed to the desired temp quicker than my home oven and the biscuits and the casserole were perfectly cooked, just like home. I can't wait to bake my first cake from scratch in it during my next campout.
Date published: 2016-01-06
Rated

5

out of

5
by
Sally
from
Couldn't believe how well this worked long term
While enduring a kitchen re-model, we found that we didn't want to just "eat out" every meal. My daughter-in-law loaned us their Camp Chef Deluxe Outdoor Oven so we could have frozen, baked meals for the 4 months that the renovation was going to take. What a wonderful stove & oven!! I'm used to gas stoves, so managed to get around issues that might be problematic to electric stove users, but overall, we had a great experience. Thanks for building such a wonderful unit!
Date published: 2018-05-24
Rated

5

out of

5
by
LloydR
from
A highly versatile Camp Oven and Stove Top Unit
We really like this Stove and Cooktop Unit. The 2 Burner Cooktop performs flawlessly and is ample for a 2 person Camp or even for a family. The Oven worked perfectly for us right from the first time we used it. The first item we used it for was a whole chicken. Advice - don't rely solely on the built-in Oven Thermometer. Put an oven thermometer in the Oven with whatever you are baking to be sure of the real Oven Temperature. Our chicken turned out perfectly. We are looking forward to using this Cooking Stove as our main go to when camping and we will use our 3 Burner Camp Chef Expedition Stove when cooking for a larger crowd of visitors. You can't go wrong with this Oven / Stove Top Unit. It might not be obvious but this would be great in an emergency such as an extended Power Outage at home for cooking meals for those only having an Electric Range at home.
Date published: 2017-03-06
Rated

5

out of

5
by
Mike Simonds
from
Wow! Works better than expected
Wow! Works better than expected. I buy camp stoves by the BTU, and this seemed on the shy side of how much heat I like to have. However, it boiled two pans of soup so fast that when my wife went out to check how they were coming, they were already done. As for the oven, in fifty degree ambient, it came up to temperature so fast we were surprised. Little tricky to adjust the oven temperature, but quite manageable. This is just the thing for those of us who dry camp in primitive campgrounds and who boondock where other campers are present. It us inconsiderate to run the generator with others around, but this thing solves that problem. Absolutely love it. And thee are many more uses we have planned. Been waiting for something like this for a long time.
Date published: 2016-01-06
Rated

5

out of

5
by
Horolen Restrepo
from
Great price...Must have...No Regrets
Living in Miami, Florida you run the risk of frequent power outages due to the tropical issues we encounter every year from June all the way thru to October or so. And with that in mind I took the liberty of purchasing this outdoor oven. I surfed the web and all the ratings were excellent including the comments on various websites. I purchased it thru Outdoor Cooking at a GRRREAT Price and turned it on immediately. I baked some BBQ Chicken that nite and let me tell youuu......You're investing on a wonderful product. Not disappointed at all. It's sturdy, reliable, the heat is precise, cooks fast, the burners are excellent. It's funny how all my family/friends have seen how this little oven works and as soon as a power outage occurs...they immediately come over with their food to cook on it as well. You can do anything!!! A must have..you won't regret!!
Date published: 2016-01-06
Rated

5

out of

5
by
Flingwing
from
Perfect Glamping Accessory
We've used this range for three seasons now and it has performed flawlessly. It is our primary stove-top while we have an additional three burners on our outdoor stove top on our pop-up. Highly recommended. Get the bag if you don't like the "banged-up" look.
Date published: 2017-09-10
RELATED BLOG POSTS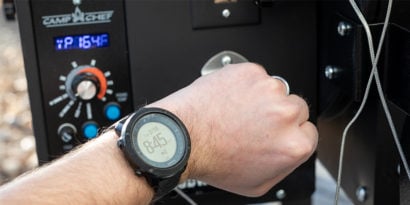 (2 Comments)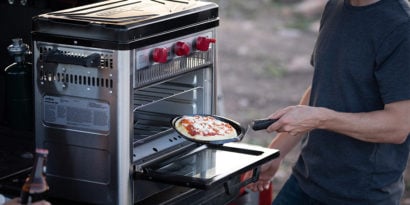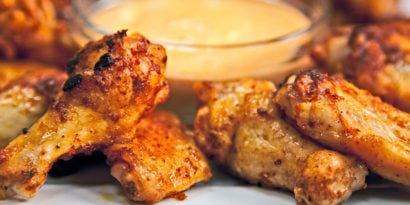 (4 Comments)