Good, warm food seems to taste better in the outdoors, don't you think? And whether you're cooking in the duck blind or at the tailgate party you should never have to sacrifice power for portability. The Ranger II is a big unit in a compact body: each burner pumps out all the heat you will need with two 17,000 BTU burners while weighing only 17 pounds. This is the best way to get huge power without extra packing for hunting, camping, tailgating, fishing, and more.
Features
Includes 5 ft. hose and regulator
Wind Baffle Burner Technology
Two 17,000 BTUs/Hr. cast-aluminum burners
Matchless ignition
Appliance-style temperature controls
Rugged and durable cast iron cook-top and legs
Lightweight design for excellent portability
Propane bottle not included
Specifications
Cooking Dimensions: 12.5 in. x 19.5 in.
Cooking Area: 243.75 sq. in.
Burner Grate Dimensions: 8 in. x 8 in.
System Height: 6 in.
System Weight: 17 lbs.
Total Output: 34,000 BTUs/Hr. Burner
Warranty: One Year
Downloads

BS40 Instruction Manual

Natural Gas Conversion Guide
REVIEWS
Ranger II Two-Burner Stove
is rated out of
5
by
14
.
Rated

5

out of

5
by
BobS1494
from
Great Stove
I love this stove!!! It works great, I have not had any of the problems mentioned by other reviewers. The legs are all the same length and once the gas line is purged of air, the starters work. (each time you hook up the stove, the propane line will have air in it that must be purged out) ALSO... The Ranger II stove fits in the PRO-30 bag with some room to spare, even though its not designed for the stove. I placed a piece of plywood (24 X 14.5) in the bottom of the bag and added a couple wood blocks to hold the stove in place.
Date published: 2019-07-28
Rated

5

out of

5
by
MacCamper
from
This is the BEST heavy duty camp stove in wind
I have used this stove in windy conditions and it is the best. The size of the burners are amazing,...similar to a very high end commercial chef stove in kitchens. Seriously, I could not believe how even and nicely controlled the burner heat is for effective cooking.
Date published: 2019-06-13
Rated

5

out of

5
by
BCW47
from
Great burners
Best two burner range Iave ever purchased. Great controls for burner flame.
Date published: 2018-09-28
Rated

5

out of

5
by
AlBear
from
Perfect for use with an RV or trailer
Some RV's, such as my Escape fiberglass trailer, have a quick-release connector for cooking outdoors using the RV's own low-pressure propane. Ranger II works great for this: just remove the pressure regulator from the Ranger II supply hose, or use a different hose. Here's a tip: make sure you regulate the fuel-air mixture before first use. Otherwise you might coat your pots with black soot and waste fuel. Just rotate (by hand, no tool needed) the round metal plates with the holes in them behind each dial. Turn the unit upside down to see how they work. Yellow flame indicates that the mix needs more air (make the hole bigger in the plate), flame too loud and jumpy indicates that it needs less (make the hole smaller). Regulation of heat is excellent. Just going by the feel of the dial, you can change from High to Medium to Low without danger of turning off the flame. To use Warm, which is next to Off, you'll have to be more careful, but Low will probably be low enough for most purposes. Built-in lighter is perfect, although you might need to spark it twice (no button to push, just turn it past High) when lighting it for the first time after the gas in the hose has been burned off. It worked well enough without an added windscreen on my first 10-day trip to the mountains, but for use in the deserts of the Southwest where campsites are often more exposed to the wind I might make myself one (probably out of cookie sheets hinged together). As far as I can tell, there is no Camp Chef windscreen available for it.
Date published: 2018-07-25
Rated

5

out of

5
by
catia1313
from
ranger II & carry bag
Haven't used the stove yet, but can say I am satisfied with the quality of the build. Will serve as my outdoor kitchen stove for wok & griddle cooking, as it has higher btus than my current kitchen stove burners. The *BEST FITTING* carry bag is not the one linked to for the ranger II here on the Campchef site (they link to the SCBLG which is the large griddle bag), the best fitting is actually the Campchef Pro 30 (25"x15"x8"), also sits & opens like a suitcase, making it easier to load the stove. You can even keep the cardboard box for the ranger II, put the stove back in the box, put the box in the carry bag for added protection/stability. Below in the Q&A, campchef replied to me that the only bag that would work was the SCBLG large griddle bag, that griddle bag is a poor fit, I am here to tell you, I tried BOTH & the Pro 30 carry bag that is made for the 14" Pro 30 1 burner stove is a better fit, you'd think it was made to carry this ranger II. You will have some room left over for utensils without it being too floppy, even if you put the stove in the box, & the boz in the bag. Campchef take note before recommending that griddle bag:look at the dimensions & try it, you will see, it's almost as if the pro 30 was made for the ranger II !
Date published: 2018-06-25
Rated

5

out of

5
by
Mississippi Reddog
from
Don't waste money on cheap stuff
I suffered for years in the mountains with the "big name" cheap camp stove and they roared like a jet engine just to get coffee to boil. Finally got eh Camp Chef high BTU burner and could kick myself for waiting so long to get a REAL STOVE......please spend a little more and get what you really need. From Elk hunts to cold weather fish camps, this is your stove...PERIOD
Date published: 2017-05-28
Rated

5

out of

5
by
djh
from
Highly recommend the Ranger II for its durability and light weight. Well worth the price.
I really like this stove. I have a two burner, but it does not have the housing. If the wind is right the flames would go out on lower heat. With the housing on the Ranger II, I had no problem with wind. The stove type knobs offer easy flame control and lighting. Light weight enough for transport, and durable. With its durability and light weight you can cook just about anywhere. On a past hunting trip I used it to cooked eggs, bacon and coffee off the tailgate of my truck. Only thing is missing is a handle so it can easily be carried with one hand, allowing you to carry the propane in the other. My other two burner from Camp Chef does not have the housing. Had to keep an eye on it so on low the flame wouldn't go out. I loved it. But after getting the Ranger II I take it instead unless I'm going with a bigger group and need two stoves. With the ignitor, my boys are able to get the stove going in the am to start the water for hot coco and coffee. Just can't be any easier.Highly recommend the Ranger II stove from Camp Chef. Another of their durable effective products.
Date published: 2016-01-06
Rated

5

out of

5
by
Leo
from
You get what you pay for....
I had been looking for something to use with my camper "quick connect" propane system. We like cooking and heating food outside the camper. My first thought when seeing this advertised was, "Dang....that is an expensive two burner stove." Then I bought TWO other pieces of junk. Neither worked, one arrived broken. For what I paid for those two pieces of junk, I could have gotten this in the first place. The stove arrived quickly after I placed the order and we took it out that weekend for a quick camping trip. My initial impression is that this is a quality piece. Heavy, well built and so far, it works flawlessly. I also purchased the camp chef propane house for use with our quick connect. It also works perfectly with the stove. This is exactly what I was looking for and I look forward to using it for many years to come.
Date published: 2016-01-06
RELATED BLOG POSTS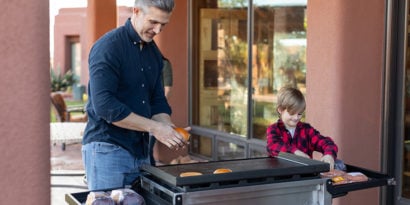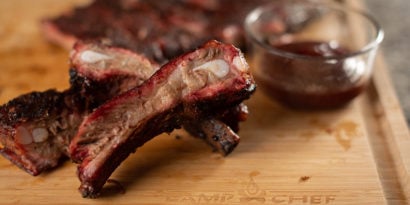 (7 Comments)