When you're in the middle of prepping for dinner, you need lots of room to work. If you feel like you're constantly running out of space in your outdoor kitchen, the Patio Cart is your solution. The large surface can hold ingredients, utensils, cutting boards, and many of your favorite Camp Chef accessories (all sold separately) like the Italia Artisan Pizza Oven. Two folding side shelves offer some extra elbow room whenever you need it. But the Patio Cart offers much more than surface area alone; you also get a top utensil drawer, propane tank storage space, two-wheeled legs, and a stainless steel faceplate. Upgrade the functionality and style of your outdoor kitchen today with the Patio Cart.
Features
Stainless steel face
Two wheels for portability
Propane tank storage
Top pull-out drawer
Two foldable side shelves
Large surface can fit Camp Chef Italia Artisan Pizza
Specifications
Top Surface: 16" x 25.5"
Height: 34"
Side Shelf Surface: 16" x 12.5"
REVIEWS
Patio Cart
is rated out of
5
by
8
.
Rated

5

out of

5
by
Z4Pilot
from
Excellent cart!
We received the Camp Chef Artisan Pizza Oven for Christmas and wanted a stand to host it. We found this one on the Camp Chef site, read the reviews, and jumped in. The cart arrived when promised. It is rather heavy and awkward in the box, but it is packed very well and there was no damage from shipping. The assembly took about 45 minutes (yes, I do read the instructions...) and was very straightforward. The cart is very solid and supports the oven very well. The side shelves could seat a little more firmly, but they are sturdy and serviceable. I particularly like the leg levelers - my patio is comprised of pavers and the levelers ensure that the cart/oven will not wobble on the uneven surface. I am very pleased with the cart!
Date published: 2020-01-25
Rated

1

out of

5
by
Bigthunder607
from
Cart is
It is way over priced for what you get. They should include the cutting board and it should be around 199.99 with cutting board. I have several camp chef products and this was a gift and I could build this for 1/10 of the price. As my dad said you should price things to sell so what he ment was... it might be a 220.00 cart but if sell it at 199.99 you sell more units so. That's my though to bad because I wouldn't have bought it myself like I said it is just a steel cart could have cost them more then 40.00 to make
Date published: 2020-04-02
Rated

5

out of

5
by
JULIOUS
from
The perfect companion to your Grill.
What a great companion to your grill. Very functional. The drawer is a very handy place to store all of your grill gadgets. Assembly was a snap! I highly recommend it to anyone. The only thing that makes it better is if you also get the bamboo top/cutting board. Good looking, great workmanship and very functional also.
Date published: 2018-07-23
Rated

2

out of

5
by
Boozr
from
Ok But the display shows much more thaty should co
I bought this cart thinking it came with what was displayed..I also called them and asked if the paper towel rack and accessory rack would fit.. I was first told no..IMO it should come with them
Date published: 2018-03-02
Rated

4

out of

5
by
BobH
from
Unwheeled Table
The assembly of the wheels and axle is tricky. The first few times that I wheeled the table around the wheels unscrewed! The axle is too short to use cotter pins.
Date published: 2018-02-11
Rated

4

out of

5
by
Cracker
from
Well built
So this may just look like another patio cart! But don't be fooled. It has a storage drawer and is real sturdy... I would highly recommend!
Date published: 2016-11-21
RELATED BLOG POSTS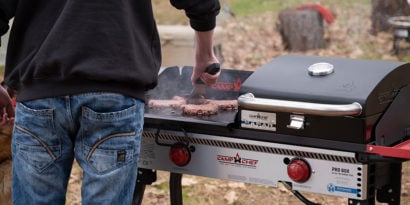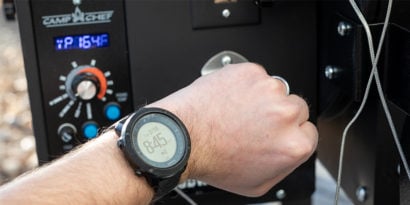 (2 Comments)