The Big Gas Grill 2X is your first step into tailgating/outdoor cooking mastery. Two 30,000 BTU burners will easily conquer any conditions so you can cook anytime, anywhere. Go from unboxing to BBQ in minutes with the included BBQ box. Explore more flavors and new places to set up camp (or should we say kitchen) by simply detaching the legs and bringing it on your next adventure. Expand your cooking possibilities even further by adding a griddle, pizza oven or any of our other compatible 14" accessories.
Multimedia
Features
Two cast-aluminum 30,000 BTU burners Patented wind baffle burner technology)
Detachable legs
Matchless ignition
Fully adjustable, kitchen style heat-control knobs
Large cooking grate (448 sq in.)
Deluxe BBQ grill box
Folding side shelf
Specifications
Two cast-aluminum 30,000 BTU burners
Stove Dimensions: 14" x 32"
Cooking Area: 448 sq. in.
Cooking Height: 29"
Total Output: 60,000 BTU
Weight: 60 lbs.
BBQ Box included
QUESTIONS
I am looking at this for camping. Are you able to use pots and pans on this grill? 
Thank you for your question. Yes, you are able to use pots and pans on this stove, as well as the accessories that are made for it.
Date published: 2018-03-12
I purchased Big Gas 3 Burner Grill thru Amazon June 12, 2017, been great, but the plastic wheel that tightens hose to propane tank broke into 2 pieces. How can I get that replaced? Please help!
Hello! We are sorry to hear that your regulator has broken. Please send in a copy of your purchase receipt, along with your full name, shipping information, and phone number to
[email protected]
Once we get that information, we will be able to move forward with the warranty claim. Thank you!
Date published: 2018-03-12
with the legs removed, can this be used on a table? and is the BBQ box attached or just sitting on top?
How can I order a cover made for this grill expressly
RELATED BLOG POSTS
(1 Comment)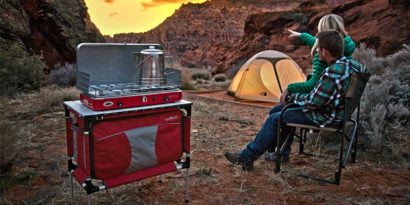 (6 Comments)