Take back the patio with the Camp Chef PG24MZG Pellet Grill and create decadent wood-fired flavor. The PG24MZG features Slide and Grill Technology, which allows you to switch seamlessly between Indirect Smoking and Direct Flame. Have the ability to achieve two delicious flavor profiles all on one grill. Plus, with the PG24MZG you get an included folding front shelf. So slow cook your favorite cut of beef or slide the grill knob and toss a few burgers on for direct wood-fired grilling. It's easy to achieve wood-fired grill mastery on the PG24MZG with Camp Chef's patented Ash Kickin' Cleanout System, stable temperature regulation, and dual meat probes.
Features
PID controller for consistent temperatures (+/- 5ºF )
Camp Chef Connect App compatible
Includes 2 meat probes
Adjustable smoke settings from 1-10
160º F - 500ºF temperature range
Easy to use menu dial
High-visibility, low-glare digital display
Pellet Hopper Cleanout/Purge
Slide and Grill Technology's direct flame grilling reaches 650°F
Full sized upper shelf
Ash Cleanout System
Cord Management System
Grease Management System
Expanded chamber height
Side attachment compatible (Sidekick or Sear Box)
Includes recipe ideas in manual
Includes Folding Front Shelf
Includes removable 2-piece nickle plated upper racks
Specifications
Upper Rack Area: 382 sq. in.
Lower Rack Area: 429 sq. in.
Total Rack Surface Area: 811 sq. in.
Side Shelf Dimensions: 16 in. x 12 in.
Chamber Capacity: 3,778 cubic in.
Hopper Capacity: 18 lbs. of pellets
Height to lower cooking grate: 32 in.
Overall Height, including chimney: 47 in.
Overall Weight: 133 lbs.
REVIEWS
PG24MZG Pellet Grill
is rated out of
5
by
4
.
Rated

5

out of

5
by
Senract
from
Excellent Choice -
I recently purchased the PG24MZG and based on the first use I was delighted with the results! To begin: When compared to other pellet grills / smokers in this price range - this is a great choice based on the included amenities. 1. Duel Temp Probes - This allows you to cook more than 1 item and view their internal temps independently. 2. The Grill / Sear panel which allows you to change from Smoke to Grill / Sear with only the pull of a knob. 3. The Front Shelf - Many competitors charge extra for the feature. When grill arrived it was easy to assemble and instructions were very clear. I used the new grill this past weekend to smoke a 9 lb Pork Butt, Sausages and Baked Beans for a party we were having. As not having used the grill before, I was a bit nervous. As it turned out, there was no reason to be nervous, everything turned out awesome! I was amazed at the smoke rings in the butt as well as the sausages and everyone loved the flavor of all the meats and beans. I live in Nebraska and the outside temps were between 25 and 30 degrees the day I used my new grill. The internal temp of the smoker did fluctuate between about 205 and 235 on the grill's "High Smoke" setting which is stated at 220 degrees. Based on the outside temps and some wind we had I had figured that there would be some fluctuation however i was pleasantly surprised at the seemingly stingy use of the pellets. I highly recommend this product and I look forward to using and exploring the many uses for other foods in the near future.
Date published: 2020-01-27
Rated

5

out of

5
by
HappySmoker
from
It's a GREAT smoker, lots of extras
Short review: 5 for a smoker, ease of use and clean up but we don't like louvered drip tray. 1 for a grill - lack of smoke flavor and messy and grease dripped through the louvered drip tray into the bottom of the smoker box. Our goal was to get a smoker that was easy to use, clean up was simple and gave a good smoke. If it grilled well it was a bonus but not a necessity. We compared: Traeger, Pitt Boss, Green Mountain, and Camp Chef (CC) We chose the Camp Chef PG24MZG for the ease of cleaning and the dual temperature probes a front shelf plus the glass view into the pellet bin. Purchased at Amazon for $599.00 + Tax. This model does not come up on the Camp Chef site for models. It must be searched by model number. Only found on Amazon and Camp Chef site but Amazon was cheaper as CC raised it's price. There are two top racks measuring 8"x~20 each. All uses of CC Smoker so far have been with Hickory pellets. 1st with Traeger (I could buy them locally, then with Camp Chef - ordered from Home Depot with free shipping. 1st use were hamburgers on the SG grill function (slide pulled out for direct flame). The grill got into the 400 range and we observed 15 to 20-degree temperatures swings. It took approximately 20 minutes to cook 2 burgers. The burgers lacked any smoke flavor - disappointed 2nd use - burgers cooked slower - used a 250-degree approach to get more smoke flavor. It took approx. 35-40 minutes. There were no grill marks and there was more smoke flavor but we were still disappointed. We will not cook burgers on the smoker. We don't want to have to double cook by searing afterwards. 3rd use - pork butt (small 4 lbs) cooked for 7 hrs. It had a nice smoke flavor and we pulled it at 185 to slice vs. pull. 4th use - lower rack beef brisket (5lbs) upper baby back Ribs 3lbs. Cooked on High Smoke for 9 hrs. Pulled brisket at 195. Nice smoke ring and good flavor, ribs were tender and smoke flavor. We observed 15 to 20-degree temperature swings. 5th use – 3 racks baby back ribs and 3 lbs. country ribs. We were surprised by rain and got 1.3" while smoking. Our Camp Chef was near the house but not completely out of the rain and it did GREAT! The temperature stayed consistent, no water got in the pellet box or smoke area. Overall after 10 hrs the ribs came out great! All our meat have been very moist. Our previous smoker is a Weber 22" Smokey Mountain Cooker. We wanted something that would be easier to use and not require as much monitoring and we were willing to sacrifice some smoke flavor for ease of use and cleaning. The ease of use far outweighs any smoke flavor loss, and again, the meat has good smoke flavor. The ash cup is great! The one thing I would change is the louvered drip tray. The burgers dripped on it and into the lower section. The brisket also dripped on it and made a mess in the lower area. We are going to put heavy aluminum foil on it to avoid the grease dripping onto the flame diverter and lower section. I hope it works or else we will be inquiring about getting a new one-piece one. Overall we would recommend and buy this smoker again.
Date published: 2019-08-31
Rated

5

out of

5
by
MamaD
from
One awesome grill/smoker!
I purchased this on June 24 and we have used it almost every day. It does it all- grill, smoke, roast, bake, bbq and the slide (for direct flame) is wonderful. I love that you can go between meat temp and grill temp with a click of a button and it's accurate. Also, the pull lever ash clean out system is outstanding. This is a quality product that will do exactly what they say it will do and worth every penny spent. My husband normally does most of the smoking, but I have really enjoyed using this myself. I smoked a chicken when I got home from work yesterday, it's that easy! Thank you, Camp Chef, for a easy to use and spot on product.
Date published: 2019-07-17
Rated

1

out of

5
by
GoNoles2580
from
Great until it suddenly stopped working
I loved everything about this grill and recommended it to friends and family. Now I will never trust it because it suddenly stopped working. I have no idea if Camp Chef can or will fix this because they won't open until Tuesday. What I do know is that I depended on their product to make food for a party and it failed and ruined my plans. So the positives: 1. It easy (when it works) 2. It makes great food (when it works) 3. It gets tons of great feedback at parties ( when it works) 4. Easy to clean (when it works and you're able to make a mess first) Cons: 1. It randomly stops working and will not turn on 2. It is unreliable 3. It will ruin your plans. Stick burners are more work but they will 100% never let you down. Lesson Learned.
Date published: 2020-05-24
RELATED BLOG POSTS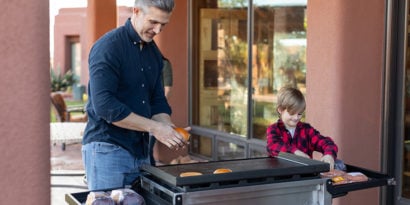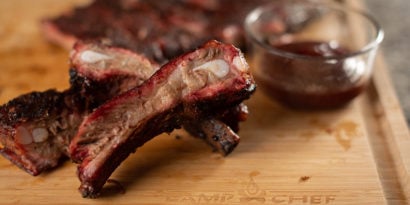 (7 Comments)