If you're short on oven space or you're tired of the same dried-out turkey meat every year, then it's time to smoke. Turkey, that is. Check out our
step-by-step smoked turkey recipe
, as well as our
favorite smoker and pellet grill
for the job. When you're ready to get cooking, take these pro tips along with you for the best Thanksgiving turkey you've ever tasted.
Smoked Turkey Pro Tips
1. Cook your turkey by temperature rather than time to avoid undercooking or drying out the meat. 2. Use a
digital wireless thermometer
to see when the turkey thigh reaches 175° F and the breast reaches 165° F.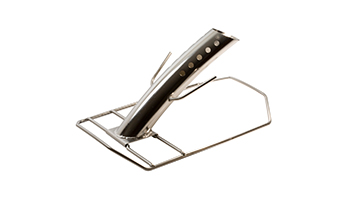 3. Use our
Turkey Cannon Infusion Roaster
to cut the cooking time down to a fraction of the normal time. 4. If your turkey is mounted on the Turkey Cannon, smoke it in a roasting pan to catch the juices for gravy. If you aren't worried about making gravy later (we don't judge) you can smoke your bird directly on the grill racks for crispy skin all around. 5. Choose
Apple
or
Cherry Premium Wood Pellets
for a sweet wood-fired flavor; use
Hickory
for a smokier taste. 6. Coat the outside of your turkey with
Citrus Herb Seasoning
for a light, herb-roasted flavor. 7. Apply the rub or seasoning of your choice underneath the skin so it flavors the meat directly. 8. Use cooking wine in your Turkey Cannon for extra flavor in your gravy. 9. Don't stuff your turkey if you're smoking it. The heat needs to be able to circulate freely throughout the bird. 10. If your bird starts to brown more than you like, tent it with foil for the remainder of the cooking time. 11. Avoid lifting the lid of your pellet grill and smoker to maintain as much heat as possible. 12. Smoking turkey with a slightly higher temperature (275° F) will make your bird's skin crispy rather than rubbery. 13. Your turkey must pass through the critical zone (40°-140° F) in 4 hours or less to be safe to eat. 14. When you cut into your turkey, the juices should run clear. If they are colored, your turkey isn't quite done. 15. Tent the bird with foil or rest it in
a cooler
after it reaches temperature for about 20 minutes. This will ensure a juicier, more flavorful Thanksgiving turkey.
Want More Recipes and Tips?
Find all of our favorite Thanksgiving recipes and cooking tricks on our
Thanksgiving 101
page. You can even download a FREE eCookbook!